Updated | Christianity has probably had some presence on the Isle of Lewis in the Outer Hebrides, Scotland, since the days of Saint Columba in the sixth century. Stornoway, its remote capital, has a population of just 10,000 people, many of whom to this day shun work on the Sabbath.
Now, with the help of donations from generous locals, Stornoway is getting its long-awaited first mosque to meet the religious needs of a small but growing Muslim community on the Isle of Lewis, around a third of whom are recent refugees from the Syrian civil war.
The man managing the construction of Stornoway mosque is builder Aihtsham Rashid from Leeds, England, around 500 miles away. A friend of Rashid's alerted him that the isle's 100-strong Muslim community needed help turning a derelict cottage into a mosque. So he flew over.
A Just Giving crowdfunding campaign for the mosque had reached 180 percent of its target at the time of writing, standing at £90,287 ($123,264). Donations mean the mosque will be completed in time for the start of Ramadan in May—and gift the community some startup cash to get it up and running.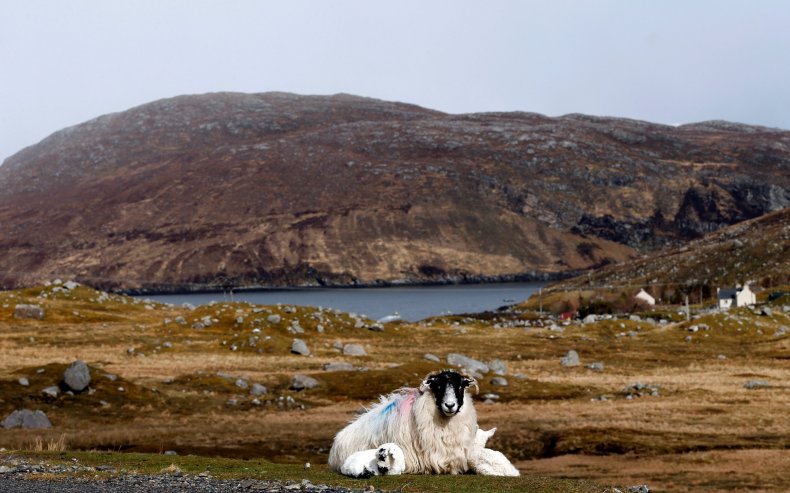 "We're just waiting for the handmade carpet to be brought up at the end of this week and we're opening on Friday the 11th at 2:30 p.m.," Rashid told Newsweek, adding that "loads of people" including many non-Muslims have visited the site to donate money and find out more.
"People who were a bit hesitant before have changed their mind about Islam. Everything's in a much more positive state, showing a lot of love. I can't complain really," he said. One local woman even handed them a check for £500.
The mosque project has garnered a lot of positive attention from the media, making life easier for Rashid and the Muslim community. "If anybody had given me bad press I'd have been properly shafted here," he said, adding that he is "very pleased and humbled by the support."
But the mosque has faced some opposition on the isle. Most notably from the local church, which takes a hardline stance on Islam.
"Islam is a false religion, the teachings of which are fundamentally incompatible with Christianity, and therefore as a Christian and a minister of the gospel I am deeply saddened that a mosque is being built in Stornoway, as anyone who takes the Bible seriously should be," Reverend Graeme Craig of the Free Church of Scotland (Continuing) told Newsweek.
The local Presbytery—a body of ministers and elders—wrote to the planning authority urging it to reject the application to build a mosque. Craig said this was "primarily on the basis that, as the Bible makes clear, it is the duty of civil rulers to submit to Christ and to promote true, Biblical religion."
He added that "no one can, or should, be forced to do anything contrary to their conscience" but "the public recognition of false religion is a retrograde step which can only encourage people along a wrong path."
"I cannot speak for the rest of the people in Stornoway," Craig said. "I would expect most, if not all the Christians, and that means a significant proportion of the population, would feel the sadness I feel and rather there was no mosque, although not all would necessarily agree with my view of the duty of civil rulers in this matter."
Rashid told Newsweek that doubters would be won around eventually. "If I had more time, I'd make sure that preist came round to the mosque," he said.
President Donald Trump's mother, Mary Anne MacLeod, was born and raised on the Isle of Lewis before she emigrated to the U.S. Trump once touted a "Muslim ban" for America, though this was later watered down to a travel ban on people from Muslim-majority countries regarded specifically as security threats.
A small community of Muslims have lived on the Isle of Lewis and in Stornoway for decades, but have had to practice their faith in homes and local community centers, with no religious space to call their own.
A Guardian article from 2002 profiled the Muslim community on the Isle of Lewis and their struggle to adhere to their faith without a mosque, causing many to leave the Outer Hebrides.
"I am bringing the children up to be Muslims, not in the way I was brought up," Miriam Amjad, whose parents were from Pakistan and arrived in Scotland in the 1950s, told the newspaper at the time.
"I look at the Christians here and there are so many churches for them. I pray that my children will want to live where there is a mosque and where there are other sincere and active Muslims," Amjad said. "If they are on the mainland, there is more opportunity to be immersed in Muslim culture."
Now, thanks in large part to Rashid, the Muslims of the Isle of Lewis have their mosque in Stornoway.
"They're over the moon. They're tearful. They keep thanking me everywhere I go. I'm like a superstar," he joked. "They thought the mosque would take 10 years and they'd all be praying in hard hats."
But, he said, there is more work to be done in Scotland: "They want me to build a mosque in the Shetland Islands so I might do that."
This article was updated to include comments from Aihtsham Rashid and Graeme Craig.