Mysterious Ancient Artifact That Might Support the Bible Unearthed Near Jerusalem's Western Wall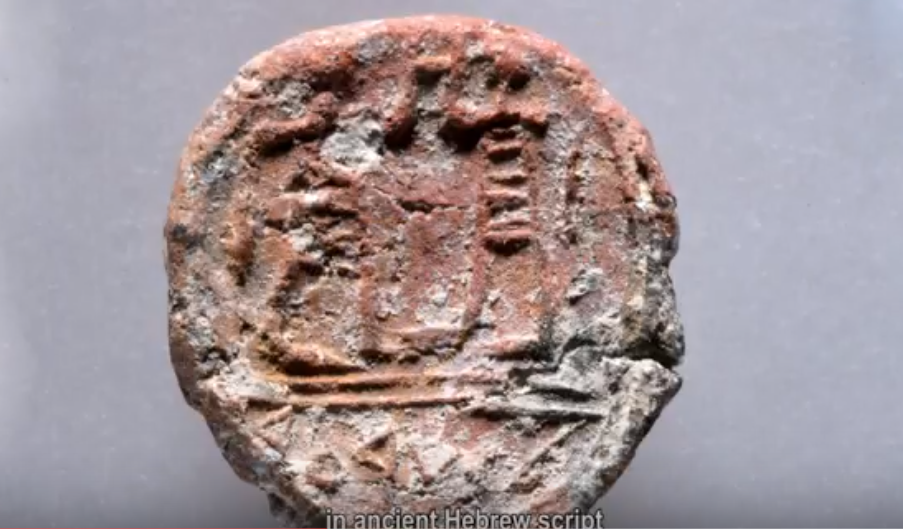 Update | A 2,700-year-old clay seal was discovered near the plaza of the Western Wall in the Old City of Jerusalem five years after digging through the site started. The ancient find may have once belonged to the governor of the city.
On Monday, Israeli archaeologists revealed the ancient artifact was discovered, saying the seal was inscribed with ancient Hebrew script as "belonging to the governor of the city," reported Reuters. The archaeologists presented the ancient artifact to the current mayor of Jerusalem, Nir Barkat. It will be on temporary exhibit in the mayor's office, according to the Israel Antiquities Authority.
"It is very overwhelming to receive greetings from First Temple-period Jerusalem," Barkat said in a statement, according to the Antiquities Authority.
The ancient city's governors are mentioned in the Bible twice—referring to Joshua holding the governor's position during the reign of King Hezekiah and Masseiah in the position during the days of Josiah.
"It supports the Biblical rendering of the existence of a governor of the city in Jerusalem 2,700 years ago," according to a statement from the Israel Antiquities Authority, quoting excavator Shlomit Weksler-Bdolah.
"The sealing had been attached to an important transport and served as some sort of logo, or as a tiny souvenir, which was sent on behalf of the governor of the city," Weksler-Bdolah said in a statement. The governor was the highest local position in Jerusalem at the time. The coin-like seal shows two men standing up and facing each other. Both are wearing knee-length striped garments.
"It's very important because it proves it's not only in the Bible, but there really was a governor of Jerusalem around the late first temple period," said Weksler-Bdolah, according to a YouTube video released by the Israel Antiquities Authority on Sunday.
"We were here for five years digging slowly, slowly from the level of the Western Wall plaza to bedrock," said Weksler-Bdolah. After the tiny piece of clay, called a docket, was discovered, it became one of seven seals found at the site.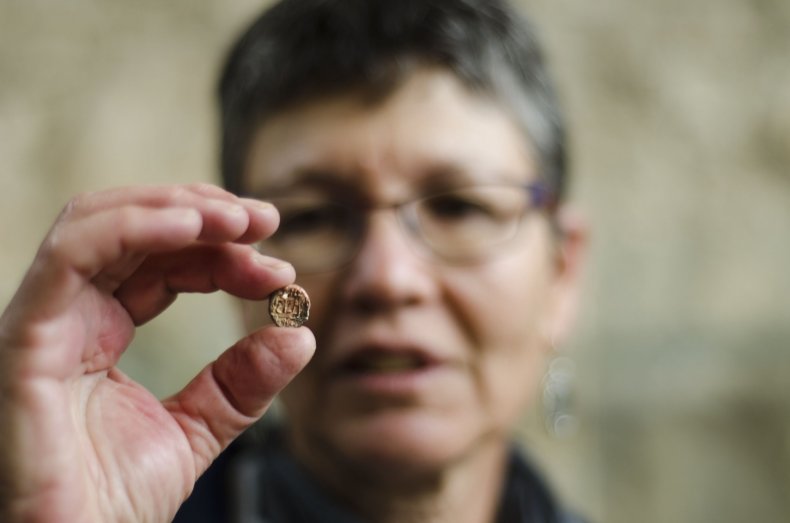 Another ancient artifact was found in Jerusalem in 2015 at a dump site—and it might have been the seal of King Hezekiah, reported CNN. Another seal, around 2,500 years old, was unearthed in Jerusalem the following year. That seal might have belonged to a woman.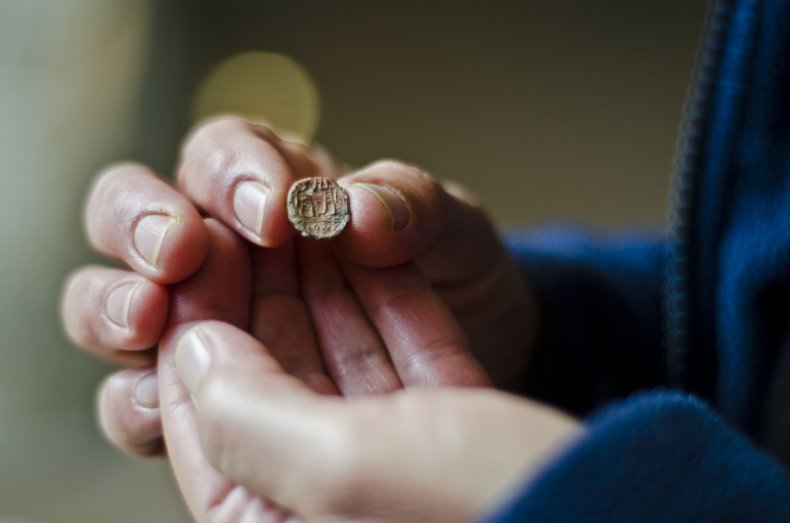 The latest announcement of the ancient discovery arrived nearly one month after President Donald Trump announced he would formally recognize Jerusalem as the capital of Israel—a move that broke with several decades of foreign policy in the U.S. The United States Embassy is expected to be moved from Tel Aviv to Jerusalem, the New York Times reported on December 6.
This article was updated with photographs provided by the Israel Antiquities Authority.