Ancient Egypt: 4,000-Year-Old Statue of Pharaoh Queen Uncovered Near Great Pyramid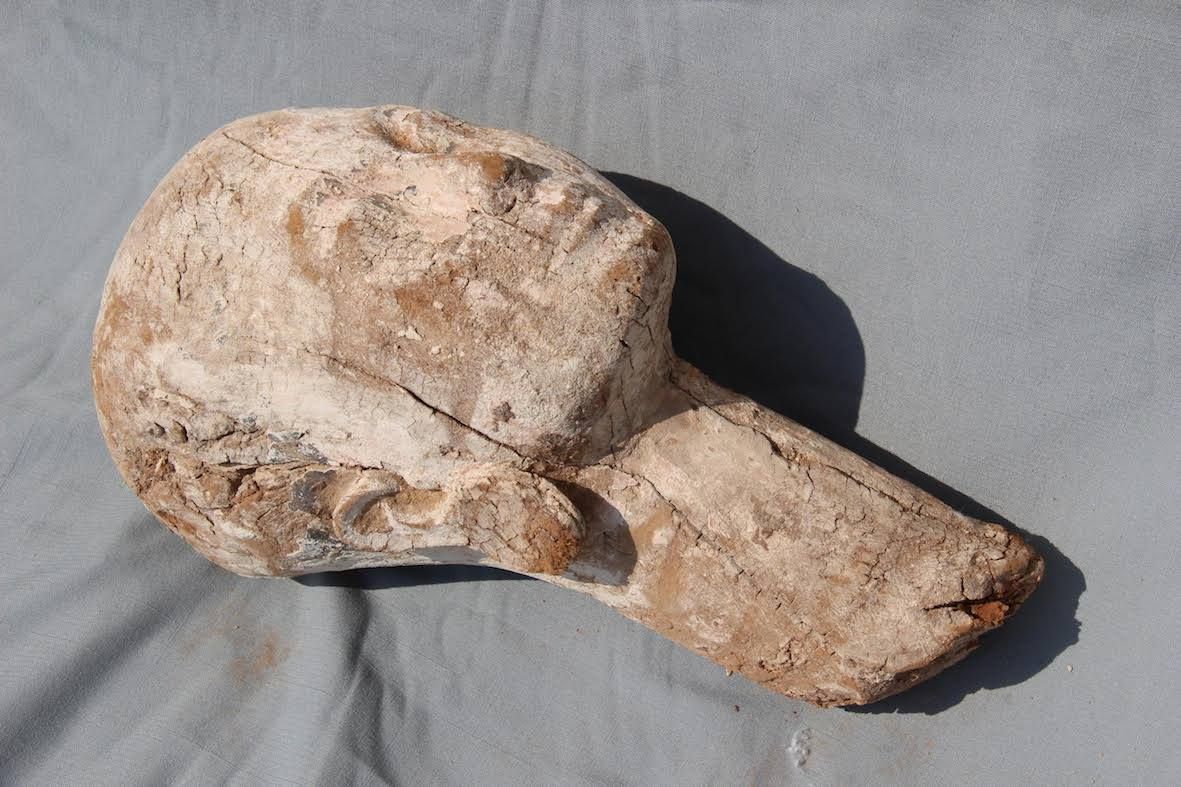 Archaeologists working in the shadow of the ancient pyramids of Saqqara in Egypt have uncovered the head of a 4,000-year-old statue they believe to be the likeness of Sixth Dynasty Queen Ankhesenpepy II.
The excavation work, carried out just eight miles from the Great Pyramid at Giza, was led by a Swiss French team which has made a series of discoveries in the necropolis near Ankhnespepy's burial pyramid.
Related: Who Built Ancient Egypt's Great Pyramid? Hidden Text Holds Clues to Thousand-Year-Old Mystery
In a statement by Egypt's Ministry of Antiquities the head of the mission Professor Phillip Collombert explained that the wooden head was recovered in an area to the east of the queen's pyramid. It is the same area where the excavation team earlier this month uncovered an obelisk and a smaller pyramidion which they believe belonged to the funeral temple.
"It is a promising area that could reveal more of its secrets soon," Mostafa Waziri, secretary-general of the Supreme Council of Antiquities said. Work is now set to continue as further digs are carried out at the site."
Just over two weeks ago Collembert's team recovered the top half of an obelisk more than 4,300 years old, one of the largest fragments from an ancient stone monument ever found. At its full size, the monument, which is marked with indentations which had been filled with copper or gold, likely measured 16 feet in height.
Archaeologists have been conducting excavations at Saqqara for the last 50 years with the principal aim of revealing the secrets of ancient inscriptions from the Old Kingdom. Since 1987, archaeologists at the site have been excavating the necropolis of the queens buried around the pyramid of Pepy I.
Ankhnespepy II, the wife of Pepy I and the mother of Pepy II, was one of the most important queens of the Sixth Dynasty. When Pepy I, her husband, died, she married his son, Merenre, with whom she had the future King Pepy II. She became effective ruler of the kingdom when Pepy II was just six years old.
It is for this reason her burial pyramid is so large, and appears to be the first dedicated to a queen to include significant inscription.
Egypt's Ministry of Antiquities has sought in recent years to emphasize the extent of archaeological work still ongoing in the country. The ancient ruins in Egypt, particular to Pharaonic culture, had been a huge draw to international tourism. However in years of civil strife following the country's 2011 revolution and a string of terror attacks particularly in the country's restive Sinai peninsula, tourist numbers have dwindled.