Ancient Egypt: Tombs More Than 2,000 Years Old Uncovered by Archaeologists in Hidden Burial Chambers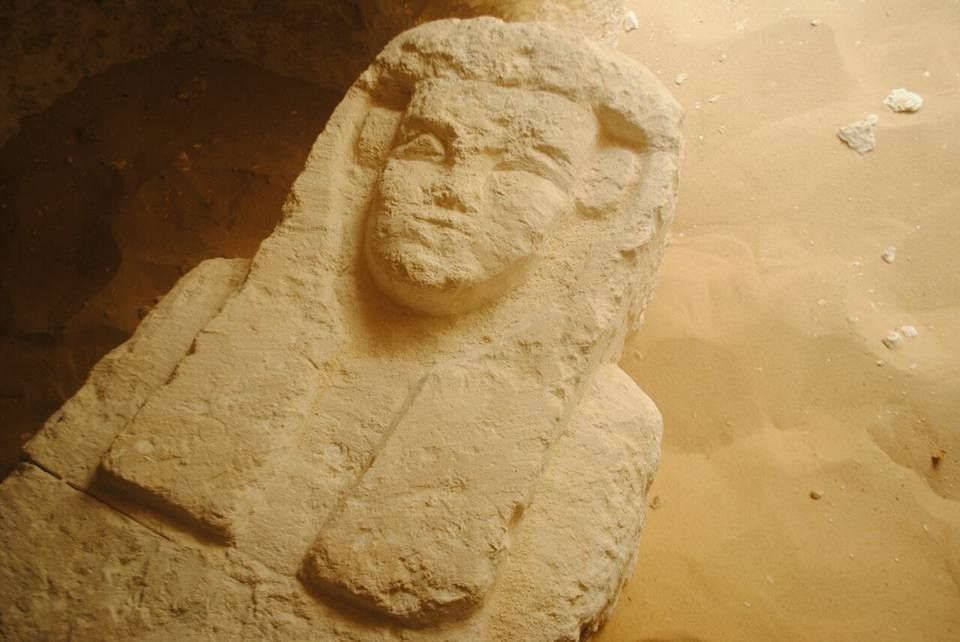 Archeologists in Egypt have uncovered ancient rock tombs, carved almost two-and-half millennia ago during the time of the pharaohs, as they excavated chambers, two of which were hidden down burial shafts.
The tombs from the 27th dynasty and the Greco-Roman era contain a number of sarcophagi, a type of ancient Egyptian coffin typically adorned with a sculpture or inscription, of different shapes and sizes, as well as a collection of clay fragments, the Egyptian Ministry said in a statement.
Related: Ancient Egypt: Secret room discovered in Great Pyramid by archaeologists armed with lasers
The location of the dig, in the El-Kamil El-Sahrawi archaeological site, in central Egypt near the banks of the Nile, previously unearthed 20 tombs in a series of ancient catacombs in 2015. However, the three newly uncovered burial chambers have a different architectural design to the earlier discoveries. Bones from men, women and children of different ages were discovered inside.
The first tomb was formed from a perpendicular burial shaft engraved in rock and leading to a burial chamber containing four sarcophagi with human features and other engravings carved on their lids. Nine burial holes also were uncovered inside.
The second tomb was similarly formed from a burial shaft with two burial chambers. One chamber at the northern end of the passage containing the remains of two sarcophagi appears to have been the burial place of two individuals. One of the burial holes also seems to have been for a child.
The discovery of a child's remains in the cemetery indicate the tombs were part of a large cemetery for a large city and not a military garrisons.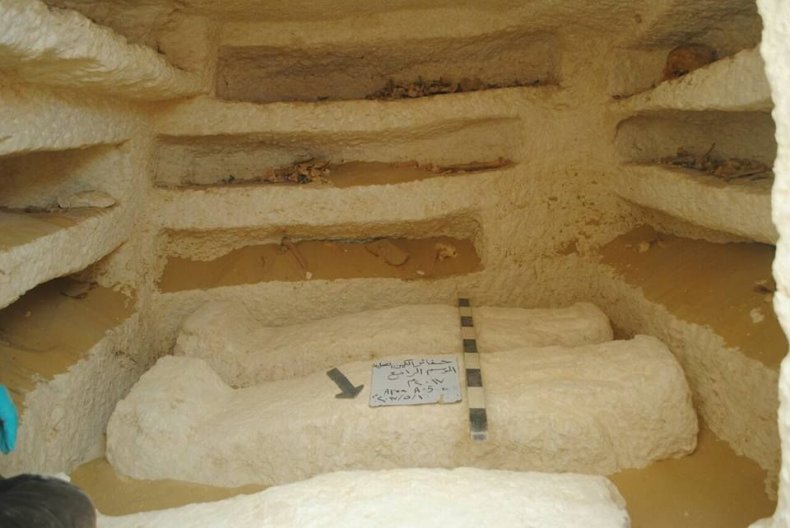 "This was the first time to find a burial of a child at the El-Sahrawi site," explained Ali al-Bakry, head of the dig.
Dr. Ayman Ashmawy, head of the ancient Egyptian antiquities sector at the Ministry of Antiquities, hailed the discovery as "very important." He said, "Facts suggest that the area was a great cemetery along a long span of time."