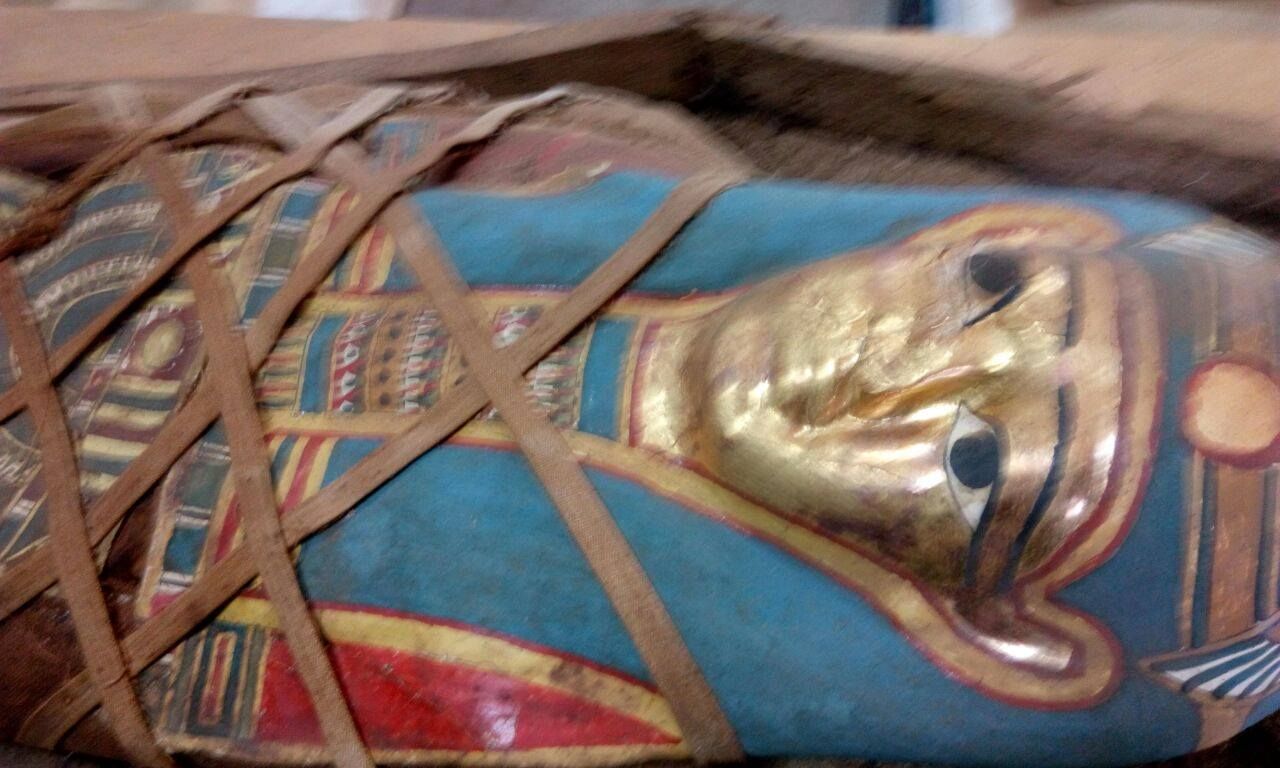 Archaeologists working in Egypt have uncovered an ancient sarcophagus containing a startlingly well-preserved mummy wearing in an intricately painted gold and blue burial mask.
Egypt's Ministry of Antiquities said in a statement that a joint Russian and Egyptian team of excavators uncovered the mummy in the governorate of Fayoum, some 50 miles south of Cairo.
Related: Ancient Egyptian papyrus reveals pharaohs knew secret of advanced ink technology 2,000 years ago
The mummy, preserved in linen wrappings, had its head covered by the burial mask made of cartonnage—papyrus strips tightly glued over one another to form a hard material. The mask was decorated with an anthropomorphic face and a scene depicting the pharaonic sky god Khebr.
On the mummy's chest, images of the goddess of health Isis were painted and at its feet devotees had painted further images of regional wildlife.
Experts have said the mummy and sarcophagus date back to the Graeco-Roman period of rule in Egypt, which lasted from between 332 B.C. to A.D. 395.
Mohamed Abdellatif, at the Minister of Antiquities and the Head of the Coptic and Islamic Antiquities Sector, said emergency conservation work had to be carried out on the outer sarcophagus to preserve it before it was transported to the provincial capital of Fayoum. He added it would undergo further restoration once it arrived.
The outer sarcophagus was discovered in very poor condition, the archaeologists said. The wooden coffin was badly cracked, with fractures in the material spreading over its lid and base. Any inscriptions on it have been lost over time.
The Russian section of the dig was led by Galina Belova. The team from the Russan Institute for Oriental Studies has working in the area around Fayoum over the past seven years.
In recent years Egypt's Ministry of Antiquities has been working to publicize the ongoing archaeology work in the country in a bid to attract tourism. Following Egypt's 2011 revolution and the extended period of instability that followed, tourist numbers to the North African nation dwindled.
Earlier in November, archaeologists reopened a so-called cursed tomb containing the remains of the people who built the Great Pyramid of Giza. It was the first time it has been opened since its discovery almost 30 years ago.
Recent scans carried out at the Great Pyramid have also opened the possibility that a void in an upper section of the structure could contain a hidden room. At the very least experts believed the gap in the otherwise solid structure of the pyramid could shed light on how it was build.
Egyptologist and architects have long wondered how exactly the ancient Egyptians were able to build the gigantic structure, the last surviving wonder of the ancient world, in such a short space of time.