Ancient Egyptian Pyramidion Found Next to Largest Obelisk Hints at Existence of Queen's Lost Chamber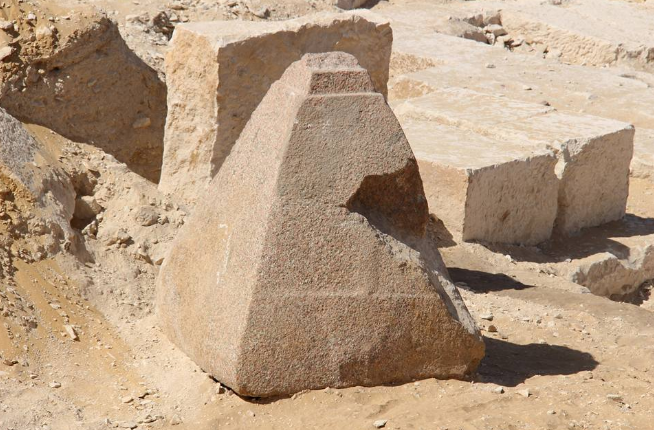 The discovery of a 4,000-year-old pyramidion found near the excavation of the largest Old Kingdom obelisk fragment may be the first evidence of the existence of satellite pyramids for Queen Ankhnespepy II, the most important Egyptian queen of the sixth dynasty.
The pyramidion itself is a striking archaeological find, but its location is even more intriguing. The pyramidion was found very close to where French-Swiss archaeologists, led by Philippe Collombert of the University of Geneva, recently uncovered a 4,300-year-old obelisk last week. At eight feet tall, the obelisk, a tall stone pillar placed at the entrance of burial pyramids, is the largest fragment of an obelisk from the Old Kingdom ever found. The obelisk is inscribed with the title and name of Queen Ankhnespepy II, suggesting it stood before the queen's pyramid.
The queen's burial chamber was discovered in 1963 and her pyramid uncovered in 1998. However, archeologists are still searching for her satellite pyramids, tiny pyramids usually found next to the pyramid of a king or queen. The recently uncovered pyramidion was found where near where archaeologists believe we can expect to find the queen's satellite pyramid. According to Collombert in a statement from the Ministry of Antiquities's official Facebook page, this pyramidion is the first evidence of the existence of satellite pyramids.
"We are 90 percent sure that this pyramidion will lead us to the satellite pyramid," Collombert tells Newsweek. "But we also expect the satellite pyramid to be almost completely destroyed, because all this area of the necropolis was used in later times as a quarry for good limestone, for centuries."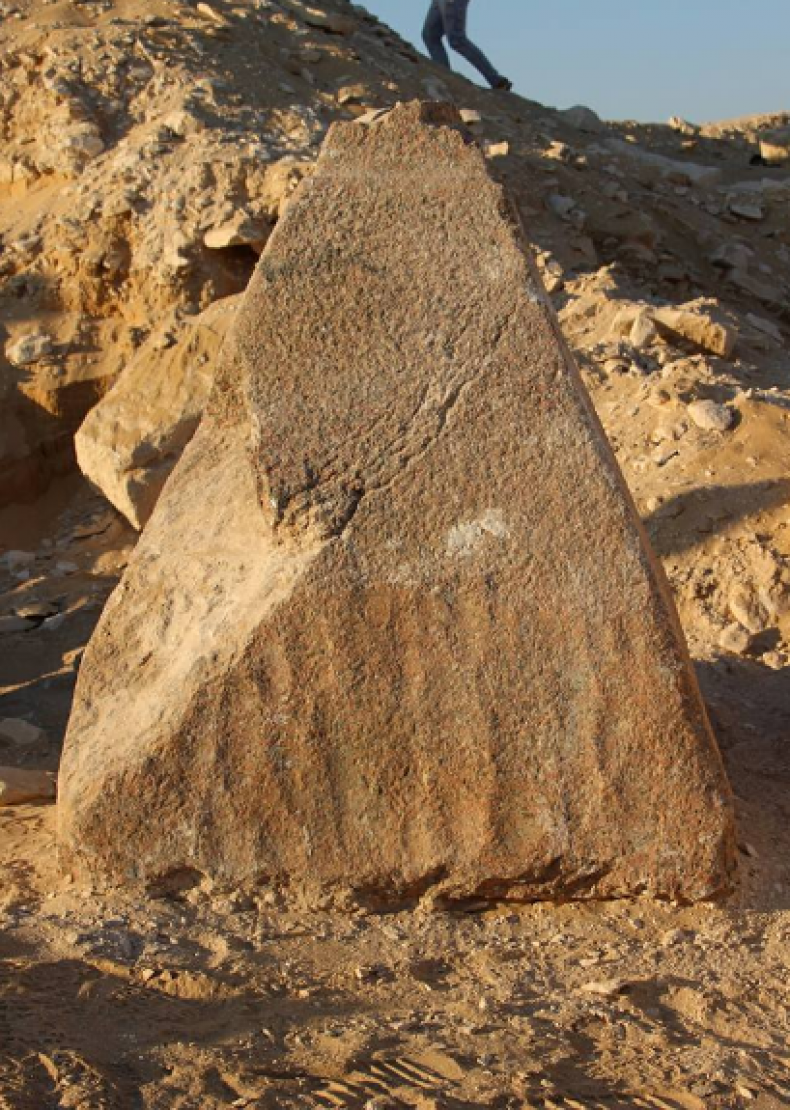 As of yet, the true purpose of satellite pyramids is not clear. They are too small for burials and researchers aren't sure what other function they may have served.
Queen Ankhnespepy II was married to Pepy I, and when widowed she married her nephew Merenre, the son of her deceased husband and her sister. From her marriage to Merenre she gave birth to King Pepy II, who ruled Egypt from about 2332 through 2283 B.C. However, Ankhnespepy II ruled in his place until he came of age. Although she did not ascend as high as the position of Pharaoh, her important position as Queen-regent meant that upon her death, Queen Anknespepy was given a large burial pyramid and an equally large obelisk.
The pyramidion was found south of King Pepy I's pyramid, in Saqqara necropolis, a vast ancient burial ground 19 miles south of Cairo. The pyramidion measures about 4.2 feet high and 3.6 feet long on its sides. Collombert believes the pyramidion would have once sat on top of the satellite pyramid he and his team are searching for. Although it is now partially destroyed, archaeologists think the pyramidion was once covered with a metal foil, of either gold or copper.
Collombert says (in French) that he and his team will continue to reveal further evidence about the satellite pyramid's location and keep us updated in the search for this ancient mysterious chamber.