Ancient Face Of Peruvian Queen Buried With Gold And Jewels Revealed For First Time In 1,200 Years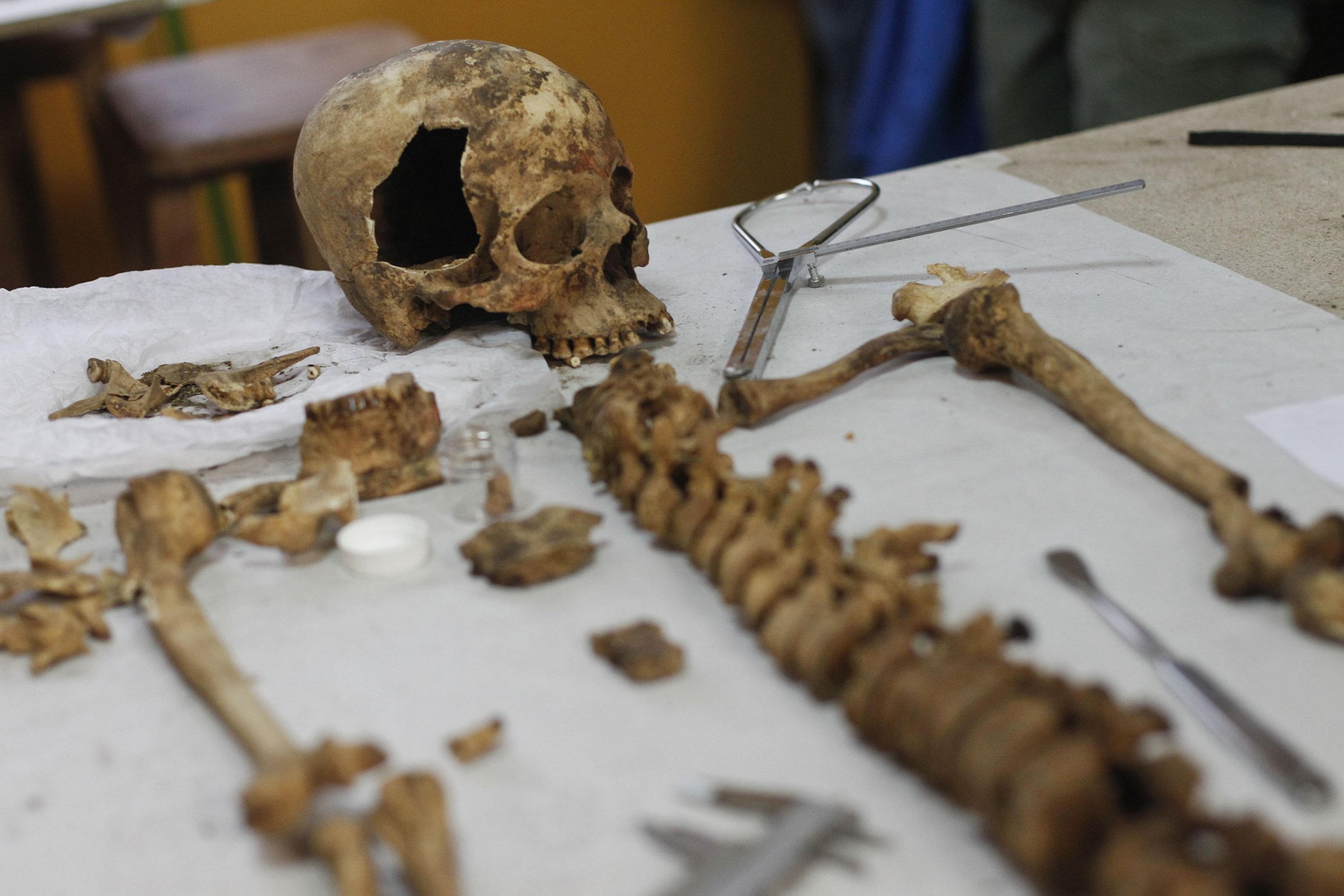 Experts in facial reconstruction have recreated the face of a Peruvian noblewoman, revealing for the first time what the 1,200-year-old pre-Columbian queen—who was buried with a vast trove of jewels and treasure—would have looked like.
Archaeologists uncovered the tomb of the so-called Huarmey Queen in what has been referred to as one of the most significant discoveries of its kind. The noblewoman was buried with 57 aristocrats from the Wari culture, an ancient people that ruled the region before the Incas.
Related: Ancient Remains of Peruvian Female Leader Transformed Into 3D-Printed Replica
The burial chamber, left untouched for centuries by grave robbers, was found by the explorer and archaeologist Milosz Giersz and Peruvian archaeologist Roberto Pimentel Nita in 2012, National Geographic reported.
Inside, the Huarmey Queen was laid to rest alongside jewelry, gold ear flares, a copper ceremonial axe, and a silver goblet as well as other treasures.
She was also buried with weaving tools made of gold, indicating her elite status as a master craftswoman. Examination of her skeleton revealed that she was 60-years-old when she died and showed she spent most of her time sitting, although she used her upper body extensively, again suggesting that she was a weaver.
Andean cultures from the period, including the Wari greatly, prized weavers and some of the textiles they produced, considered more precious than the gold and jewels the noblewoman was buried with, took two generations to create.
In a bid to understand more about the life of this remarkable woman, Giersz and Nita charged Oscar Nilsson to resurrect the ancient queen using facial reconstruction. Nilsson used a manual approach when working on the reconstruction. While a 3D printed version of her skull formed the base of the new face, he rebuilt the features by hand.
The queen's new face was recreated using data that allowed Nilsson to measure the thickness of her muscle and flesh. Because chemical analysis showed she had grown up drinking local water, he used pictures of contemporary inhabitants in the El Castillo de Huarmey area where she had lived.
In its entirety the project took 220 hours, with her hair made with real-hair from the Andean wig-supply market.
Giersz said the effect was remarkable. "When I first saw the reconstruction, I saw some of my indigenous friends from Huarmey in this face," he said.