The remains of a huge building from ancient Greece has been discovered by underwater archaeologists working at a site of an epic battle that took place 2,500 years ago.
The monumental structure was found in the shallow waters off the coast of Salamis during excavation work that took place in June and July last year. The Greek Culture Ministry, which announced the discovery, said it dates to the time of the Battle of Salamis—a naval battle between Greek and Persian states that some historians say was a turning point for Western civilization.
Underwater archaeologists were carrying out a survey of the region where they found the remains in the shallow water. The structure was found to be almost 50 feet long and was arranged on a north-south axis. Researchers believe it was a large public building that was used until the late Roman times, in the third century.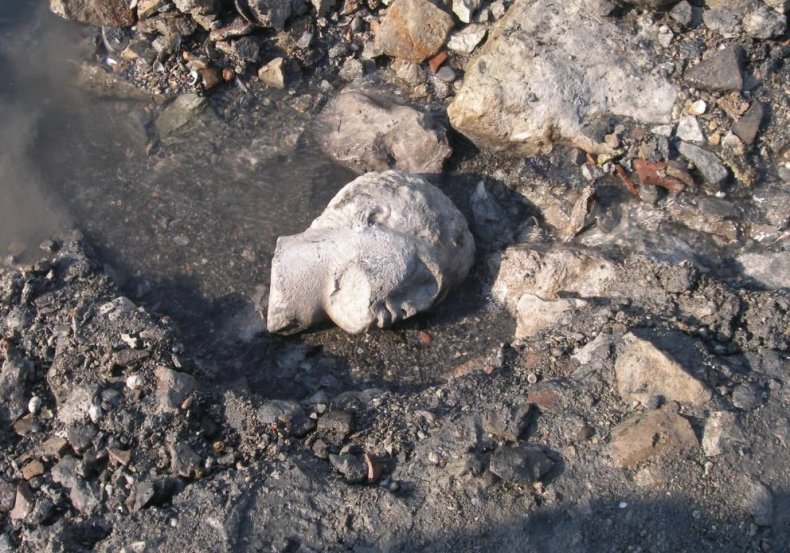 The researchers said it would likely have been one of the main public buildings in the area, located at the lowest point of the ancient city—at the port. The team found ceramics, statues, columns or pillars and other features relating to the building. They also found marble sculptures, including the head of a statue of an athlete or god. This, the ministry said, appears to date to the fourth century B.C.
During the 2018 survey, researchers used a new technique where a flexible barrier was constructed, allowing them to drain the area being excavated, get a better view of the site and to take samples of the sediments, helping them date the building.
The discovery of the building is important as it is helping archaeologists reconstruct the geography of the region 2,500 years ago.
At this time—480 B.C.—the Battle of Salamis took place in the straits between Salamis Island and mainland Greece. Following successful invasions by the Persian army, the Greek fleet had withdrawn to Salamis and they were outnumbered. At this point Themistocles, a politician and general, convinced Greek allies to fight, a report of the battle by the U.K.'s Cardiff University notes.
The Persians thought they had the advantage. They entered the straits of Salamis with a view of blocking the entrance. However, their large ships could not be maneuvered in the tight waterways and the Greeks were victorious. After this win, the Greeks defeated the Persians in several other key battles, ending the period of invasion.