Ancient Nile Treasures Discovered in 5,000-Year-Old Secret Tomb Reveal Biblical City's Ties to Egypt
A cache of Egyptian artifacts discovered in the ancient city of Jericho suggests that it was even more influential than archaeologists previously believed.
For the last 20 years, Italian and Palestinian archaeologists have worked together to excavate Tell es-Sultan, a site just north of ancient Jericho's city center. Their most recent trip revealed an "extraordinary" discovery, according to National Geographic: five mother of pearl shells from the Nile River in Egypt.
At least two appear to have been used to store makeup—they still contained traces of what the researchers identified during laboratory work as manganese oxide, which, as National Geographic explained, was the main ingredient in the iconic kohl eyeliner associated with ancient Egyptians. The researchers believe it likely originated in the manganese mines of the Sinai Peninsula.
"The discovery confirms a close commercial relationship, already in the early third millennium B.C., between the ancient city in Palestine and Egypt," lead archaeologist Lorenzo Nigro from the Sapienza University of Rome told National Geographic. "It also shows the rise of a sophisticated local elite in Jericho."
Many experts believe the destruction of the Palestinian city of Jericho was chronicled in the King James Bible's Book of Joshua, according to The New York Times. It was a vibrant hub of cultural and economic activity as early as 10,500 B.C. Located in what is now the West Bank, in ancient times Jericho thrived thanks to its access to freshwater from a perennial spring, or oasis. That oasis, Ain es-Sultan, allowed hunter-gatherers to first settle down and grow crops, and ultimately scale up into what became the city of Jericho, according to UNESCO.
The manganese oxide wasn't the only clue suggesting trade between Jericho and ancient Egypt. A tomb discovered underneath a palace floor revealed remains of two females: one child and one adult, whom the researchers believe was the child's attendant.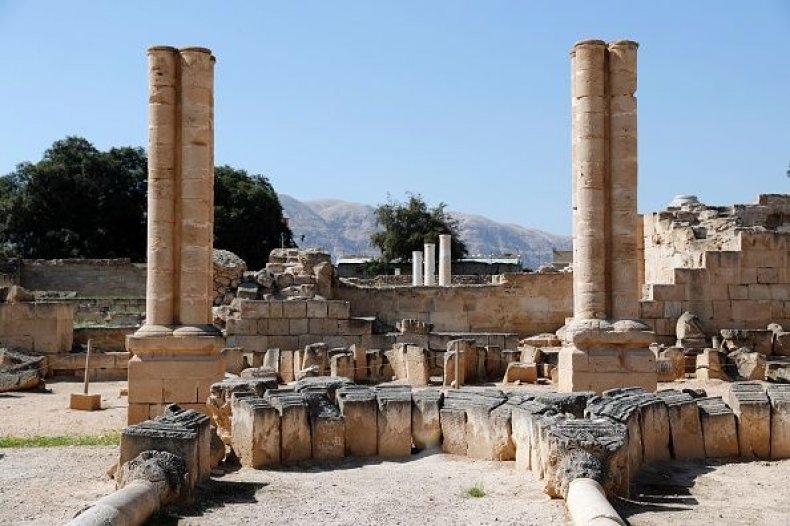 They'd been buried with sacrificed animals, jewelry and pottery, including one jug that contained scented oils or perfume. The archaeologists found bronze jewelry and bronze scarabs, but a stone scarab discovered on the remains of the girl's chest turned out to be inscribed with Egyptian hieroglyphics—another link between the two cultures.
Tell es-Sultan, which means "Sultan's Hill," is on the tentative list for induction as a UNESCO World Heritage Site. It's considered the oldest town on Earth, according to UNESCO.