The fossilized remains of six species of ancient shark previously unknown to science have been unearthed in Mammoth Cave National Park in Kentucky, with researchers hailing the site as "one of the most diverse Mississippian shark faunas in North America."
The fossils of at least 40 different species of shark and close relatives have been discovered in remote cave locations within the park since survey efforts started 10 months ago. The six previously undiscovered species include large predators and small bottom-feeders.
The fossils could be more than 325 million years old, which is when the limestones of the Mammoth Cave System were formed, during the Mississippian Period of the Late Paleozoic Era.
"I am absolutely amazed at the diversity of sharks we see while exploring the passages that make up Mammoth Cave," said John-Paul Hodnett, a paleontologist from the Maryland-National Capital Parks and Planning Commission, who was recruited especially for the project.
"We can hardly move more than a couple of feet as another tooth or spine is spotted in the cave ceiling or wall. We are seeing a range of different species of chondrichthyans [cartilaginous fish] that fill a variety of ecological niches, from large predators to tiny little sharks that lived amongst the crinoid [sea lily] forest on the seafloor that was their habitat."
The National Park Service (NPS) has said the new species will be described and named in a forthcoming scientific publication.
The shark fossils discovered at Mammoth Cave primarily comprise teeth and fin spines, since cartilage, which is softer than bone, makes up the majority of the sharks' skeletons.
However, two partial cartilaginous skeletons of different shark species have also been uncovered at Mammoth Cave.
"One specimen was discovered by a caver with the Cave Research Foundation and the other has been known by the park guides for years," the NPS said.
"The preservation of cartilage in layers of Paleozoic rock is a very rare occurrence and moved the team to thoroughly document these specimens."
Most of the shark fossils have been discovered in areas that are inaccessible to visitors on cave tours, but park staff have produced 3D models of the cartilaginous shark remains, and are preparing photographs, artists' renditions, and three-dimensional models for exhibition.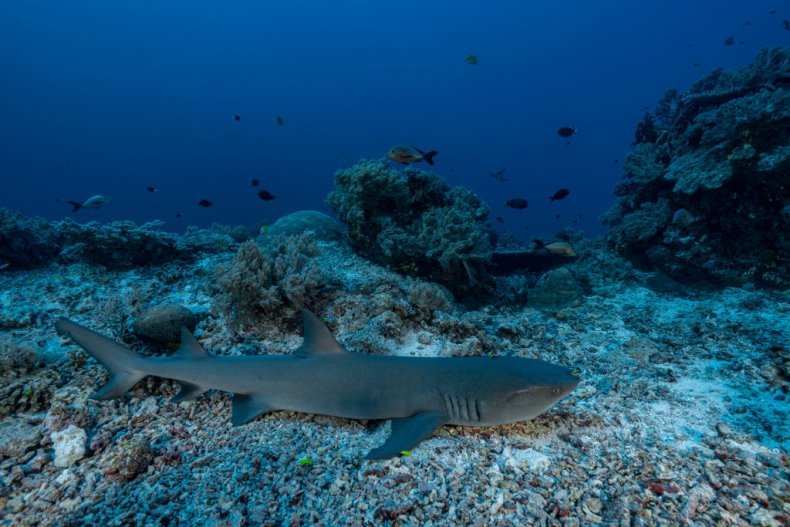 "We are very excited to find such an important set of fossils at the park," said paleontologist Rick Toomey, cave resource management specialist and research coordinator at Mammoth Cave National Park
"Although we have known that we had a few shark teeth in the limestone exposed in the cave, we never imagined that we would have the abundance and diversity of sharks that JP Hodnett has identified."