Ancient Temple Discovered Within Mexican Pyramid After Earthquake Damage
Archaeologists discovered an ancient temple hidden inside a Mexican pyramid while scanning for any damage caused by the 7.1-magnitude earthquake last September. The temple was found within the Teopanzolco pyramid in Morelos state and is believed to date back to 1150 and was found in early June.
The 1,000-year-old temple is thought to belong to the Tlahuica culture, Aztec people living in central Mexico, the BBC reported. It would have measured 20 feet by 13 feet, archaeologists said.
The structure, which is dedicated to the rain god Tlaloc, was found by scientists with Mexico's National Institute of Anthropology and History using radar technology.
Archaeologists were using the radar to check for any structural damage to the pyramid in Cuernavaca after the devastating earthquake in September. Isabel Campos Goenaga, the director of the INAH Center in Morelos, said in a press conference Wednesday that the Teopanzolco pyramid was greatly affected by the earthquake.
"Despite what the earthquake meant, we have to be grateful that this natural phenomenon revealed this important structure, which changes the dating of this archaeological site," Goenaga said.
Barbara Koniecza, an archaeologist, said that the temple discovery changes the chronology of the Teopanzolco pyramid. The archaeologist said that the temple inspired the construction of the Templo Mayor in Tenochtitlan, which is now Mexico City.
The archaeologist also said the 7.1-magnitude earthquake caused damage to the Teopanzolco pyramid, including two temples. "The pyramid suffered considerable rearrangement of the core of its structure," Koniecza said, according to the BBC.
Koniecza added: "The floor of both shrines sank and bent, which also put their stability in danger."
Archaeologists found an incense burner and ceramic shards, Sky News reported. "It is possible that on the right side are the remains of another temple dedicated to Huitzilopochtli," Koniecza said. Huitzilopochtli was the Aztec god of the sun and war.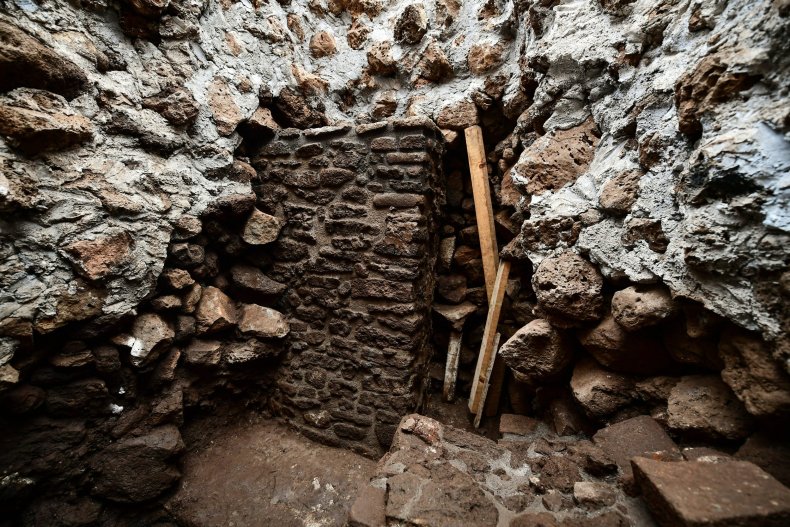 The 7.1-magnitude earthquake struck central Mexico on September 19, 2017, and killed 369 people. The majority of those killed by the earthquake were in the capital, but others were killed in the states of Puebla and Morelos. The massive quake came a week after a 8.1-magnitude earthquake struck off the southern coast of Mexico, killing at least 90 people, CNN reported.
The September earthquake occurred on the 32nd anniversary of the deadly 1985 Mexico City earthquake, which killed 10,000 people.