Anders Behring Breivik, Who Killed 77 in Norway, Spends Days Playing Video Games in Jail
As Anders Behring Breivik, who carried out the deadliest peacetime attack in Norwegian history, seeks a reduced sentence, some are saying his treatment in prison is too lenient.
Breivik, 42, lives in a three-rom cell and spends his time in prison playing video games, watching TV, exercising and taking college courses, the Associated Press reported.
The Borgen Project, a nonprofit organization dedicated to tackling global poverty, reported that this is customary for Norway's prison system, which focuses more on rehabilitation than punishment.
According to the report, many Norwegian prisons have banned jail bars, designing cells to resemble college dorm rooms. They also provide "a multitude of programs and courses that one could find at traditional recreational centers."
Norway also banned life sentences, making the maximum possible prison sentence 21 years. However, there is an addendum to the rule allowing for authorities to extend sentences in five-year increments for those they feel would be a danger to society if released.
The system has been successful, with only 75 inmates for every 100,000 people in Norway and a prison recidivism rate that decreased from 60 percent to 70 percent in the 1990s to only about 20 percent as of 2014, the Borgen Project report said.
For comparison, the Harvard Political Review reported in August that the United States' recidivism rate was at 76.6 percent and the Pew Research Center said there were 639 inmates for every 100,000 Americans in 2018.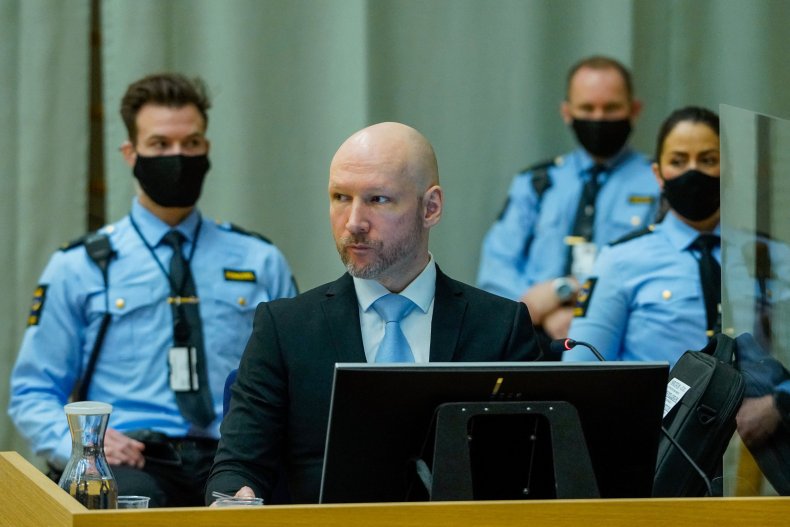 Some people, especially the survivors of Breivik's attack, said that due to the nature of his crime, he should not be afforded the same privileges as other Norwegian inmates.
In 2011, Breivik set off a bomb in Oslo, killing eight people. Shortly after, he drove to the island of Utøya, where he opened fire on a summer camp for the Norwegian Labour Party's youth wing, killing 69, most of whom were teenagers.
He received the maximum 21-year sentence and this week sought parole in a series of hearings, which he used as a platform for his white supremacist views, echoing a neo-Nazi manifesto he wrote shortly before the mass killings.
Erik Kursetgjerde, who survived the Utøya attack when he was 18, told AP he agreed that Breivik's treatment might be too lenient.
"We have never had anyone in Norway who has been responsible for this level of violence before," he said. "And there has been debate here about whether part of the justice system should be changed for someone like him."
Experts think it is highly unlikely Breivik's parole request will be heeded. Newsweek reported that Randi Rosenqvist, Breivik's prison psychiatrist, told the court on Wednesday that despite Breivik's claims that he renounces violence, he cannot be trusted.
"[He] has not changed [the] risk for future acts of violence compared to the way he was," she said.