Is Norwegian Mass Murderer Anders Breivik Still a Threat to Europe?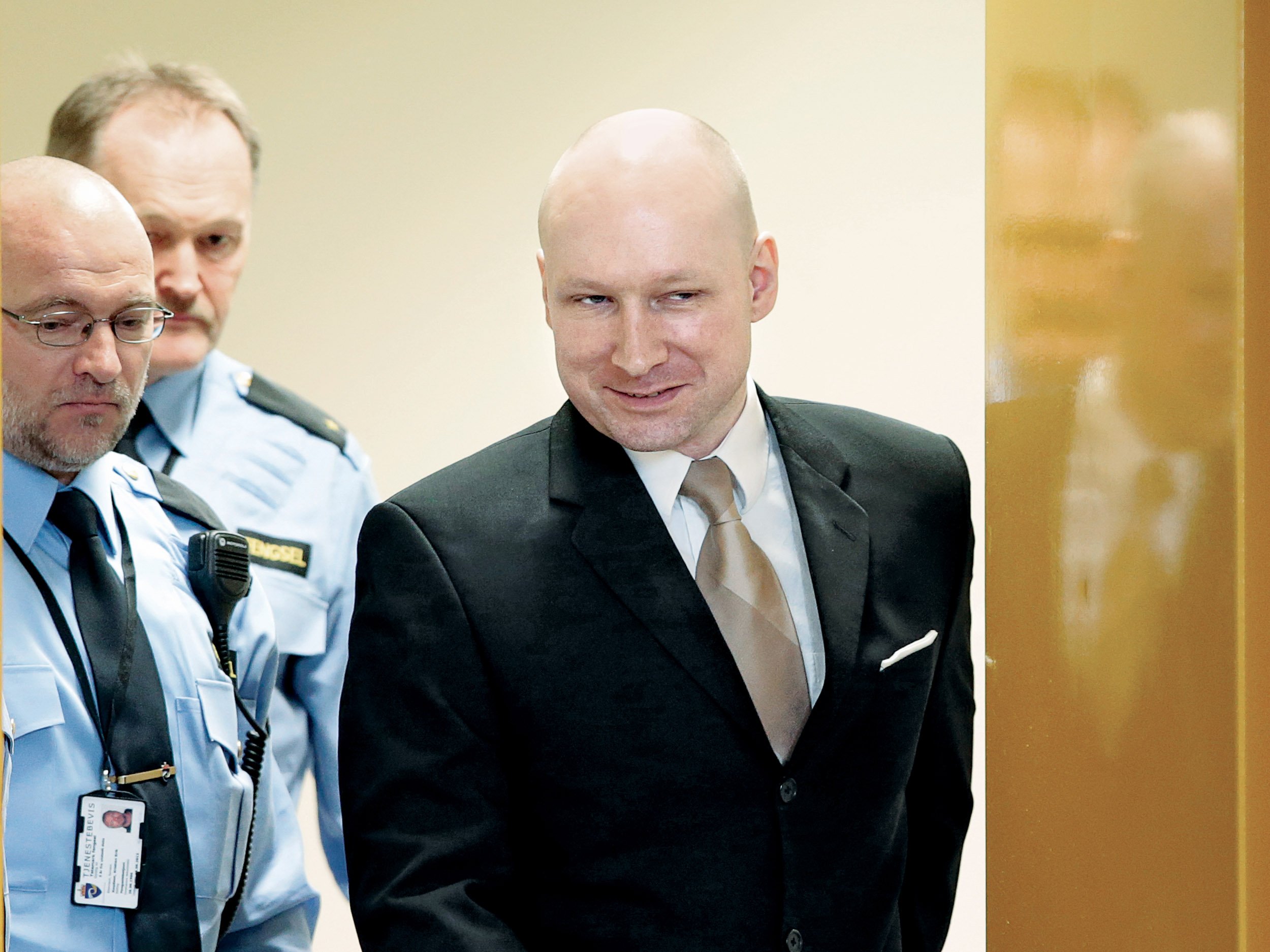 As Anders Behring Breivik entered the gym turned courtroom in Skien prison, the jail in southern Norway that has held him since August 2013, a smile crossed his lips. He waited eagerly for one of the four guards who stood next to him to unlock his handcuffs. He looked around to see who was in the gym: two dozen journalists and some prison officials. And then he looked in the direction of the journalists and raised his right arm in a Nazi salute. Breivik kept it there for nine long seconds. One of his two lawyers already had her back to the man who murdered 77 Norwegians on July 22, 2011. The second turned away as soon as he saw Breivik's arm go up.
Breivik's gaze was focused not on the people in the courtroom last month; he was looking at the cameras. Instantly, pictures and live footage of his Nazi salute were transmitted to news agencies around the world and shared online. Like his media-savvy brethren in the Islamic State militant group (ISIS), the 37-year-old Norwegian extremist, who wants to establish a party called the Nordic State, has long known that he needs to shock to get the world's attention. "I was wondering how many people I needed to kill to be read," he said after he had committed his acts of violence in 2011. He had calculated that he had to kill a dozen people to be noticed. He ended up killing many more; 33 of his victims were under 18.
Breivik later described his massacre as his "book launch." In a way, he was right: No one had been interested in reading his polemics before he placed a bomb outside the prime minister's office in downtown Oslo and later that day shot teenagers at a Labor Party youth camp on the island of Utøya, an hour's drive from the capital. Only then did thousands of people read, discuss and comment on his 1,500-page manifesto.
Breivik has not forgotten the power that comes from sparking outrage. This appearance in court in mid-March was not an appeal against his conviction; Breivik was suing the Norwegian state, claiming it was violating his human rights by holding him in isolation and preventing him from freely communicating with the outside world. The Norwegian authorities argue that he remains a threat and that solitary confinement is necessary to prevent him from inspiring or directing right-wing extremists eager to commit their own atrocities.
Even far from Norway, Breivik's supporters found comfort in seeing him perform the Nazi salute. "He is a hero of his people, and I cannot wait for his liberation from captivity at the hands of swine," says one supporter, Andrew Auernheimer, an American extremist who now lives in the breakaway republic of Abkhazia, in Georgia. "We all love and support him unconditionally. His lawsuit and Roman salute have only increased sympathy and appreciation for him."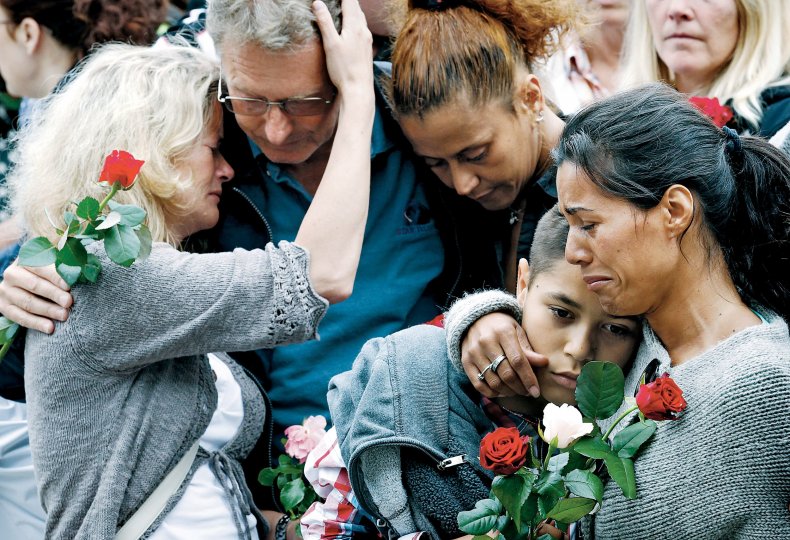 Breivik's court appearance posed a fresh challenge to the Norwegian state. To uphold the country's democratic values, the authorities had to allow him to appear in court, knowing full well that the proceedings would be televised and that he would likely use the occasion to reach out to potential followers. Adele Matheson Mestad, a lawyer for the Norwegian state, told the court Breivik's ideology is especially dangerous right now because the large numbers of refugees entering Europe have given rise to an increase in right-wing activity on the continent. Were he able to communicate freely, Mestad said, Breivik could encourage sympathizers to commit acts of violence.
The court hearings were agonizing for survivors, for the families of the dead, for most Norwegians—and they raised an unsettling question: In an era of copycat extremist attacks and social media wannabes, would this court appearance make Breivik a greater threat?
'Our Elites Are Traitors'
Europe is becoming increasingly familiar with attacks by extremists, but Breivik's actions made him the deadliest lone wolf attacker in the continent's history. On the afternoon of July 22, 2011, he detonated a bomb outside the prime minister's office in Oslo, killing eight people. Two hours later, wearing a police uniform he had made, he took a ferry to Utøya, site of the youth camp run by Norway's then-ruling Labor Party. There, he shot dead 69 people before police arrived on the island and arrested him.
Deeply troubled as a child, Breivik joined Norway's right-wing Progress Party at the age of 18 and then steadily moved further to the right. He began to read and engage with a range of white supremacist, neo-Nazi and anti-jihadi websites. These different sources of hate influenced his manifesto, an often contradictory mixture of ideas he cut and pasted from the internet, interspersed with some of his own thoughts. The general gist: Europe is being invaded by Muslims, and governments are doing nothing to stop this catastrophe; our elites are traitors who deceive us; if we don't react now, Europe will end up as an Islamic caliphate.
Breivik tried to make contact with right-wing ideologues online, but he struggled to find a sympathetic audience, so he started buying weapons and ammunition and rented a farm so he could buy hundreds of kilograms of fertilizer and other ingredients for a bomb. From the farm, in the dense forests by Sweden's border, he planned his attack on these so-called traitors, the political elites and their children. He wanted to spark a broad war in Europe that would end with the Christians finally defeating the Muslims. At that point, he anticipated all Muslims would be able to choose between deportation, converting to Christianity and changing their names, or death. All mosques would be demolished or used for other purposes; all Muslim artworks destroyed; and the use of Arabic, Farsi, Urdu and Somali would be banned.
During his trial, the court deliberated over whether Breivik was mentally ill and in need of treatment or whether he was a cold-blooded, rational mass killer. Some of the psychiatrists who evaluated Breivik diagnosed him as having narcissistic and antisocial personality disorder. (An earlier group of doctors said he suffered from schizophrenia.) In August 2012, the court sided with the second group and ruled that because he was not psychotic and had understood what he was doing, he was legally accountable for his actions. The judge in the case gave Breivik the maximum penalty for committing an act of terrorism—21 years, with a possible extension until the end of his life. As long as he is considered a danger to society, he can be kept in prison.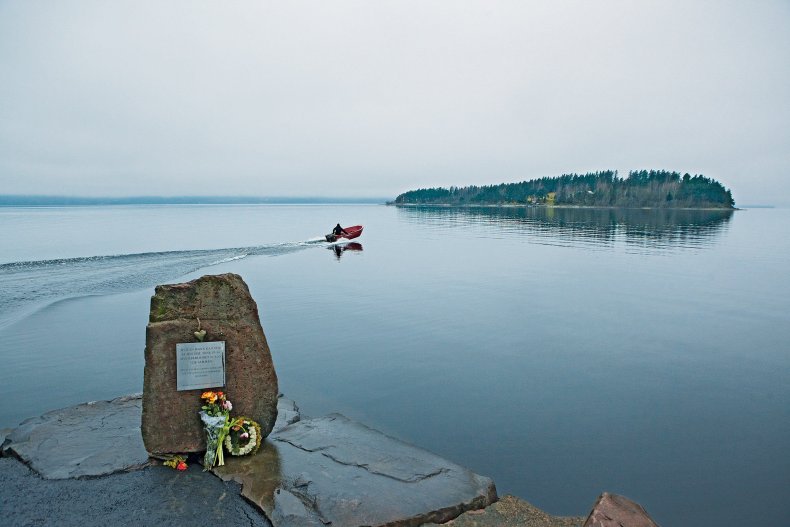 Almost as soon as Breivik's name became known after his arrest, extremists began lionizing him. His so-called manifesto, "2083 — A European Declaration of Independence," was seen as valuable reading material. Right-wing blogs and social media accounts frequently praised him. One of the best-known blogs in this small, dark corner of the internet, The Commander Breivik Report, dutifully recorded all news relating to the shooter and archived his letters, court transcripts and psychiatric reports.
Breivik was particularly popular in Russia. "Glory to Anders Breivik" was chanted in the nationalist movement's annual Russian March in central Moscow. Pictures of Breivik and his statements were shared extensively on the right-wing forums of VKontakte, Russia's largest social-networking website. Breivik was "a holy man" whose acts "lit up" the darkness, his fans wrote.
Less than a year after Breivik's attack, copycats emerged. In August 2012, Czech police arrested Vojtěch Mlýnek, who was planning a Breivik-style attack. In online posts and emails, he had used Breivik's name as a pseudonym. Three months later, Polish police arrested an admirer of Breivik who had planned to blow up Polish government buildings. In the U.K., four people inspired by Breivik were arrested between January 2013 and June 2015 on suspicion of planning or carrying out extremist attacks.
The admirers were not confined to Europe. On December 14, 2012, American Adam Lanza, 20, opened fire at the Sandy Hook Elementary School in Newtown, Connecticut. Lanza shot and killed 26 people, 20 of them young children, before he shot himself. Sources told CBS News that investigators had found evidence that Lanza was "obsessed" with Breivik and wanted to top the Norwegian's toll.
But as the months and years passed, his acclaim faded. The last post on The Commander Breivik Report is from January 2015. Cut off from their hero, Breivik's fans began discussing other nationalist issues. Some shut down their blogs. Some sites were left without any updates.
The decline in adulation for Breivik online and in the material world was partly a result of the passage of time and partly a result of his increasingly limited ability to correspond with sympathizers. When he was first detained, he received hundreds of letters every month. Most were from right-wing extremists. A large number were from women who said they were in love with him. Several were from boys and girls who saw Breivik as their new hero.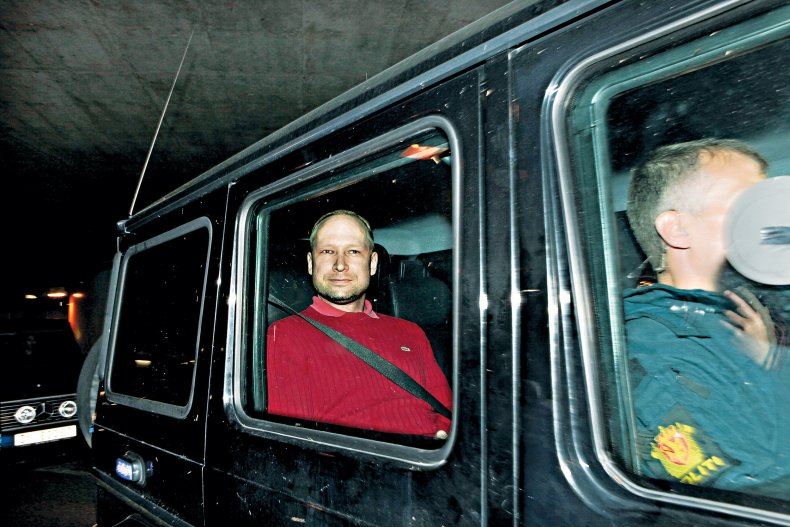 For the first 12 months, prison officials let all the letters through. Then they realized Breivik was building a cult around himself. They asked the Norwegian Ministry of Justice to provide new guidelines on how to interpret laws, and starting in August 2012, prison officials began to censor Breivik's incoming and outgoing letters to prevent him from inspiring or directing any more crimes. He wrote to three leaders of the Aryan Brotherhood, a white supremacist prison gang in the U.S.; the letters never left the censor's desk. A letter from Nikolai Korolev, a Russian nationalist convicted in 2008 of killing 14 market traders, mainly Central-Asians, in a 2006 bombing attack in Moscow, never reached Breivik.
Breivik decided to contest the terms of his imprisonment. For two years, he and his lawyer appealed unsuccessfully to prison authorities to end his isolation. They got nowhere. In February 2015, his lawyer announced Breivik was preparing to file a lawsuit against the state for violating his human rights. He wanted visits and phone calls. He wanted internet access and a PlayStation 3. He wanted to influence the world.
The Line Went Dead
Freddy Lie still wakes up at night hearing that scream. His daughter's scream. The one he heard on July 22, 2011.
He was driving in the rain when 16-year-old Elisabeth called from the youth camp on Utøya. She just howled into the phone. It was kind of scream he had never heard before. What was happening? Was she being raped? There, at the summer camp? And then the line went dead. When he called back it went straight to voicemail. Breivik had shot Elisabeth in the head, a bullet in her left temple. It went through her brain and out the right side of her head into the phone. Only when it hit the pink back cover of the phone did the bullet stop. Elisabeth fell sideways, and Breivik shot her twice more. When she was found, her long, blond hair was colored red by blood; her fingers had stiffened in the grip around the pink phone.
"We just marked what should have been her 21st birthday," Lie said, standing outside the gym in Skien during a break in the court proceedings. "Last week. At her grave." He said he had to see Breivik's legal challenge himself, rather than reading about it in the papers or seeing it on TV. (A handful of other parents of Breivik's victims followed the trial on direct video link from Oslo District Court, but most stayed away.) "We've been through hell," Lie said as the hearings were about to resume.
Lie and a small group of parents of the dead considered suing the state for failing to protect their kids at the summer camp, for taking too long to understand that an act of mass murder was unfolding. That July afternoon, police forces were standing on the mainland, some 600 yards across the water from the island, able to hear the sound of gunshots ringing out from the island. Sixty minutes elapsed between the time the police were notified of the shooting and the time an officer stepped foot on the island. The reaction time was too slow, some parents of Breivik's victims say; it allowed him to continue shooting people on the island and in the waters of the lake as they tried to swim to safety for more than an hour before special forces apprehended him.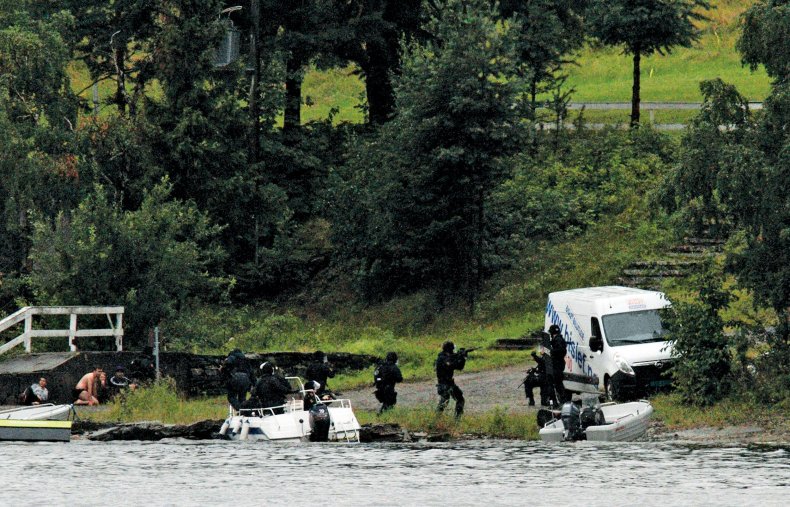 Officers followed the sound of gunfire to a clearing in the woods; Breivik, despite still having ammunition left, then surrendered. The police found him standing between some bushes and ordered him to raise his hands. He quietly put down his rifle. One of the officers noticed a wire that appeared to emerge from his bulging vest and run down his body. Thinking Breivik could be wearing explosives, the officers ordered him onto his knees and then told him to lie flat on his stomach. An officer then jumped on him and handcuffed him.
"It's not you lot I'm after," Breivik said, turning his head as an officer bound his legs with plastic cuffs. "I see you as my brothers." The wire turned out to be Breivik's iPod headphones. He had planned to listen to music during the attack but ended up doing without it, saying later that he needed to hear what was happening around him.
Lawyers whom Lie and the other parents approached declined to represent them, saying there was no chance they could win the case against the state. After a couple of years, they are about to give up. They don't have the strength to pursue a suit; mourning is hard work. They grieve. They are sleepless. Some feel they are going mad. So no one sued the state until he did: the killer.
'Low Intensive Torture'
"I am the general secretary of the party the Nordic State," Breivik told Judge Helen Andenaes Sekulic on the opening day of the court proceedings in March. (She is expected to issue her decision on the case in late April or early May.) While in prison, he had "converted" to national socialism, he told her. "The only important right for me is the right to have national socialist friends and a national socialist spouse—everything else is meaningless." He asked for the right to advertise for a wife who shares his political views, and he said he also needed to "build relations with" people with the same values.
Breivik claimed that his isolation violates the European Convention on Human Rights, specifically Article 3, which states, "No one shall be subjected to torture or to inhuman or degrading treatment or punishment." His suit also argues that the Norwegian state has breached Article 8, which protects a person's "right to respect for his private and family life, his home and his correspondence," according to the suit.
Breivik lives in three separate cells of 8 square meters each. He also has a shower and a storage room. One of the three rooms has a bed, a chair with a padded seat, a footrest, a TV, books, a DVD player and a PlayStation. In the second room, he has a table and a typewriter. The third is his mini-gym; it contains a treadmill, a spinning bicycle and an elliptical trainer.
"It's a farce," Lie, the still-grieving father, said of Breivik's complaints. "After this trial, I think the state can tighten the nuts a bit more."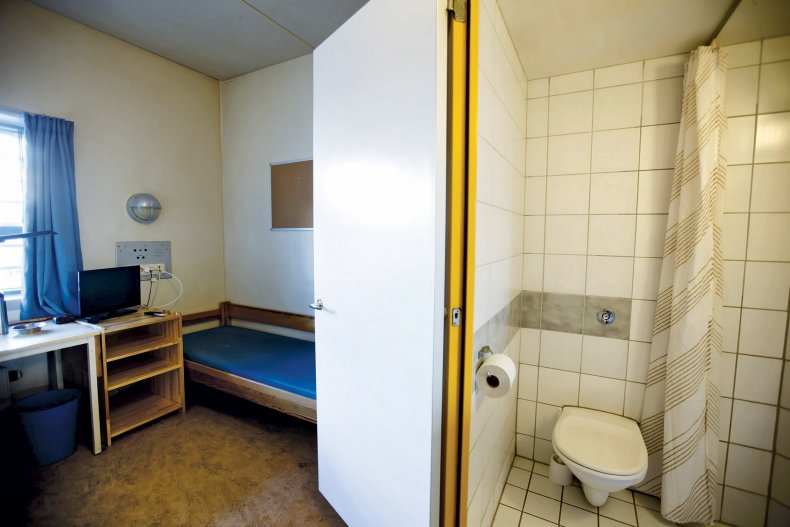 Breivik's lawyer, Øystein Storrvik, told the court his client has been impaired by the isolation. Breivik said in court that his brain had become so damaged that he had even started to enjoy a dating reality series called Paradise Hotel . He called the prison regime "low intensive torture" and complained about plastic cutlery, paper cups and coffee that was sometimes cold. "For people from Oslo West," the affluent part of the city where Breivik lived, the food he was given was "worse than waterboarding." Sometimes he even got the same dish two days in a row. And sometimes, when he called the guards to let him out of his training cell and into another room (the rooms are not contiguous), he had to wait for a full 20 minutes.
To many people, those complaints are absurd, even sickening. But there is a large body of scientific evidence to suggest that solitary confinement is an extreme form of punishment that can cause serious psychological and emotional damage. The prison authorities acknowledge that and say they would like to allow Breivik more contact with other prisoners, but they say his attempts to spread his ideology make it dangerous for them to change the rules. They are also concerned that other prisoners might harm Breivik, or that he might try to harm them.
In the lawsuit, Breivik requested a change in the prison's policy on visits, letters and phone calls. Storrvik described that policy like this: "Those who want to see Breivik are not allowed to, and those who are allowed to, Breivik does not want to see."
Breivik does not want to see his family, relatives or old friends, whom he called "meaningless" visitors. Just before his mother died, in 2013, he told prison authorities that he might not want to see her again because she wasn't as proud of him as she should be. When his father, who had not seen him for 20 years, wanted to visit him, Breivik agreed but only on the condition that the elderly man would become a member of the Nordic State and declare allegiance to national socialism. His father declined. For a while, he was in regular telephone contact with one of his female fans, but he eventually stopped talking to her because he did not find the conversations politically stimulating.
About 4,000 letters—to and from Breivik—have passed through the prison's censorship department during the past four years. The prison has censored 600 of them, mostly those written by Breivik, and has kept only a few dozen of the many letters sent to him. The monitoring of the mail, expensive and laborious as it is, needed to continue, the state's lawyers argued. "The plaintiff has not shown any sign of remorse," Marius Emberland, the lawyer in charge of the state's case, said in court. "Breivik is a very dangerous man."
Narcissistic and Revolutionary Wishes
So what does this dangerous man believe? What viral, threatening ideas does he nurture in his pampered isolation? The answer is in that Nazi salute. Breivik has slightly altered his political message. In 2011, he wanted to rid Europe of all Muslims; now his belief system appears to have shifted to a more extreme form of neo-Nazism, with a focus on maintaining what he sees as the purity of the Nordic, or Aryan, race.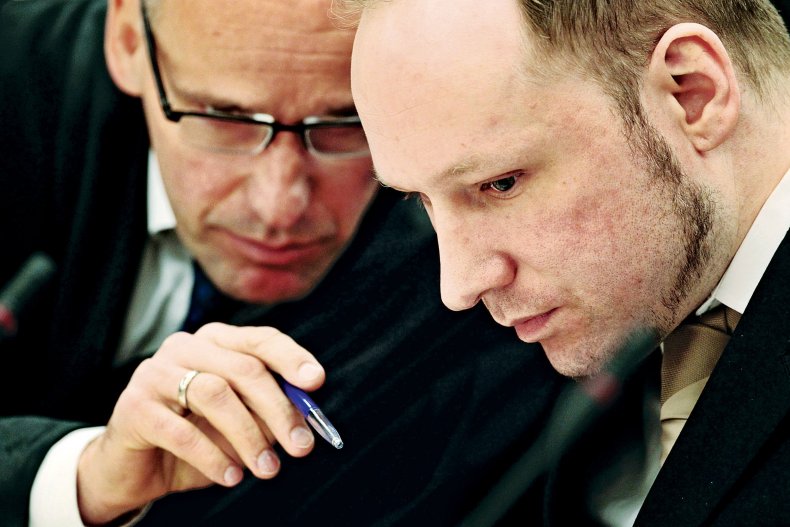 "He's an opportunist," says Tore Bjørgo, director at the Center for Research on Extremism at the University of Oslo. "The leading ideologues on the anti-jihadist scene rejected him. They found his murders horrendous. Now he rejects them in return and clings to those who gave him support—the most extreme neo-Nazis in Eastern Europe and Russia."
I have spent a few years studying Breivik and his crimes for my book One of Us: The Story of Anders Breivik and the Massacre in Norway. That's how I came to be in contact with him. The first letter he wrote to me began: "Dear Åsne, I have been following your career with great interest since 2003. I respect and admire you for your mentality, competence and intelligence."
The letter continued, flattering me, trying to manipulate me into serving his purposes. He made me an offer in the letter. He wanted us to write the book together. "I have enough insight to realise that 'The Breivik Diaries' [a still-unpublished manuscript he is not permitted to send to anyone] will be boycotted by the established publishing houses, and therefore want to offer you the chance of selling the book as a package within your project, that is, you top and/or tail your book with a quick hack job by me." He ended his letter: "With narcissistic and revolutionary wishes, Anders Behring Breivik."
I declined the offer but continued to ask him questions in my attempt to understand what had made him a mass murderer and a convicted political terrorist at the age of 32. In his manifesto, and during the 2012 trial, Breivik's main enemy was multiculturalism, a system he called cultural Marxism. He claimed in court that he had committed his attack to save Norway's Christian culture.
Since then, his hatred of people of different racial or ethnic backgrounds, and of mainstream political thought, seems to have lost none of its intensity. The last letter I received from him came on November 13, 2015. He said that this was the fifth version of the letter and that the previous four had been stopped by the censors. He wrote, "It was neither a Christian, nor a contra-jihadist who acted on 7/22" but rather "one of the most fanatical National Socialists in Northern Europe." He said he had converted to Odinism, a racist pagan movement, and prayed to the same God as the Vikings did in the 10th century.
Breivik's main preoccupation in the letter was with how to preserve what he calls "the Nordic genes." One of his ideas was that the state should establish a fertility clinic where Nordic embryos would be for sale. The clinic would hire surrogate mothers to deliver "100% pure" Nordic babies for adoption. He ended the letter by saying that "saving the racially distinctive character of the Aryans" was the most important issue on the agenda for the Nordic State.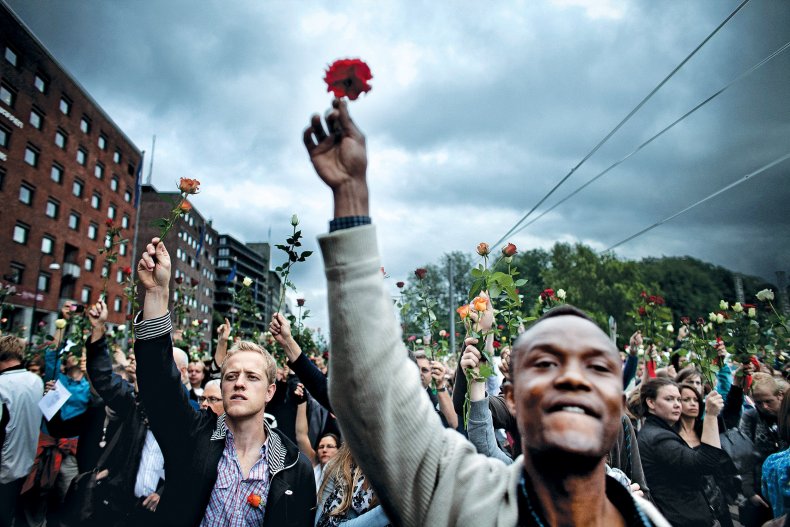 But here's where Breivik may bump up against a painful reality: His so-called Nordic State exists only in his mind and in his writings. "This trial hasn't really made an impact," Alexander Verkhovsky tells me by phone from Moscow. He is the director of Sova Center, a Moscow-based think tank that conducts research on nationalism and xenophobia in Russia. Since Breivik committed his crimes in 2011, other issues have competed for the attention of Russia's far-right activists. Ukraine has been a focal point, as has the influx of refugees from the Middle East, North Africa and Central Asia. "He is an old story now and hasn't been able to keep the support up here in Russia. He almost disappeared from the scene," Verkhovsky says, referring to the social media and blogosphere of the extreme right wing.
Even the pictures of his Nazi salute hardly got a nod from many of his old fans. "It's warm and cozy, where he is, not a Russian gulag," one person wrote on a nationalist page. Another made fun of Breivik's request for a PlayStation 3. On the website Pravye Novosti (Right-Wing News), a commentator wrote that Breivik acted too early. " He hurried, did not wait for the Arab immigrants. Today nobody would have convicted him. Jackass."
But some supporters remain loyal and were delighted to see their old idol on television again. Some still call him a "hero of the white race" and address him as "Commander Breivik" or "Beauty." Auernheimer, the American living in Georgia, says, " I network with thousands of nationalists. My crew has 30 core people working daily. Breivik came up recently. Not a bad word was said. We all love and support him unconditionally."
Roman Dedushkin is one of Breivik's Russian fans. "My stance towards Breivik in the last five years has only become more positive," he says. "This is because of his active stance whilst being in prison, as well as the fact that I have thoroughly studied his texts, translated into Russian. He is most definitely an authoritative figure, and I think that the numbers of those who support and sympathize with him will only grow."
Wishful thinking, perhaps. But many involved in the Breivik case warn that if he, a lone attacker, can cause so much damage in three hours, so could a copycat killer. " Our greatest fear is not that he will be let out. He won't. It is that he will be able to spread his message. It is a message that kills," says Lisbeth Røyneland, the leader of a support group for the victims of July 22. She lost her 18-year-old daughter, Synne, in the attack. Synne had tried to swim away when Breivik started shooting but then turned back. She was found behind a stone, with three bullet holes in her forehead. The forensic experts at first thought she had been about to drown because of severe damage to her lungs. Then they realized that the damage was the result of extreme hyperventilation from her desperate, rapid panting as she died.
"I can never forgive him," Røyneland says. "I lie awake at night and think of her fear, her last seconds, alone behind that stone. But I trust the Norwegian rule of law. I support his right to put his case forward. It is important for us that he is treated like any other prisoner. Not better. Not worse."