Cornel West Celebrates Multiracial Protest Coalition While Warning Against 'Neo-Fascist Clapdown'
Appearing on CNN's Anderson Cooper 360 Tuesday, public philosopher and civil rights activist Dr. Cornel West celebrated the "love warriors" of the black community, who have responded to the May 25 police killing of George Floyd with ongoing protests in cities across the United States and around the world, joined in solidarity with what West described as a "multiracial, multicultural, multigendered" movement.
West was speaking in the context of Floyd's funeral, held Tuesday in Houston, Texas.
"What is it about these black people—so thoroughly subjugated, but want freedom for everybody? That's a grand gift to the world right in the bowels, at the center of an American empire that has enslaved, Jim Crowed, Jane Crowed, lynched them; still dishing out these love warriors," West said, adding that the Floyd family reminded him of his own. "That's where we come from. Shiloh Baptist Church. You can put us down, but you're not going to put us down in such a way that we're going to hate you because you become the point of reference."
Floyd's family was joined at the funeral service by the families of other black victims of police homicides, including Pamela Turner, who was killed by a police officer in Baytown, Texas, who shot her multiple times while she was on the ground, after she had told him she was pregnant; Botham Jean, who was killed by an off-duty police officer in Dallas, Texas after the officer entered his apartment in what she claimed was a mistake; Michael Brown, who was shot six times by a police officer in Ferguson, Missouri and Eric Garner, killed when a New York police officer put him in a chokehold during a confrontation over selling loose cigarettes. Also present at the funeral was the family of Ahmaud Arbery, who was chased down by three men in pickup trucks, before one shot him three times with a shotgun.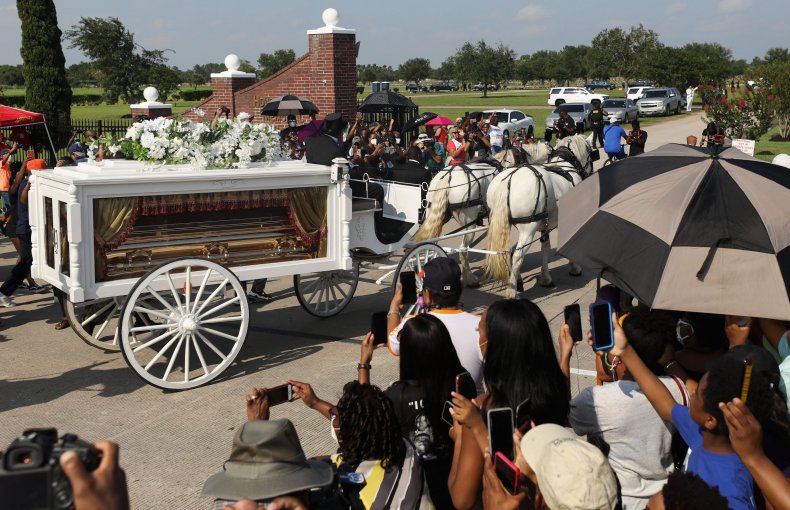 "I stand with all mothers who have lost sons to these events," Wanda Cooper, Arbery's mother, told CNN after the funeral service. "We command change. We can't lose another life to such tragedy. Something has to change."
In speaking with Cooper, West emphasized what he believed to be the moderate tone presented during the ongoing protests, particularly in contrast with the retaliation repeatedly visited on black Americans.
"If we had created a black version of the Ku Klux Klan, there would've been a civil war every generation, with a terrorist cell in every hood. And that's what brother Trump needs to understand, because it looks like he's trying to push us to the race war," West said. "But the good news is, if there was a race war, we've got a whole lot of white brothers and sisters on our side now. That makes a big difference. We've got black folk and red folk and indigenous people and Asians and so forth. This is a matter of integrity and honesty; a matter of justice and love."
West went on to cite inspirational and revolutionary figures from history, representing voices across the multiracial coalition joining in anti-police brutality protests, including jazz singer Ella Fitzgerald; Muhammad Ali; Catholic anarchist activist Dorothy Day; abolitionist and Native American rights activist Lydia Maria Child (author of the poem "Over the River and Through the Wood"); socialist, pacifist minister Norman Thomas and Palestinian American postcolonial intellectual Edward Said.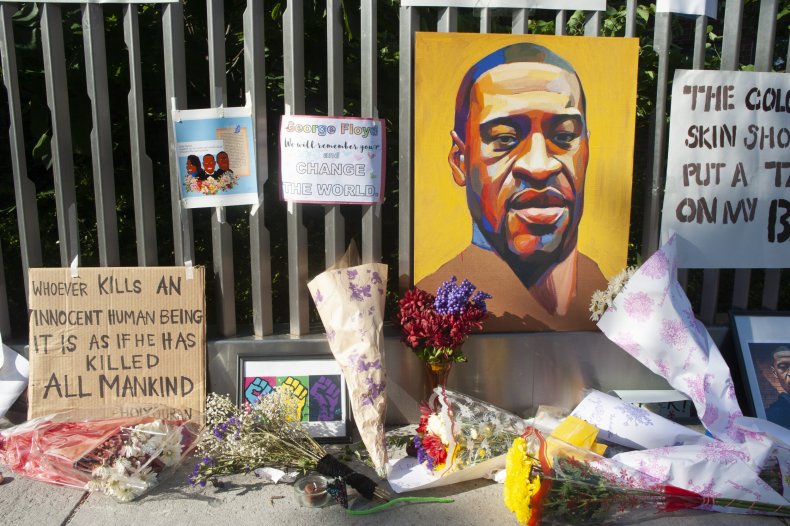 "We've got a love that the world can't take away. White supremacy may make being black a crime, but we refuse to get in the gutter," West said. "We're doing it for the whole world, because that's the only hope of the world. And that kind of love is always tragiciomic and cruciform. You got to get ready to get crucified with that kind of love and you have to keep dishing it out generation after generation after generation. The Floyd family lifted up that spiritual, moral banner in the midst of a moment in which we've got all these lies and crimes, be it the Pentagon or Wall Street or the White House, or even Congress itself—we know they don't represent the best of this country."
West also warned of a coming backlash in the form of a "neo-fascist clapdown."
West's impassioned speech visibly moved Cooper, who said, "I never had the honor of taking one of your classes, but I feel like I'm a student of yours and I learn lessons every time you speak."
"Now we're in it together, brother," West responded. "And the beautiful thing about peers: Socrates never cries, but Jeremiah does and so does Jesus. We cry because we care, we're concerned. It's not about political correctness, it's not about self-righteousness, we cry because we are not numb on the inside."