'Andi Mack' Fans Get Emotional After Disney Show Teases Network's First Gay Couple
After three seasons of bringing young fans laughs, tears and awe-inspiring moments, the Disney Channel will bid a final farewell to Andi Mack. The series, which followed middle-schooler Andi Mack—played by Peyton Elizabeth Lee—her multi-generational Asian American family and friends will conclude with its series finale on Friday.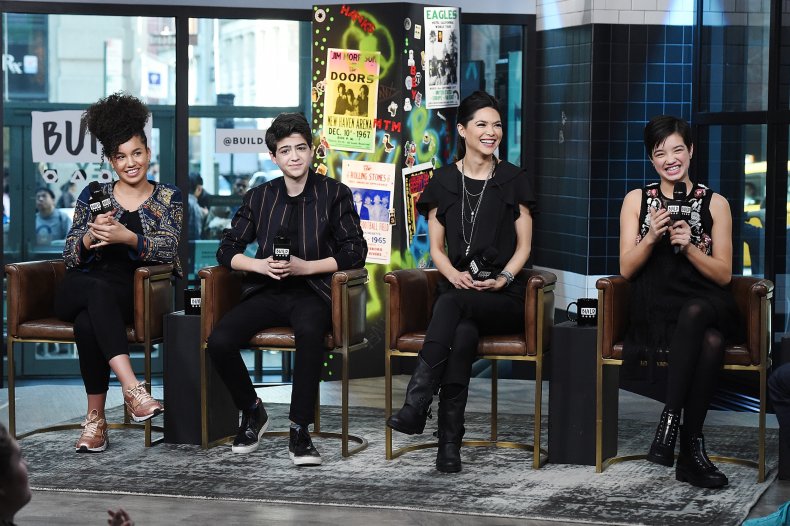 Since its 2017 debut, the show has been a hit with young viewers thanks, in part, to the meaningful way the Disney series tackled heavy topics. The show started with 13-year-old Andi discovering that the woman she believed to be her free-spirited older sister was actually her mother, and her birth was spawned from unplanned teen pregnancy. Over the years Andi Mack has gone on to tackle a number of controversial matters from anxiety, racism, homelessness, learning disabilities and more.
The series was also a historical one for the network after it became the first Disney program to ever include a gay main character, Cyrus, played by Joshua Rush. The network was praised for the way it handled issues pertaining to homophobia and coming out after Cyrus, who was Andi's best friend, revealed his sexuality during a Season 2 episode by stating two simple words: "I'm Gay."
The moment marked the first time the expression was said on a Disney series, and Cyrus went on to become a fan favorite.
In the wake of the series finale, many viewers noted how important the character was not only for them but for younger generations as well. On social media, fans expressed their appreciation for Disney finally opening the doors for LGBTQ characters. Although there were several viewers that were sad to see the show end just as a long-anticipated relationship between Cyrus and TJ (Luke Mullen) was on the verge of blossoming.
A series finale sneak peek of the boys holding hands for the first time sparked emotional reactions from hundreds of viewers on Twitter on Friday.
Show creator and co-executive Terri Minsky said she was shocked the network even allowed Cyrus' journey to air with no push back.
"I honestly did not know we were going to be able to have Cyrus say the words. And I didn't specifically ask for permission for that," Minsky told Variety in an interview released Thursday.
Despite the series ending, Minsky was hopeful that the Cyrus arch was just the beginning of Disney's future inclusion of LGBTQ characters.
"This generation that's watched it—I want them to come into this business and know this doesn't even have to be a consideration. They don't have to consider how are they going to tell [that particular] story," she said.
Nancy Kanter, executive vice president of content and creative strategy for Disney Channels Worldwide, shared Minsky's sentiments, telling the publication that it was only natural for the network to continue shedding a light on the LGBTQ community now that Disney has crossed the threshold.
"We've sort of crossed the rubric right now, having had a character who talks about his sexuality. I don't see any reason why we wouldn't do that again in other ways. That we could tackle topics that we might not have thought about putting on air 10 years ago, or five or six years ago, was really both challenging for us, but terrifically exciting, as well," Kanter said.
Andi Mack series finale airs on the Disney Channel on Friday at 8 p.m. ET.
See a few reactions to the last episode of the show below.