Andre Hill's Death Ruled a Homicide by County Coroner
The death of Andre Hill, an unarmed Black man who was shot by a Columbus, Ohio, police officer, was ruled a homicide by the Franklin County Coroner's Office in Ohio on Monday.
The coroner's report was released as police officer Adam Coy, who shot Hill on December 22, faced a disciplinary hearing on Monday to review whether or not his actions were justified. Coy did not personally attend the hearing but was represented by members of the Fraternal Order of Police union. The hearing was led by Columbus Safety Director Ned Pettus Jr.
"Based on findings from the autopsy and medical death investigation, manner of death is homicide," the brief coroner's report explained. "Preliminary cause of death is multiple gunshot wounds." A full report will be available within three months.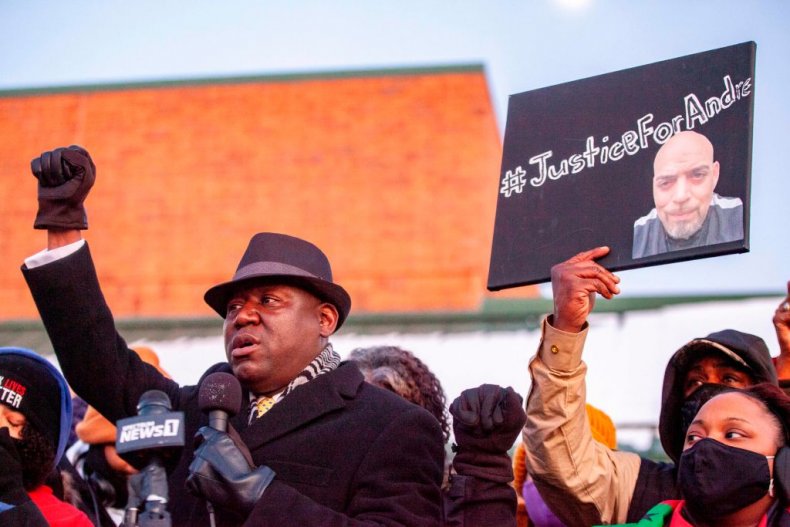 The Columbus Department of Public Safety sent Newsweek a statement about the disciplinary hearing for Coy held on Monday.
"Director Pettus will now review all evidence and documentation submitted and render a prompt decision regarding Officer Coy's employment. A reminder that BCI is conducting the criminal investigation into the shooting," the statement said. "In the meantime, Officer Coy remains relieved of duty. Per the order of Police Chief Tom Quinlan, Coy has surrendered his gun and badge and has been stripped of all police powers."
Hill, 47, died just three days before Christmas after he parked his SUV inside a garage at a home where he was expected as a guest, The Columbus Dispatch reported. Someone called police after they saw Hill in the SUV as he turned it on and off multiple times. Coy, 44, responded to the scene around 1:50 a.m. with a female officer who has not been identified.
Coy and his fellow officer reportedly did not turn on their body cameras before the encounter with Hill. But Coy fired his gun multiple times within 10 seconds of encountering Hill, who was reportedly holding a phone in one hand. Coy and his fellow officer reportedly waited at least six minutes before attempting to provide aid to Hill after he was shot.
"It's outrageous and unconscionable that an officer responding to a non-emergency call would default to concluding that Andre Hill was a threat and fire multiple, deadly rounds into him, when Andre was only holding a cell phone," civil rights attorney Ben Crump tweeted on Monday.
"Andre Hill's death is another tragic example of the tendency of police to view Black people as criminal or dangerous, and it points to the need for comprehensive, national police reform. The family wants to review all the bodycam footage as soon as possible," Crump added.