Tributes are pouring in for André Leon Talley, a fashion icon and former editor-at-large of U.S. Vogue, who has died. He was 73-years-old.
The influential fashion journalist is being remembered as a "beacon of grace and aspiration" today as many figures from the world of fashion and beyond pay tribute.
Talley's death was confirmed by his literary agent David Vigliano on Tuesday to The Hollywood Reporter. A cause of death has not been shared at this time.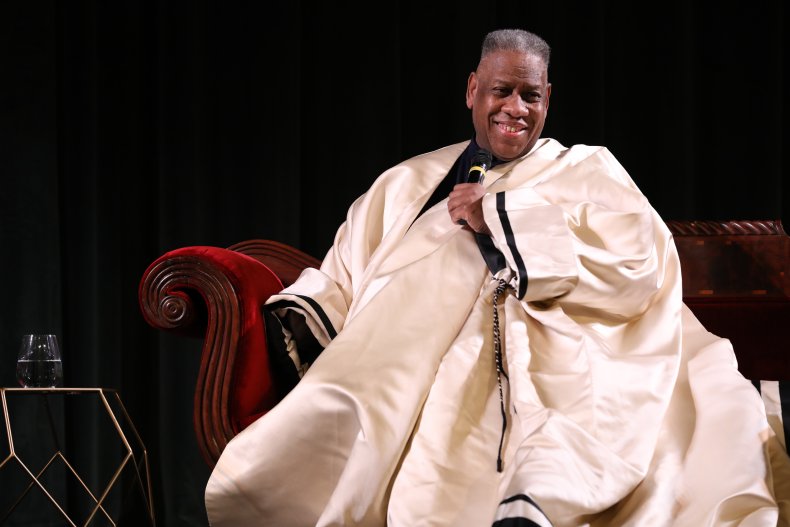 A trailblazer in the fashion world, Talley was known for championing diversity and worked closely with U.S. Vogue editor, Anna Wintour.
"For a little black gay boy who reached for the stars from the south there were few people I could look up to up there amongst the stars who looked like me just more fab except for you Andre," tweeted playwright Jeremy O'Harris.
"For a generation of boys, Andre Leon Talley was a beacon of grace and aspiration. RIP."
Designer and close friend Diane von Furstenberg was also one to share a touching tribute.
"Goodbye darling André ... no one saw the world in a more glamorous way than you did," she wrote. "No one was grander and more soulful than you were."
British Vogue editor-in-chief Edward Enninful thanks Talley for being a pioneer in the fashion industry.
"R.I.P dearest Andre. Without you, there would be no me. Thank you for paving the way," he wrote on Instagram.
Oscar-nominated costume designer Arianne Phillips also shared a heartfelt tribute, writing: "trailblazer, dapper gentleman, fashion editor, writer, a journalist with a singular voice—his witty repartee, larger-than-life icon. Always so kind and funny, his contribution to fashion and culture is one for the history books. Such sad news to hear of his passing."
"We are saddened to hear of the passing of André Leon Talley," said designer Bob Mackie. "Thank you for your knowledge and passion for fashion and glamour. You will be missed."
Meanwhile, actress Octavia Spencer tweeted: "I am sad to hear of Andre Leon Talley's passing. My thoughts and prayers are with his loved ones."
While Viola Davis also shared a tribute.
Screenwriter Emily V. Gordon shared a tribute and reminded her followers of Tally's documentary, The Gospel According to Andre.
"Oh goodness. What a loss. Andre Leon Talley has been such an inspiration to me. He grew up in North Carolina and was brilliant, bold, and innovative as hell in his work and his life," she tweeted. "Watch the doc about him—The Gospel According to Andre—and remember him well. RIP."
"An icon, a trailblazer, a journalist, a scholar, an exuberant lover of fashion and most importantly a friend and supporter of so many in the business. Thank you, André Leon Talley. Godspeed," said stylist and Drag Race star Carson Kressley.