Italian opera singer Andrea Bocelli has lashed out at his country's coronavirus lockdown measures deeming the rules "humiliating" and that he was "offended" by them.
The 61-year-old "Time to Say Goodbye" performer launched a scathing tirade against the Italian government during a conference about the COVID-19 outbreak with politicians and experts at Rome's Giovanni Spadolini library Monday.
"I could not leave the house even though I had committed no crime," Bocelli said, speaking in Italian.
Italy was one of the worst affected countries in Europe earlier this year, and Bocelli had become something of a symbol of hope when he sang in an empty cathedral in Milan during a live-streamed performance called Music for Hope on Easter Sunday.
However, Bocelli said he was "deprived of freedom" during this time, adding: It didn't seem right and healthy to remain home, to me."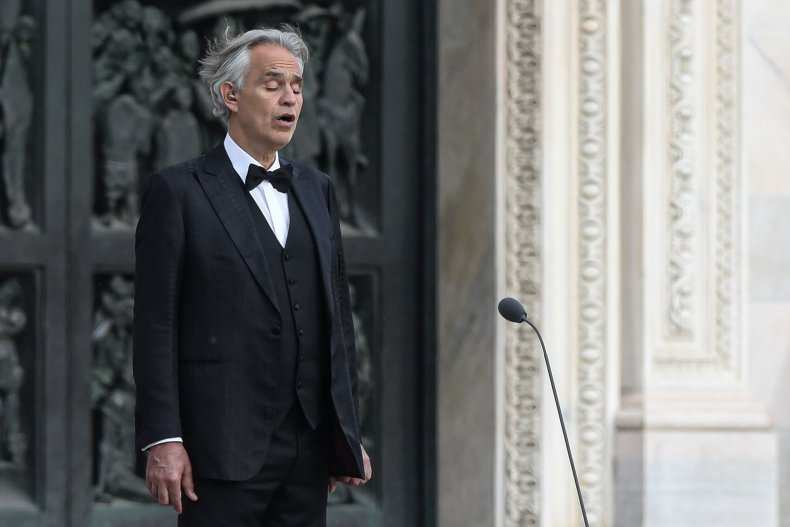 "I need the sun. "I am a certain age and I need sun and vitamin D," he continued.
Bocelli also encouraged people to flout social distancing rules and refuse to wear face masks. "Let's refuse to follow this rule. Let's read books, move around, get to know each other, talk, dialogue ...," he said.
The revered singer also cast doubt on the severity of the pandemic suggesting that the government blew it out of proportion as he personally did not know anyone admitted to intensive care with the disease.
"I know a lot of people, but I haven't known anybody who ended up in intensive care. Nobody," he said. "So what was all this sense of gravity for?
He also urged the public not to follow the rules, adding: "Let's refuse to follow this rule. Let's read books, move around, get to know each other, talk, dialogue."
Bocelli himself tested positive for COVID at the end of March but said on Facebook at the time that it only affected him "mildly."
"We were fortunate enough to have a swift and full recovery by the end of March," he said.
Italy was the first country in Europe to implement a strict nationwide lockdown from March 9 to May 4. Radical measures undertaken included people not being permitted to leave their homes except to shop for groceries, for medical visits, and to go to work where working from home was not possible. All non-essential businesses were shut.
The country has accounted for 246,000 cases and more than 35,000 deaths.
The strict lockdown measures have eased but social distancing rules now remain in place.
Bocelli's comments were made at a conference that was attended by opposition politicians including Matteo Salvini, leader of the far-right League party, who opposes the wearing of masks.
The BBC reports that Bocelli has since claimed his comments were "misunderstood," adding that his foundation, ABF, has helped many people who have had the virus.