Andrea Reusing's Recipes for a Spring Feast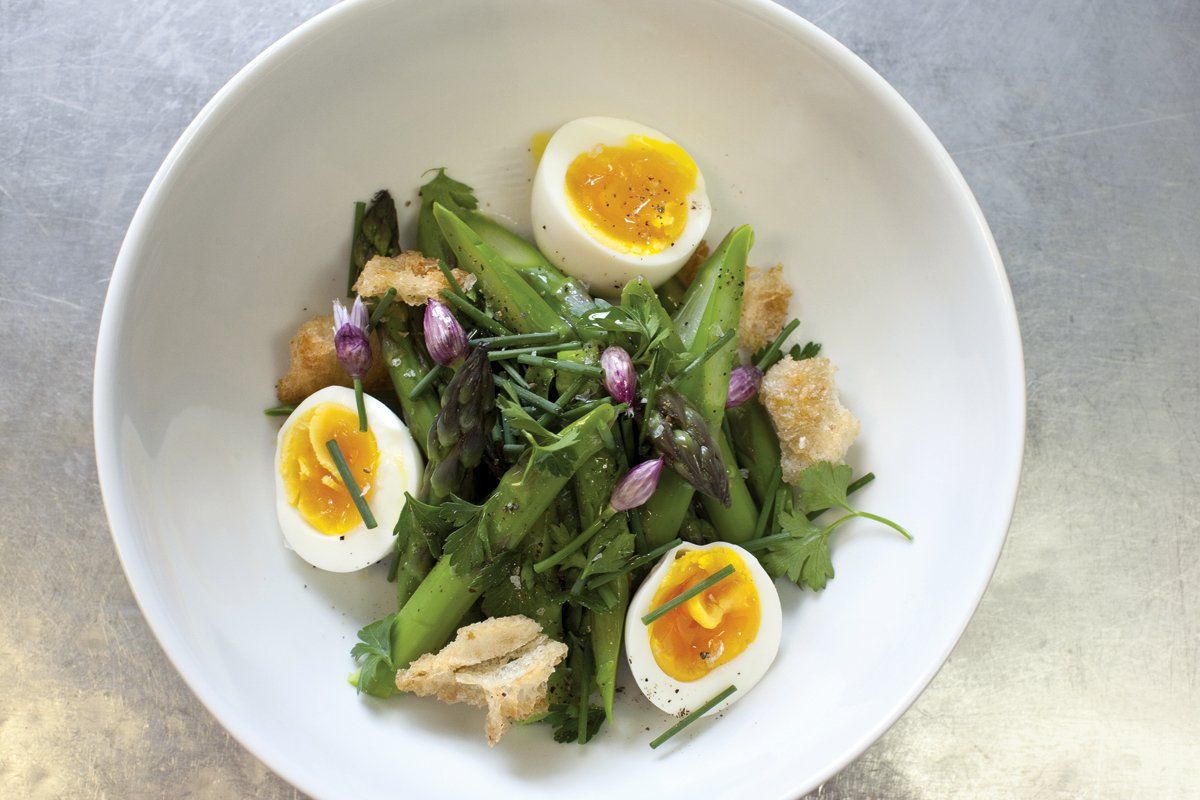 Andrea Reusing's new book,Cooking in the Moment, imagines the seasons as a shopping list. For Reusing it's not about politics but simply taste. Cooking with seasonal and local ingredients is the best way of putting delicious meals on the table every day—and helps cooks focus on one meal at a time to maximize flavor.
Warm Asparagus Salad With Soft-Boiled Eggs
4 large eggs, room temperature
1 small clove of garlic
1/3 cup plus 2 teaspoons extra-virgin olive oil
2 thick slices of country bread, crust removed, torn into rough 1-inch pieces
1½ pounds (1½ bunches) of asparagus, tough ends snapped off, cut into 2- to 2½-inch pieces
1 small bunch fresh chives, cut into 2-inch lengths (½ cup)
½ cup flat-leaf parsley leaves
Zest of 1 lemon
Freshly ground black pepper
Kosher salt
1. Preheat the oven to 400°F.
2. Fill a medium pot with water and bring it to a boil over high heat. Gently add the eggs with a spoon and simmer them over medium heat for 6 minutes. Transfer the eggs to an ice bath for 30 seconds, then remove them and set aside. Bring a fresh pot of generously salted water to a boil.
3. Blanch the garlic clove for 30 seconds and remove with a slotted spoon. Reduce the heat to low until it is time to cook the asparagus.
4. Mince the garlic finely and transfer it to a small bowl. Stir in 1/3 cup of the olive oil and the lemon zest and set aside.
5. Toss the bread pieces with the remaining 2 teaspoons olive oil and a pinch of salt. Spread the bread out on a baking sheet and toast it for 5 minutes, until golden brown but still soft and chewy in the center. Peel the eggs and cut them crosswise into thick slices. Set the eggs and bread aside.
6. Bring the water back to a boil and blanch the asparagus for about 1 minute, until tender but still bright green. Drain the asparagus well, transfer it to a warm serving bowl, and toss with 3 tablespoons of the garlic-lemon oil, the herbs, and salt and pepper to taste. Arrange the eggs and croutons on top. Drizzle with additional garlic-lemon oil, and season it all, especially the eggs, with additional salt and pepper.
Serves 4
Pot-on-Fire Beef Short Ribs With Spring Vegetables
4 pounds bone-in beef short ribs
1 tablespoon plus 1 teaspoon kosher salt
1 teaspoon freshly ground black pepper
2 tablespoons vegetable oil
1 cup (about 1 ounce) dried porcini mushrooms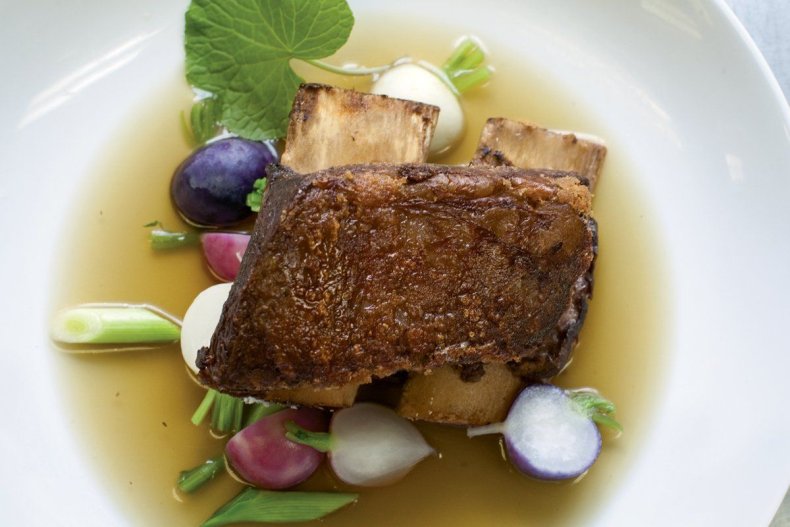 1 large yellow onion, peeled and quartered
1 head of garlic, unpeeled, cut in half crosswise
1 bunch (about 12 medium) radishes
2 medium carrots, or 1 bunch baby carrots
1 bunch spring onions, or 1 medium leek
Fresh wasabi or strong mustard and coarse sea salt, for serving
1. Trim the silverskin and any excess fat off the short ribs, and season them with1 tablespoon salt and the pepper. Let sit at room temperature for an hour if cooking immediately or, refrigerated, up to overnight. Preheat the oven to 350°F.
2. Heat a heavy pot over medium-high heat and add the oil. Sear the ribs on all sides until deep golden brown, for 10 to 15 minutes. Remove the meat and wipe clean any remaining oil. Put the ribs back in the pot, meat side down. Add enough cold water to cover the ribs by 2 inches (about 3 quarts). Bring the liquid to a simmer and cook, repeatedly skimming off any foam, for 10 to 15 minutes. Add the porcini, onion, garlic, and remaining teaspoon salt. Bring back to a simmer. Tent the meat with a piece of parchment or aluminum foil by placing it on top and then crimping it snugly around the ribs so that the edges nearly meet the liquid. Cover the pot with a tight-fitting lid, transfer it to the oven, and braise the ribs for 3 to 3½ hours or until very tender.
3. Trim the radishes, leaving about 3/4 inch of green stem. Unless they are very small, cut them in half. Cut the carrots on the diagonal into ½-inch-thick rounds, or, if using baby carrots, peel and trim them, leaving 3/4 inch of the green stem. Trim the spring onions or leek and slice into chunks (wash the leek well). One type of vegetable at a time, blanch in boiling salted water until just tender.
4. Remove the ribs and strain the broth through a fine-mesh sieve into a saucepan. (Discard remaining vegetables from pot.) Skim the fat from the broth, then add the blanched vegetables to the broth and reheat gently. Adjust the seasoning and serve the ribs and vegetables in the broth with the accompaniments.
Serves 4