Donald Trump is the subject of a surprising new museum exhibit in New York's Meatpacking District, where hundreds of pieces of memorabilia devoted to the entrepreneur-turned-president went on view today.
Taking up two floors in the old Lotus nightclub, "The Game: All Things Trump" includes magazine covers, sports memorabilia, slot machines, beer bottles, neckties and more. A slice of Donald and Melania's wedding cake has a place of honor next to a half-dozen mannequins in Taj Mahal security uniforms.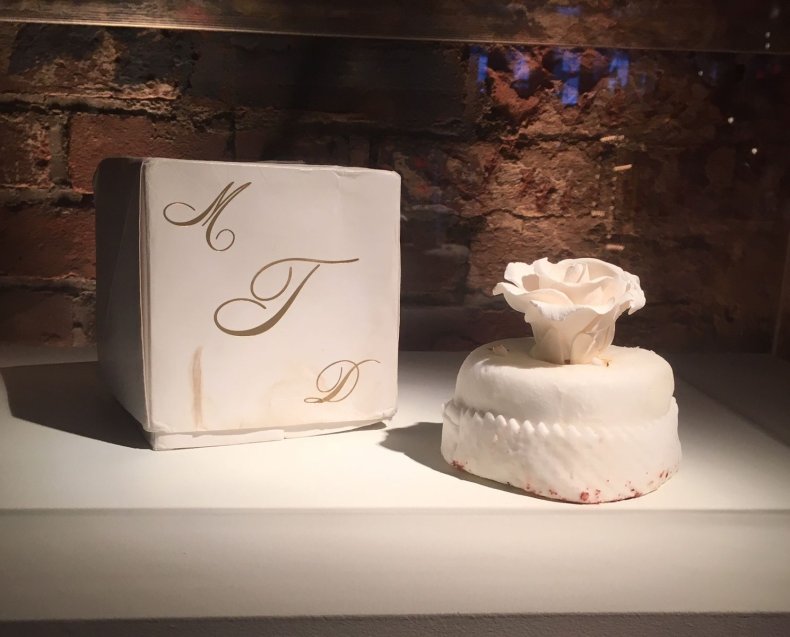 Artist Andre Serrano spent a year—and more than $100,000—painstakingly amassing this massive menagerie from eBay, auctions and other avenues. The collection is focused mostly on Trump the businessman and entertainer, not the current occupant of the White House. (Though it does include a copy of Newsweek with Hillary Clinton on the cover that Trump signed.)
"I got a lot of what I call Donald Trump's greatest hits—the Trump Steaks, Trump Vodka, the Trump Shuttle," Serrano, 68, tells Newsweek. "Because these things are well known. They were magnificent failures, but he tried. I don't know what that means for America. But he tries, you know?"
The sheer breadth of this exhibit underscores how long our love-hate relationship with Trump has been going on. "Donald Trump did not become president because he started campaigning two or three years ago," says Serrano. "He became president because he started campaigning on his own behalf, for his own behalf, from a very early age."
The exhibit's name is borrowed from Trump: The Game, a poor-selling board game put out by Milton Bradley in 1989. On the box, Donald is quoted as saying, "It's not whether you win or lose, it's whether you win." That's been Trump's motto his whole life, says Serrano. "He has to win at all costs—no matter what. If you don't win, you're a loser. And he doesn't want to be a loser. "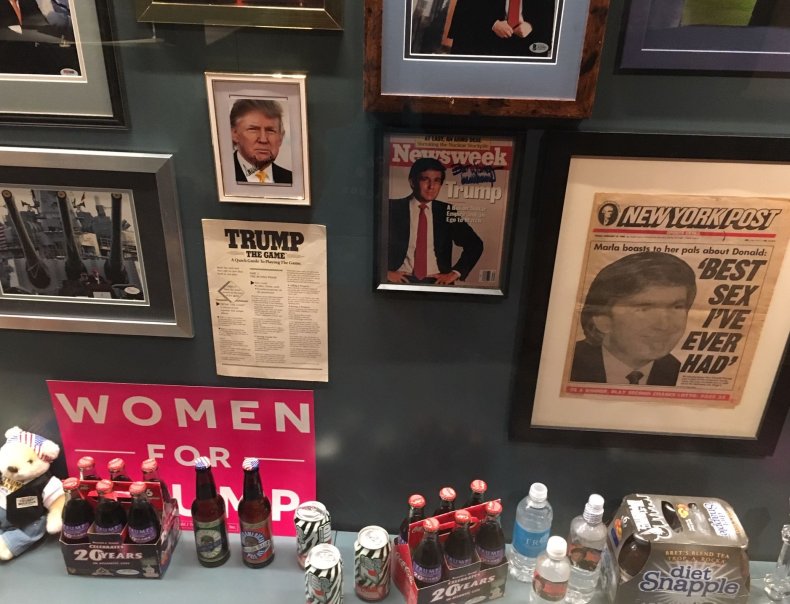 The game, like all the items on view, is displayed without alteration or comment, leading one to wonder: Is this an art show or a history exhibit? "It's both," Serrano insists. "It's a collection and an installation at the same time. Marcel Duchamp taught all of us that anything could be a work of art. I've treated many of these objects—the wedding cake, the golf bags—as individual works of art."
His own photographic portrait of Trump, taken as part of the artist's 2004 "America" series, is a central piece in "The Game." And like the exhibit itself, it's neither particularly flattering nor uncomplimentary.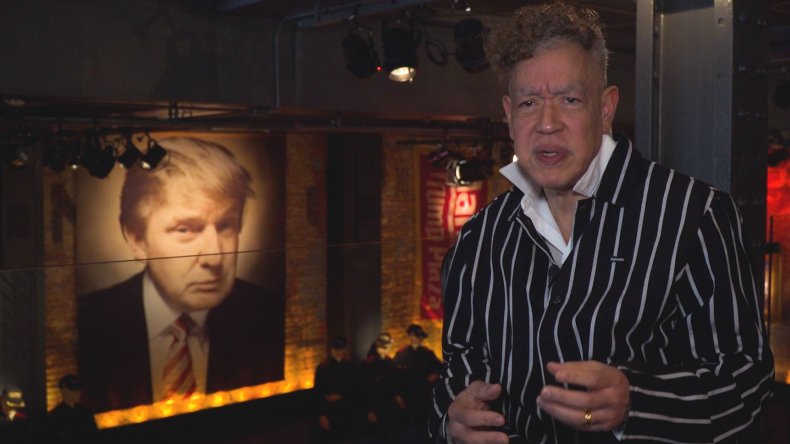 He's determined, it seems, not to taint the viewer's experience.
"I certainly didn't want to be antagonistic with this [show], because I find a lot of anti-Trump art to be boring. I wanted to make something a lot more interesting—something that would allow the subject to speak for himself."
Of course, there are possibilities for those looking for a political statement. The Taj Mahal uniforms, for one—assembled all in a row on faceless mannequins, they look eerily like German stormtroopers.
"You could say they look fascist, you could say they look like Nazis, and I don't think you'd be wrong," Serrano says coyly. "But, of course, you could also say they're just security uniforms."
Serrano admits his own feelings about the president are mixed. "It's kind of like the relationship you have with your parents. You love them for some reasons and you hate them for other reasons."
He didn't vote for Trump. In fact he didn't vote in the 2016 presidential election at all. He's only ever voted twice—both times for Barack Obama.
"I had to vote for the black president, you know?" Serrano says with a smile. "But I feel like I don't need to vote. And unfortunately, or maybe fortunately, there's a lot of people in this country who feel the same way, who never voted and never will. A lot of people, particularly people of color, who don't feel like they're a part of the system. And they say 'Fuck it, that's not my thing. I don't recognize your system, you're not going to convince me to join you now.'"
He empathizes with these disenfranchised Americans tired of the circus American politics has devolved into. But with a sprawling exhibit devoted to such a polarizing personality, is Serrano worried he'll be viewed as complicit?
"Yeah, I'm worried that it might be seen as a glorification of Donald Trump," he concedes. "But I'm also concerned that there are a lot of people who will see it as a glorification of Andres Serrano. And they hate Andres Serrano no matter what he does."
It's true. Serrano is no stranger to controversy: In 1987, his work Immersion (Piss Christ)—a crucifix submerged in a glass jar full of urine—earned the ire of conservatives when they discovered he had received an NEA grant.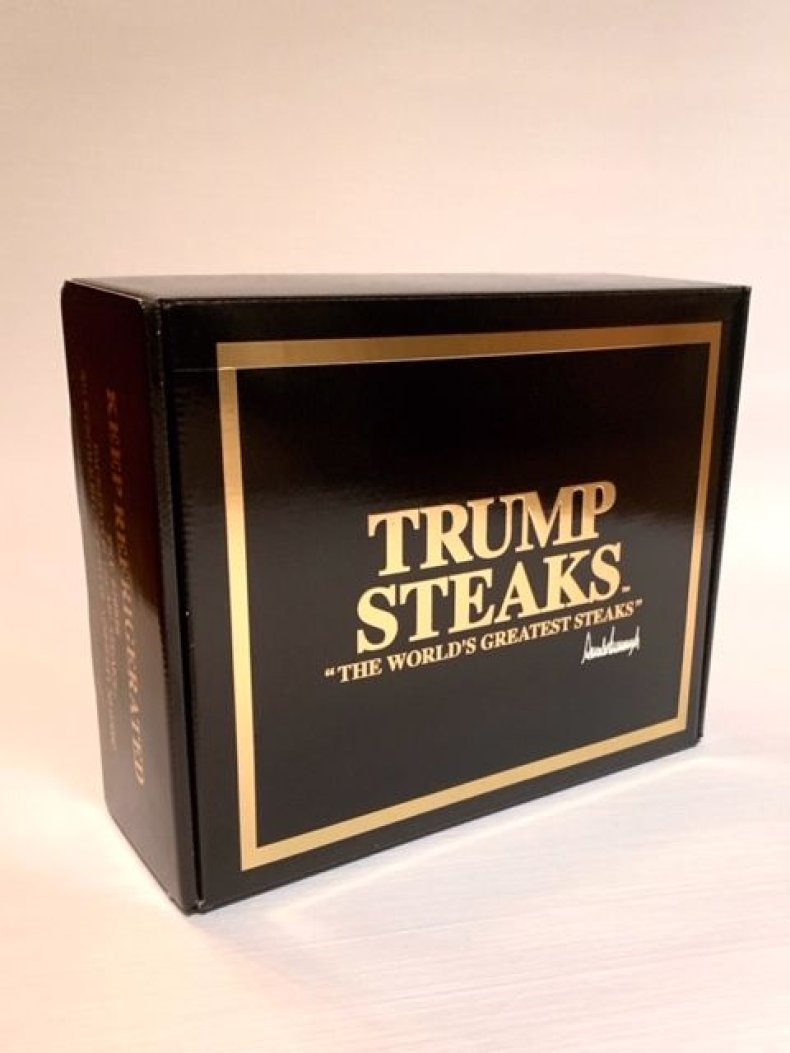 Thirty years later, "The Game" is a collaboration with a/political, a London-based collective that helps artists realize large-scale projects. (They coordinated Serrano's "Torture" series in 2015.)
"Andres came to us last year and told us he'd been collecting 'all things Trump' for over six months—and that we were the people to work with him on the exhibition," a/political director Becky Haghpanah-Shirwan told Newsweek. "We're drawn to projects and moments that have an explosive energy around them. Andres Serrano and Donald Trump, these two highly loaded personalities, coming together? At a time when Trump is talking about dropping the NEA—and 30 years after the NEA funding controversy? We knew we had to be a part of it."
But she, too, is unsure how "The Game" will be received: "I'm curious to see how people react to this installation, which doesn't take a position."
There will undoubtedly be visitors, tourists perhaps, who will enjoy "The Game" at face value. People who think of Trump with a mix of admiration and nostalgia. Who stayed in his casinos, played his board game, ate his steaks.
"There's a lot to be said for Donald Trump and what he's done with building his empire, and even winning the presidency," says Serrano. "And there are other things about Donald Trump that you don't feel so good about. One of the things that I did with this exhibition is, regardless of my personal feelings, is I let Trump be Trump."