The family of Andrew Brown Jr., a Black man who was fatally shot by police in North Carolina last week during a search warrant, released the findings of an independent autopsy report on Tuesday.
Family attorneys said that while the public may have known from the death certificate that Brown died of "a penetrating gunshot wound to the head," the independent autopsy found that "it was a kill shot to the back of the head."
The autopsy showed that there were five penetrating bullet wounds to Brown's body, the first being through the front windshield of the vehicle he was sitting in.
Family attorney Wayne Kendall said the early shots were not fatal, as Brown was able to back up the car as the shots were coming into the vehicle.
"We now know, because we have not been able to get any official documentation concerning this shooting, that this in fact was a fatal wound to the back of Mr. Brown's head as he was leaving the site, trying to evade being shot at by these particular law enforcement officers," Kendall said. "We believe it was nothing but a straight-out execution."
He added, "In summary, his death was caused by these officers with a bullet wound to the back of his head that caused him to lose control of that vehicle and crashed into a tree."
Kendall said the autopsy revealed that Brown died within minutes after being shot in the head.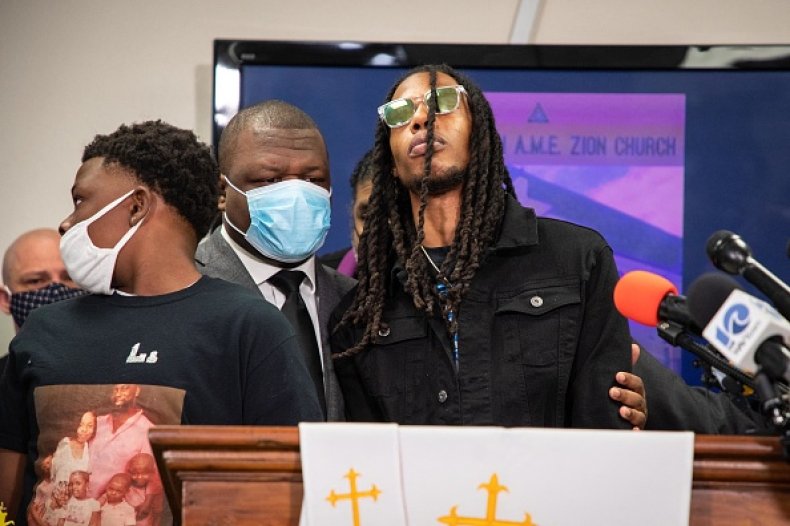 "It's important to note that the gunshot wound to the head—the entrance was the back of the head, ranged intermediate, projectile, sequentially, perforated and penetrated his skull and his brain," said Benjamin Crump, another family attorney. "It's important to note that the projectile was recovered in his brain. It never exited it."
Brown's son Khalil Ferebee, who was also at the press conference, said, "To my pops, man—yesterday, I said he was executed. This autopsy report showed me that was correct. Those three gunshots to the arm, that weren't enough? That weren't enough? It was obvious he was trying to get away."
He went on, "They gonna shoot him in the back of the head? Man, that s**t not right. That's not right at all. Stuff gotta change. It's really gotta change."
Brown's relatives were finally allowed to watch body camera video of the shooting on Monday—a request they had pushed for since Brown's death on April 21.
However, the family attorneys expressed their disappointment that, after an hours-long delay in which police were redacting the video to obscure people's identities, family members were shown only a 20-second clip from one body camera video. There is presumably other footage, as seven deputies have been put on paid administrative leave since Brown's shooting.
Witnesses say Brown was leaving in his car when police officers fired multiple rounds at him, killing him.
Kendall said the autopsy's findings were consistent with what the family saw on the body camera video.