Andrew Brown Hit Police With Car Before Fatal Shooting in Elizabeth City, North Carolina, Prosecutor Says
A North Carolina prosecutor said Wednesday that Andrew Brown Jr. hit police officers with a car before they fired shots in the fatal encounter, the Associated Press reported.
Pasquotank County District Attorney Andrew Womble made the assertion at a court hearing. Womble requested a 30-day delay in release of body camera footage, arguing it would jeopardize the credibility of witnesses and is best for the family.
Womble said the video shows that Brown's car made contact with the police officers twice before shots could be heard on the video.
"As it backs up, it does make contact with law enforcement officers," he said. "The next movement of the car is forward. It is in the direction of law enforcement and makes contact with law enforcement. It is then and only then that you hear shots."
Brown, a 42-year-old Black man, was killed on April 21 by Elizabeth City police while officers were executing search and arrest warrants at his home. Officials said deputies were serving a warrant for Brown's arrest on felony drug charges.
On Tuesday, Brown's family released the findings of an independent autopsy that showed there were five penetrating bullet wounds to Brown's body. Four bullets hit him in the arm before he was hit in the head.
"It was a kill shot to the back of the head" that cost Brown his life, Brown family attorney Ben Crump said Tuesday.
The private autopsy results came a day after Brown's relatives were shown a 20-second video of footage from one deputy's body camera. Chantel Cherry-Lassiter, another attorney for the family, said Monday that officers started shooting while Brown had his hands on the car's steering wheel.
"He wasn't reaching for anything, he wasn't touching anything, he wasn't throwing anything around," she said. She added that the clip showed an "execution."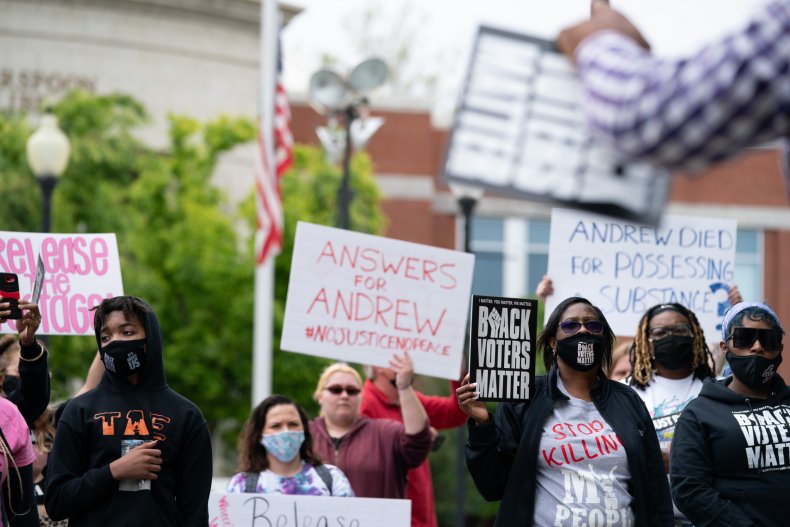 The shooting has ignited protests as well as demands for answers. Crowds were ordered to disperse and arrests were made as demonstrations continued on Tuesday for a seventh straight night.
The FBI said Tuesday it was opening a federal civil rights probe into Brown's death. The bureau's Charlotte field office said in a statement that its agents planned to work closely with the Justice Department "to determine whether federal laws were violated."
Since the shooting, the sheriff's office has placed seven of the department's 55 full-time deputies on paid administrative leave since the shooting. In a Facebook video statement posted Monday, Pasquotank County Sheriff Tommy Wooten said the "tragic incident was quick and over in less than 30 seconds, and body cameras are shaky and sometimes hard to decipher. They only tell part of the story."