Andrew Brown Jr.s 'Actions Caused Three Deputies' to Kill Him, Prosecutor Says
North Carolina District Attorney Andrew Womble said Tuesday that Andrew Brown Jr.'s death at the hands of three police deputies in April "was justified" because of Brown's own actions at the scene.
Brown, a 42-year-old unarmed man, was shot and killed by police who were attempting to serve an arrest warrant on April 21. Until now, it's been unclear whether or not the officers involved in the fatal shooting would be criminally charged.
"After reviewing the investigation conducted by the North Carolina State Bureau of Investigation, Mr. Brown's death, while tragic, was justified because Mr. Brown's actions caused three deputies with the Pasquotank County Sheriff's Office to reasonably believe it was necessary to use deadly force to protect themselves and others," Womble said at a news conference on Tuesday morning.
Womble's ruling is certain to cause controversy. Police descriptions of the event and their initial reluctance to share the full bodycam footage and autopsy results raised suspicions when the case first emerged.
A police autopsy and an independent autopsy ordered by the Brown family also came back showing different results.
As Womble said in the press conference, the official autopsy results showed that Brown was shot with two bullets: "One to the right shoulder, upper arm, that was nonlethal, and a second wound to the back of the head at the base of the skull near the hairline."
The independent autopsy ordered by the Brown family and their lawyers showed that Brown's body suffered from five bullet wounds, including one from the first shot that was fired through the front windshield. Both autopsies say Brown died from a bullet to the back of the head that hit him as he attempted to flee from police.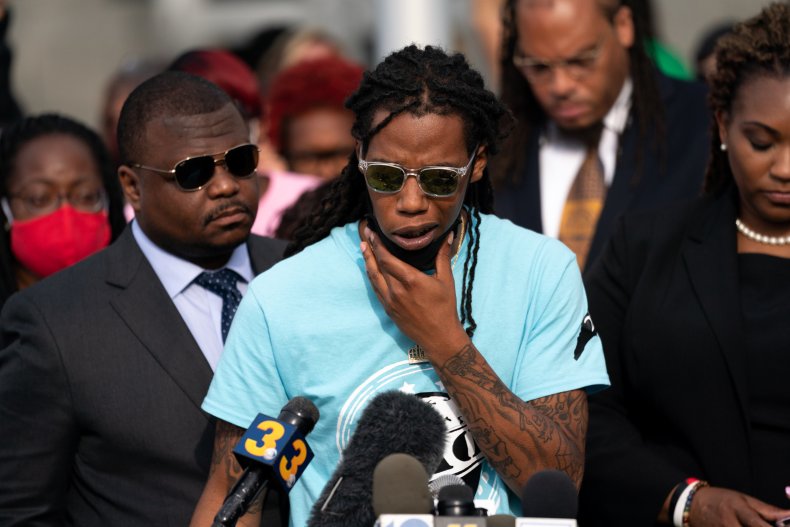 In his decision not to charge the three deputies involved in Brown's death, Womble cited a criminal law statute that describes under what circumstances "a law-enforcement officer is justified in using deadly physical force."
The first is in order for the officer to "defend himself or a third person from what he reasonably believes to be the use or imminent use of deadly physical force."
The second is "to effect an arrest or to prevent the escape from custody of a person who he reasonably believes is attempting to escape by means of a deadly weapon, or who by his conduct or any other means indicates that he presents an imminent threat of death or serious physical injury to others unless apprehended without delay."
The third is "to prevent the escape of a person from custody imposed upon him as a result of conviction for a felony."
Brown died from a gunshot wound to the base of the back of his head that was sustained as he attempted to flee the scene. He was not in possession of any traditional deadly weaponry. Though in his ruling, Wombled argues that Brown, a felon, drove his car straight at one of the officers, meaning that his car could be construed as a weapon.
Brown's family and their attorneys, however, have insisted that Brown was not a threat and suggest that bodycam footage shows he was simply trying to flee.
"There was no escape but at the police officers. You are not allowed to run over police officers," Womble said."
Of the seven officers who were originally on the scene, four have been reinstated, and three remain on administrative leave.
Newsweek has reached out to District Attorney Andrew Womble's office for comment and will update this story with any response.