Andrew Brown Shot and Killed by Police in Elizabeth City, North Carolina, During Search Warrant
Andrew Brown Jr., a North Carolina man, was shot and killed by police in Elizabeth City on Wednesday morning while officers were executing a search warrant against the man.
Pasquotank County Sheriff Timmy Wooten confirmed Brown's identity during an afternoon press conference roughly seven hours after the shooting. "It's been a tragic day," he said. "We will be transparent with this situation, absolutely."
Wooten added that deputies from his office conducted a search warrant at 421 Perry Street around 8:30 a.m. He did not specify what the search warrant was for.
"During the execution of the search warrant, a citizen who was the subject of the search warrant was shot and fatally wounded," Wooten said in a statement. "This was a law enforcement officer-involved shooting and, as such, the North Carolina State Bureau of Investigation has been contacted and will assume responsibility for the investigation into this incident."
Wooten confirmed that there is body camera footage from the shooting, adding that he has not yet viewed it himself at this time. The officer involved in the shooting has been placed on administrative leave, according to the sheriff.
Wooten said he will not comment on the number of shots fired and will wait on the investigation to find those details.
Attorney General Andrew Womble said he will be looking for "accurate answers," and not "fast answers."
"This will not be a rush to judgement," Womble told reporters. "We're going to wait for that investigation."
Both Wooten and Womble said they would not be commenting until the investigation by the state bureau is complete.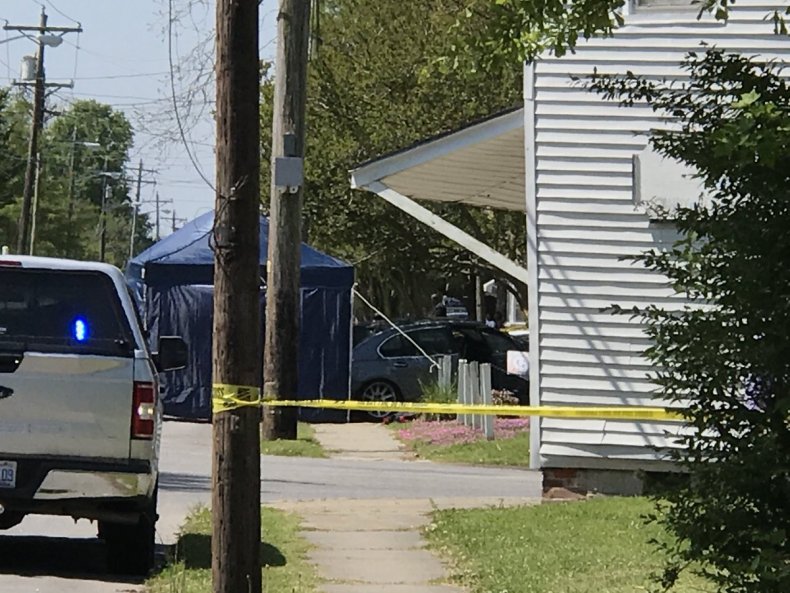 Family members identified Brown earlier to local news outlets. Witnesses told WAVY-TV that Brown got in his car and started to drive away when shots were fired by officers. Neighbors said they heard anywhere from six to eight shots.
His family says Brown is the father of 10 children.
Before the sheriff's afternoon press conference, a crowd gathered in the area protesting the shooting. Police were seen forming a line blocking off the area where Brown was killed. His body was placed under a blue tent.
There will be an emergency Elizabeth City council meeting tonight at 6 p.m.
In September, the Pasquotank Board of Commissioners approved the county's first 33 body-worn cameras for deputies.
"If the body cameras were on, that information needs to be disseminated as quickly as possible in order to make sure justice is served," Keith Rivers, the president of the Pasquotank NAACP, told WAVY-TV.
Before Wooten addressed the public, Rivers said, "The sheriff has not spoken to anyone out here ... The sheriff needs to address these people. The sheriff needs to talk to community leaders to let us know what is going on so that we can be a part of this process."
This is a developing story and will be updated as more information becomes available.