Andrew Brown's Family Criticizes 'Transparency' From North Carolina Police, Says They Were Shown Only 'Snippet' of Body Cam Video
Relatives of Andrew Black Jr., a Black man who was fatally shot by police officers last week in Elizabeth City, North Carolina, criticized the police's transparency after being shown only a "snippet" of the body camera footage on Monday.
"Why couldn't the family see all the video?" family attorney Ben Crump asked during a press conference after the viewing. "They only showed one body cam video, even though we know there were several body cam videos, if they were following the law and the policy in this county, that everybody has video cameras on their uniform."
Brown's family viewed the body camera footage for the first time on Monday after requesting its release for nearly a week after Brown's death on April 21. Deputies from Pasquotank County Sheriff's Office were allegedly executing a search warrant at the time of the shooting.
Witnesses said Brown drove away as officers fired several rounds, killing him. The circumstances of his death have remained unclear, but seven deputies have been put on paid administrative leave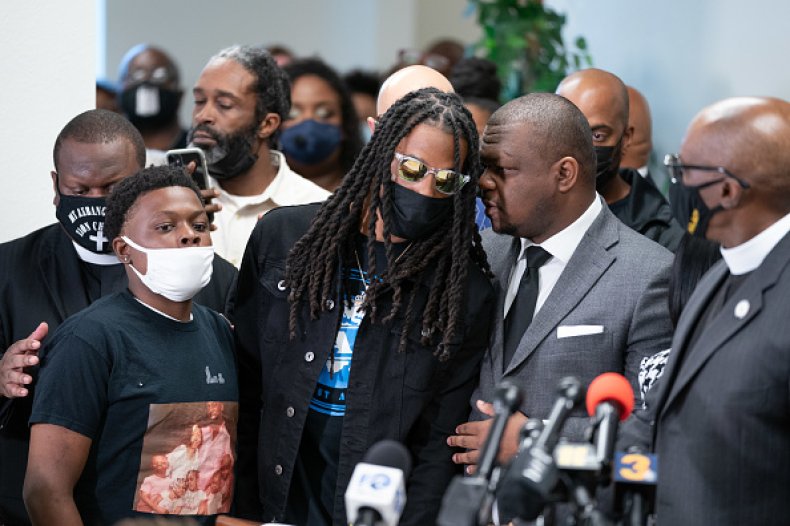 Before the footage was viewed, the Brown family's attorneys also criticized Pasquotank County Sheriff Tommy Wooten for delaying its release. His family was initially scheduled to see the video at 11:30 a.m., but an hour before the viewing they were told by officials the video was being redacted. Lawyer Harry Daniels said the family wanted the raw footage.
"What is it on this video that is so damning that you would risk your career and risk loosing your job so that people can't see the video? What is it? That is the question we have to ask ourselves," Crump said ahead of the video's release.
Pasquotank County Attorney Michael Cox confirmed in a statement that the delay was due to editing the video to obscure people's identities.
"The law also allows us to blur some faces on the video, and that process takes time," Cox said.
"We are also continuing to seek transparency within the law and continue our efforts to get a court order that would allow the video to be released to the public," the statement read.
Elizabeth City Mayor Bettie Parker has issued a state of emergency on Monday morning, saying "there may potentially be a period of civil unrest within the City following the public release of that footage." The order will be in effect indefinitely.
The Brown family is planning to host a press conference on Tuesday at 11 a.m. to publicly release the findings of an independent autopsy report.