The trial of an American pastor facing terrorism charges in Turkey is set to begin on Monday. Andrew Brunson's supporters claim the Turkish government is using his detention and trial to win diplomatic concessions from President Donald Trump's administration.
The pastor has been accused of having links with plotters who staged a failed military coup in Turkey in 2016, as well as having contact with Kurdish militant groups in the country. He could face up to 35 years in prison if convicted, NBC News reported.
Brunson, a 50-year-old missionary from the town of Black Mountain in North Carolina, has lived and worked in Turkey for 23 years. He was detained in October 2016 as part of a flood of arrests following the failed coup attempt. Brunson's wife, Norine, was also detained, though she was later released.
Brunson was initially arrested on suspicion of immigration violation. He was held for 17 months without charge, according to the American Center for Law and Justice (ACLJ), which is representing Brunson in the U.S.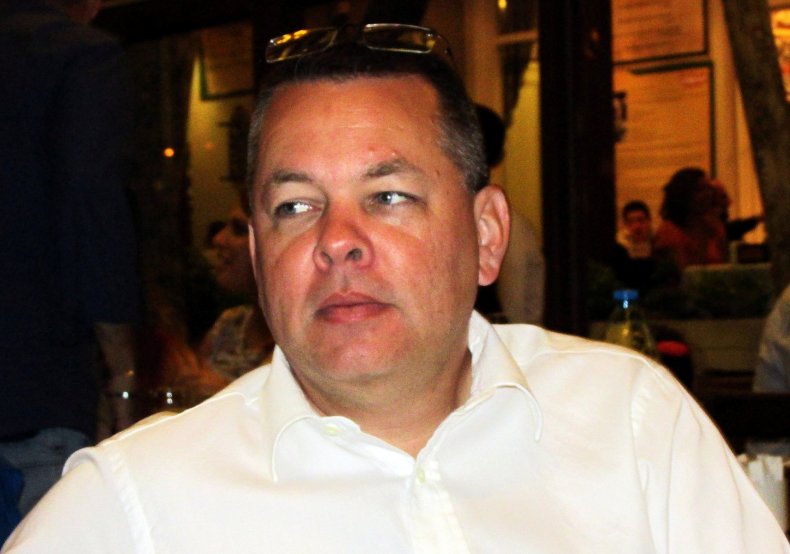 When a formal indictment eventually emerged last month, it alleged that Brunson had associated with coup plotters, had links to the Kurdistan Workers Party—considered a terrorist group by the Turkish government—and had revealed state secrets. His lawyer and supporters have rejected the accusations as baseless.
The trial will take place in the western city of Izmir, where Brunson lived with his wife and two children and pastored the Izmir Resurrection Church.
The charges against Brunson are based on information taken from his cell phone alongside the testimony of unnamed witnesses. Ismail Cem Halavurt, the lawyer representing Brunson in Turkey, said that aside from the accounts of the secret witnesses, "There is no substantial evidence" against his client.
Brunson's supporters believe he is being held as a bargaining chip by the Turkish government. They say Turkey hopes to use Brunson to secure the extradition of Fethullah Gulen, a Turkish cleric living in exile in Pennsylvania who Istanbul claims masterminded the coup attempt. U.S. officials have so far refused to extradite Gulen, arguing that Turkey has not provided sufficient evidence of his involvement.
Turkish President Recep Tayyip Erdogan seemed to confirm these suspicions in a September 2017 speech, when he linked Brunson's fate to that of the exiled cleric. In a speech to police officers, Erdogan said, "'Give us the pastor back', they say. You have one pastor as well. Give him [Gulen] to us. Then we will try him [Brunson] and give him to you."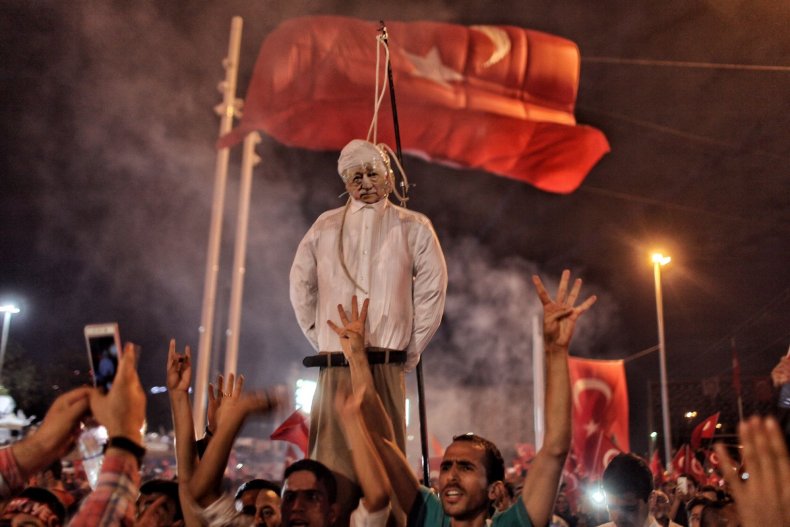 Though numerous U.S. officials—including Vice President Mike Pence—have pressured Turkey to release Brunson, the pastor has remained behind bars. CeCe Heil, an executive senior counsel at the ACLJ, told the Washington Post that Brunson has lost 50 pounds and missed his daughter's wedding while detained.
Brunson's daughter, Jacqueline Furnari, told NBC News her father is "a pawn in a political game between Turkey and the U.S." She maintains her father is innocent, and called the charges against him "absolutely absurd."
Speaking on condition of anonymity, a U.S. official reportedly told Turkish newspaper Hürriyet Daily News, "We have never seen evidence that Pastor Brunson is guilty of any crime…Our expectation is that the Turkish judicial system will do the right thing, which we respect. Justice will be done and these people will be able to go home."