Author and former editor of Vanity Fair Tina Brown has told The Telegraph that Prince Andrew's attempts to return to public life in the wake of settling a sexual assault lawsuit "probably appall" Prince William and Prince Charles.
Brown, author of the upcoming book The Palace Papers: Inside the House of Windsor—The Truth and Turmoil, said in an interview with The Telegraph: "It's utterly grotesque, the whole Andrew business... I was told only yesterday by someone at the Palace just how deeply distressing it has been for the Queen."
The monarch came under fire last month when she appeared at Westminster Abbey for the service of thanksgiving for the life of her late husband Prince Philip—who died in April 2021—on the arm of her disgraced son.
The event marked the first public appearance of Andrew's since settling the lawsuit brought against him in the U.S. by Virginia Giuffre for an estimated $10 million.
The 95-year-old queen's decision to appear so publicly with her son—who amid the lawsuit retired completely from royal ceremonial duties and announced that he would no longer use his HRH (His Royal Highness) title, acting as a private citizen—was seen as a shrewd move to show her support in the face of his ongoing criticisms.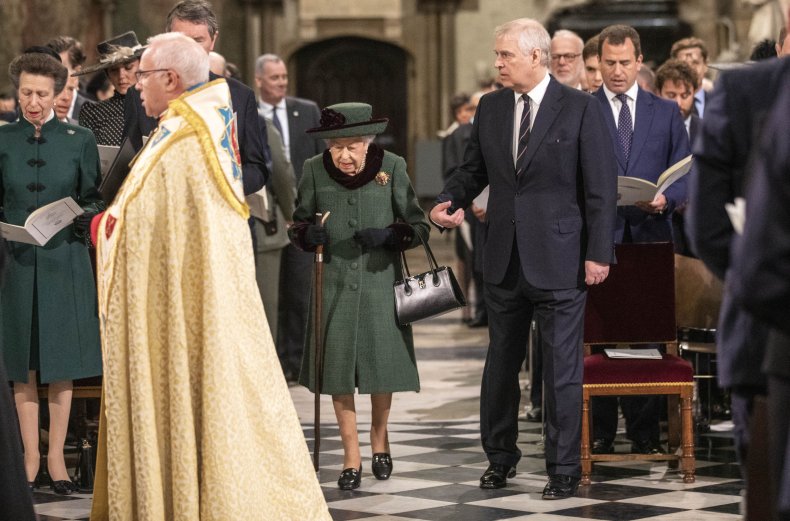 Prince William and Prince Charles were said to have been unaware of Andrew's intended role at the memorial. They were believed to be instrumental in the decision-making around the handling of the prince in the wake of his disastrous 2019 Newsnight interview.
Brown told The Telegraph that Andrew poses a unique problem for William and Charles as they build a plan for the monarchy after the reign of Elizabeth II:
"What are they going to do to disappear this healthy, 62-year-old man – lock him up at the top of Glamis Castle? At least in the time of Henry V they could just have banished him. All he can do now is go riding – Andrew used to absolutely hate riding by the way, but he's doing a lot of it at the moment because the only person who'll talk to him is the horse!"
In an extract from her upcoming book, published by The Telegraph, Brown details Andrew's myriad of scandals which have arisen over the past three decades, putting a distance between him and heir to the throne Charles. Chief among these are the prince's ill-advised and uncomfortable friendship with the notorious pedophile Jeffrey Epstien.
Brown claims that arrogant Andrew exhibited classic symptoms of the Dunning-Kruger effect when it came to his friendship with Epstien, whose character was already known to be unsavory.
This effect, Brown writes, manifests in "the cognitive bias in which people come to believe they are smarter and more capable than they really are. The combination of minimal self awareness and dim wattage leads sufferers of this condition to overestimate their own capabilities."
Brown broke several stories of sexual assault allegations against Epstein between 2010 and 2011 while she was editor of the Daily Beast. These editorials resulted in claims that an angry Epstein threatened Brown in her office, appearing unannounced one day to tell her, "Just stop. There will be consequences if you don't."
Brown regrets that the stories published by the Daily Beast were not picked up widely because "this was pre-MeToo, before sexual abuse of women by powerful men was Topic A on the news agenda."
Andrew, Brown claims, was little more than a prize collected by Epstein among the other power figures he counted as associates. Brown writes, "Privately, Epstein told people that Andrew was an idiot, but—to him—a useful one. A senior royal, even if tainted, is always a potent magnet abroad."
In a statement released at the time of Andrew's settling Giuffre's lawsuit, in which she claimed she was introduced to the prince through Epstein and Ghislaine Maxwell, the prince acknowledged his relationship with the since-dead criminal and expressed "regret" at the association. It read in part:
"It is known that Jeffrey Epstein trafficked countless young girls over many years. Prince Andrew regrets his association with Epstein, and commends the bravery of Ms. Giuffre and other survivors in standing up for themselves and others.
"He pledges to demonstrate his regret for his association with Epstein by supporting the fight against the evils of sex trafficking, and by supporting its victims."
Following Andrew's surprise center-stage appearance at the Westminster Abbey service for Prince Philip with the queen, speculation rises over whether the prince wants to make a comeback for the Platinum Jubilee events this summer.
Royal biographer Omid Scobie told Newsweek's Royal Report podcast, "We know that Andrew has been very keen to move on from mistakes from the past and is probably quite keen to play a role in the Jubilee this summer, so he doesn't have much time to try and repair his image.
"I think that it's clear that there aren't enough people thinking of the crown in this situation. This reflects so badly on the institution and Andrew has done so much damage in the last few years and continues to do so."
For Brown though, despite the prince's efforts to regain some public support and rehabilitate his image, his association with Epstein and handling of allegations made by Virginia Giuffre have "sealed the Duke of York's destiny of descent and [will] disappear him altogether into a lifelong pit of shame."