Andrew Cuomo Avoids Media Questions As Increasing Number of New York Voters Think He Should Resign
An increasing number of New Yorkers believe Governor Andrew Cuomo should resign as the Democrat faces sexual harassment allegations posed by some of his former aides and criticisms of his administration's handling of data regarding COVID-19 deaths in nursing homes.
The governor appeared at a news conference on Thursday during which he discussed the state's latest COVID-19 data and plans to reopen stadiums and performing arts venues to spectators, but he did not take call-in questions from reporters at the event's conclusion.
A few hours after Cuomo's Thursday news conference, Quinnipiac University shared on social media the results of its latest poll of New York voters. The poll, which was conducted among 905 individuals between March 16 and 17 with a 3.3 percent margin of error, found the number of New York respondents who believe Cuomo should not resign has dropped since the university's last Cuomo-related poll conducted two weeks ago. While 55 percent of New York respondents in early March told pollsters they did not believe Cuomo should resign, that number dropped to 49 percent this week.
According to the Thursday poll, 43 percent of respondents said they think Cuomo should resign from office. Only 33 percent of respondents gave Cuomo a positive favorability rating, which Quinnipiac pollsters wrote was the lowest Cuomo has received in one of their polls since they began asking New York voters to rate his favorability in 2008 when he was the state's attorney general. Half of the poll's respondents also said they are unsatisfied with the way in which Cuomo has handled the sexual harassment allegations thus far.
Cuomo has denied allegations of inappropriate behavior and said he will not resign, despite pressure to do so from state legislators on both sides of the aisle. An attorney representing Cuomo has said the governor will cooperate with the state attorney general's investigation into the sexual harassment allegations made against him.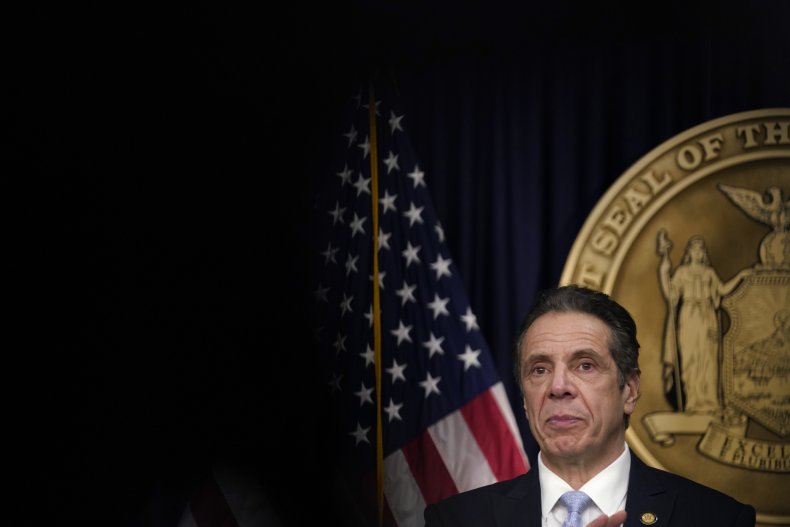 In addition to public statements state officials have made about Cuomo in the wake of the allegations, members of Congress have also spoken up about the controversy. Both of New York's senators—Senate Majority Leader Chuck Schumer and Kirsten Gillibrand–have called for Cuomo's resignation, as has one of the Democratic Party's most progressive members in the House, Rep. Alexandria Ocasio-Cortez.
When poll respondents were asked what kind of response to the allegations they prefer from elected officials, a strong majority—74 percent—said they agree more with the officials who have said they will withhold judgments on whether Cuomo should resign until New York Attorney General Letitia James announces the outcome of her office's investigation. Only 22 percent of respondents told pollsters they agree with the officials who have already called for Cuomo's resignation.
"Though some of his fellow Democrats are clearly ready to usher him out the door of the Executive Mansion and point him toward the Thruway, the vast majority of the party sees a next step as necessary," Quinnipiac polling analyst Tim Malloy said in a Thursday news release. "They want a full investigation before deciding whether Cuomo should resign."
Newsweek reached out to Cuomo's office for comment and will update this article with any response.