Andrew Cuomo Backtracks on Apology to Accusers, Says It's 'Not Harassment' Just Because They Felt Uncomfortable
New York Governor Andrew Cuomo backtracked on his apology to his accusers over sexual harassment allegations, saying his behavior was "not harassment" just because those individuals may have felt uncomfortable.
"Harassment is not making someone feel uncomfortable. That is not harassment," Cuomo said during a Thursday news conference. "If I just made you feel uncomfortable, that is not harassment. That's you feeling uncomfortable."
Cuomo had previously apologized to the women who have spoken out against his behavior in recent months.
In March, he made a formal apology after almost a week of silence on the allegations, saying: "I now understand that I acted in a way that made people feel uncomfortable. It was unintentional and I truly and deeply apologize for it. I feel awful about it, and frankly, I am embarrassed by it, and that's not easy to say but that's the truth."
But on Thursday, Cuomo maintained he did nothing wrong—a position he took when he refused to step down as governor despite calls from both Democrats and Republicans to resign.
Asked if he would resign amid the allegations, Cuomo said, "We have COVID. We have recovery. We have rebuilding. We have a teetering New York City. We have a terrible financial picture. We have to do vaccines. So no, I'm going to do the job the people of the state elected me to do."
After a female reporter asked about his initial apology on Thursday, Cuomo brought her into a hypothetical situation, saying: "You can leave this press conference today and say, 'Oh, the governor harassed me.' You can say that."
He continued, "I never said anything I believed was inappropriate. I never meant to make you feel that way. You may hear it that way. You may interpret it that way, and I respect that."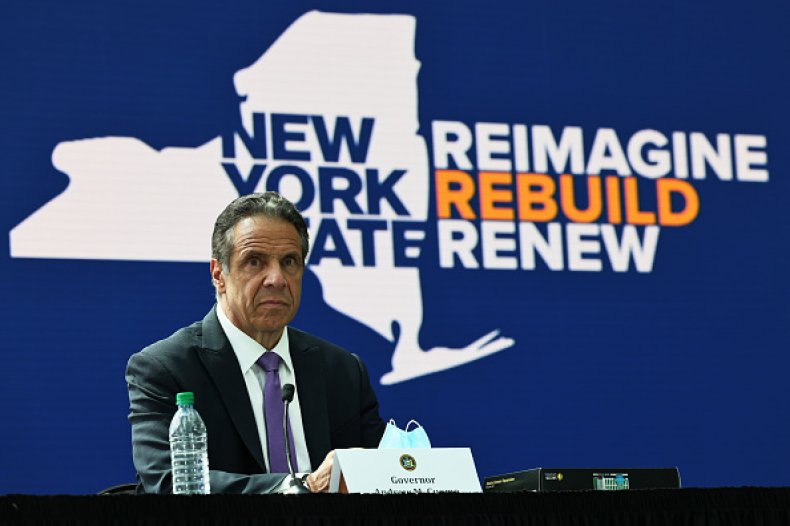 Since February, several women have come forward to accuse Cuomo of unwanted advances. Among these women are two former aides, Lindsey Boylan and Charlotte Bennett.
Boylan, who in December was the first to accuse the governor of sexual harassment and kissing her against her will, called for his resignation again.
"From concealing nursing home deaths to denying multiple women's accounts of abuse, Governor Cuomo's Trumpian gaslighting sees new bounds seemingly every day as he attempts to rewrite history and now rewrite the law. We are tired," Boylan said in a statement.
She continued, "The women he abused are tired, but the governor's national microphone makes his message far more damaging than just to the people he has directly abused. He is using the power of his office to abuse and to validate abuse. The governor should be removed."
After Boylan came forward, Bennett shared her account to The New York Times in a story published February 27. She alleged that he questioned her about her sex life, accusations the governor has denied.
"I never made advances toward Ms. Bennett nor did I ever intend to act in any way that was inappropriate," Cuomo said in a press release. "The last thing I would ever have wanted was to make her feel any of the things that are being reported."
Bennett responded to the governor's comments on Twitter, writing, "When @NYGovCuomo propositioned me for sex, he broke the law. It is very simple: the issue is about his actions, it is not about my feelings. He broke the law (you know, the one he signed). Apologies don't fix that, and neither do denials."
Seven other women have come forward with allegations of sexual misconduct by the governor since Boylan and Bennett first spoke out.
Cuomo remains under investigation for alleged workplace sexual harassment by New York Attorney General Letitia James.
This story was updated on May 14 with comments from Lindsey Boylan and Charlotte Bennett.