Andrew Cuomo Begins Political Comeback, Buys Ads After Probes Crumble
Former New York Governor Andrew Cuomo is reportedly considering a return to the national stage, as evidenced by ads that could soon start appearing on television.
Though it's not clear what Cuomo hopes to gain from the ads or if he will seek office again, a member of his campaign did confirm to Newsweek the existence of the spots.
Cuomo, a Democrat, resigned as governor in August of last year after New York Attorney General Letitia James released a report that detailed sexual harassment allegations against him. However, the five criminal investigations into allegations of sexual misconduct that came against Cuomo were all later dropped, with the last ending in January when a district attorney decided there was not sufficient legal grounds to pursue criminal charges.
With Cuomo being cleared of the charges, the recent reports of ads have led to speculation he could attempt another run for an office. Rich Azzopardi, Cuomo's spokesman, told Newsweek the ads are real, but didn't comment on the nature of its contents.
"We produced a number of ads and haven't decided what we are going to run yet," he said.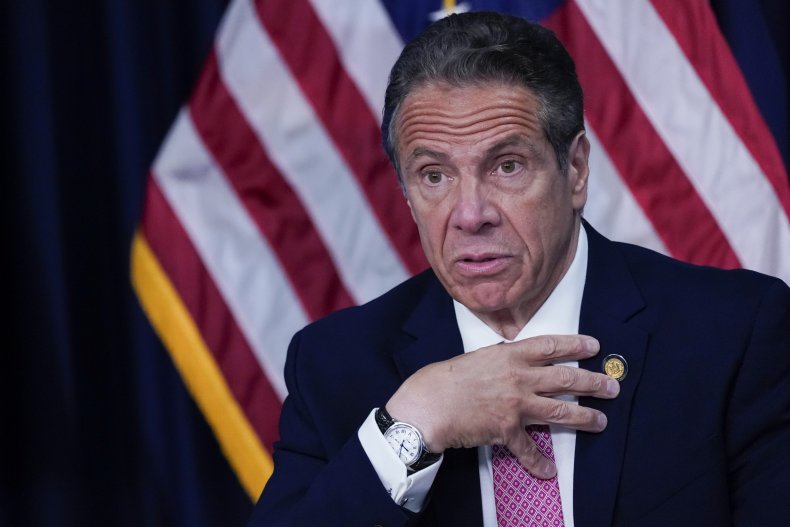 Unverified footage of at least one of the ads has leaked onto social media. House GOP Conference Chairwoman Elise Stefanik of New York commented on one of the clips posted on Twitter.
"This is desperately deranged," she tweeted. "New Yorkers don't want an apology tour from a corrupt criminal. Andrew Cuomo should be behind bars, not on our TV screens."
While he was in office, Cuomo enjoyed high favorability ratings from New Yorkers, especially during the onset of the pandemic. He was praised by many for his daily briefings on COVID-19 at a time when former President Donald Trump largely downplayed the severity of the virus.
Reports that Cuomo's administration allegedly undercounted coronavirus-related deaths in the state's nursing homes affected his popularity in early 2021, but his political career was even more severely damaged by the sexual misconduct claims.
Cuomo denied the allegations made against him, though he did apologize for acting "in a way that made people feel uncomfortable."
When he resigned, he said he did so because he didn't want to become a distraction from larger issues.
"Government operations are a matter of life and death," Cuomo said during his resignation announcement on August 10, 2021. "And wasting energy on distractions is the last thing the state government should be doing. And I can not be the cause of that."