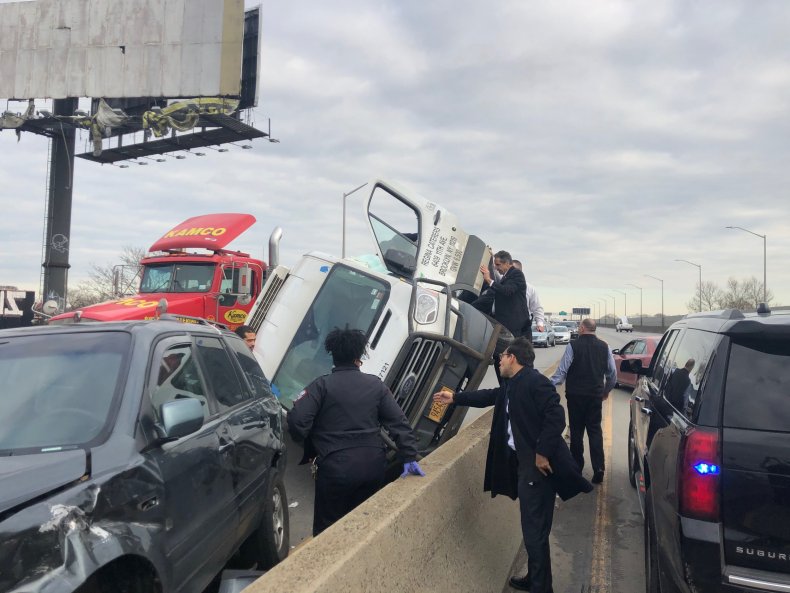 New York Governor Andrew Cuomo was filmed assisting a trapped motorist on the Brooklyn-Queens Expressway Monday afternoon. Video captured by the governor's office shows Cuomo helping a man climb out the driver's side door of a car that was perched on top of the highway median.
After leaving a luncheon hosted by the Association for a Better New York, Cuomo and his staff encountered a wreck on the thoroughfare which traverses Brooklyn and Queens. His office said the car appeared as if it was going to tip over.
Cuomo then cut a man who was trapped in the car out of his seatbelt and helped him as he stepped onto the median. Additional video shows the governor providing comfort to a woman at the scene. When they first came upon the wreck, the governor's office said, police had not yet arrived.
New York City Police Department officers did arrive by the time the video was recorded.
The Better New York luncheon was convened to preview upcoming infrastructure and transportation priorities. Cuomo was the event's featured speaker, and guests had to pay $150 (or $200 for non-members) for a seat.
The governor also used the occasion to address the growing number of anti-Semitic attacks in recent weeks that have targeted Jews in the New York metropolitan region.
"When the day is done and you pass the baton to your children, make sure you make the place better and stronger and sweeter," he said at the event. "If not, you fail, and we are not going to fail."
At a Solidarity March on Sunday organized by a local Jewish non-profit, Cuomo announced that an additional $45 million would be allocated to religious institutions to enhance security in the wake of recent hate crimes.
He also previewed new legislation he will propose when the state legislature reconvenes later this week that would pursue certain bias-motivated incidents as domestic terrorism.
Reports indicate that tens of thousands of Jews and New Yorkers of all stripes poured out for Sunday's march across the Brooklyn Bridge. According to a forthcoming report from the Center for the Study of Hate and Extremism at California State University, San Bernardino, hate crimes in New York City are on track to hit their highest levels since 2001.
"Fearing the next act of terror will not become the new normal for our Jewish neighbors," New York City Mayor Bill de Blasio said at a press conference in late December. "In New York City, diversity is our strength, and we respect the traditions of all who call New York City home. Intolerance will never take hold here."