Andrew Cuomo 'Confident' That Truth of Sexual Assault Allegations Will Come in Time
In his final speech as the Governor of New York, Andrew Cuomo maintained his innocence against the sexual harassment allegations that led to his resignation.
Cuomo made his farewell remarks in a pre-taped video on Monday afternoon. He began by addressing the allegations and accusing Attorney General Letitia James of intentionally politicizing the subsequent state investigation.
"A firecracker can start a stampede, but at one point everyone looks around and says, 'Why are we running?' The truth is, ultimately, always revealed," Cuomo said. "The attorney general's report was designed to be a political firecracker on an explosive topic, and it worked."
"It was a political and media stampede, but the truth will out in time. Of that, I am confident," he added.
On Friday, a spokesperson from James' office defended the probe, calling it "exhaustive, thorough, and without outside influence, period."
"Given the multiple, ongoing criminal investigations into the governor's conduct, it would not be appropriate to respond further to these baseless attacks," Delaney Kempner, James' director of communications, said in a statement. "The 168-page report and additional 486 pages of exhibits clearly corroborate the experiences of the complainants, yet the governor and his aides continue to undermine those who seek to expose this dangerous conduct."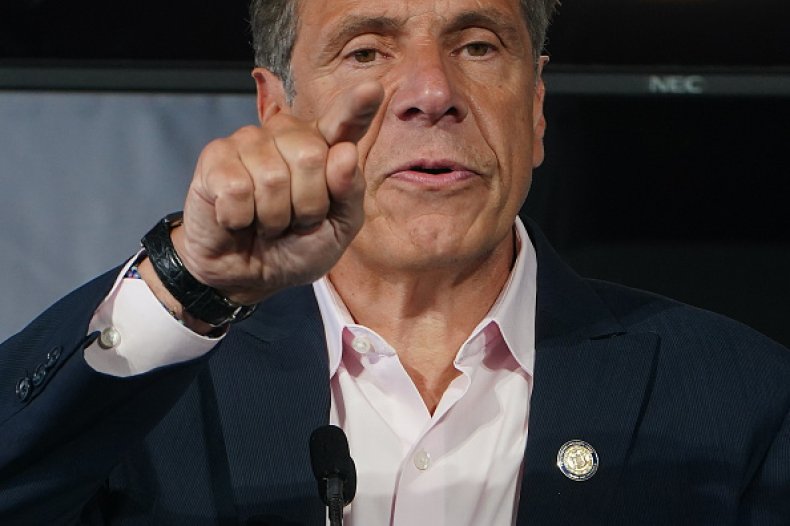 The governor said that while he believes everyone should have a right to come forward with allegations of sexual misconduct, all claims should be scrutinized—suggesting that the 11 women who spoke out against him were not.
Before the investigation, Cuomo had said he trusted James to lead the probe, calling her "very good" and "competent" at a press briefing in March. But his position on the attorney general's office has reversed since the report's release earlier this month.
"When government politicizes allegations and the headlines condemn without facts, you undermine the justice system, and that doesn't serve women, and it doesn't serve men or society" he said. "Of course, everyone has a right to come forward and we applaud their bravery and courage in doing so. But allegations must still be scrutinized and verified, whether made by a woman or a man that is our basic justice system."
Cuomo said that while he is a "fighter" and found James' report to be "unfair and unjust," he believes that "prolonging the situation could only cause governmental paralysis."
Two weeks ago, Cuomo announced his resignation after immense criticism in response to the probe from the attorney general's office, which found the governor harassed 11 women, retaliated against a former employee who came forward, and, in doing so, violated other state and federal laws.
Cuomo was serving his second term as governor, a position he has held since 2011. He was expected to run for a third term in 2022.
Cuomo used his farewell speech to tout his accomplishments over the last decade, saying "No governor in the nation has passed more progressive measures than I have."
He said that under his leadership, the state has embarked on the "most aggressive, green energy plan in the nation" and that New York has done a better job of handling the coronavirus pandemic than states like Florida, Texas and Alabama.
"We didn't get everything done that we wanted to—or even everything we should have done—and we didn't always get it quite right, but I want you to know, from the bottom of my heart, everyday, I worked my hardest. I gave it my all and I tried my best to deliver for you," he said.
Lieutenant Governor Kathy Hochul will replace Cuomo as the governor as of Tuesday. She will become the first woman to serve as the governor of New York State.
Updated 08/23/2021, 1:45 p.m. ET: This story has been updated with a statement from Delaney Kempner, Attorney General Letitia James James' director of communications.