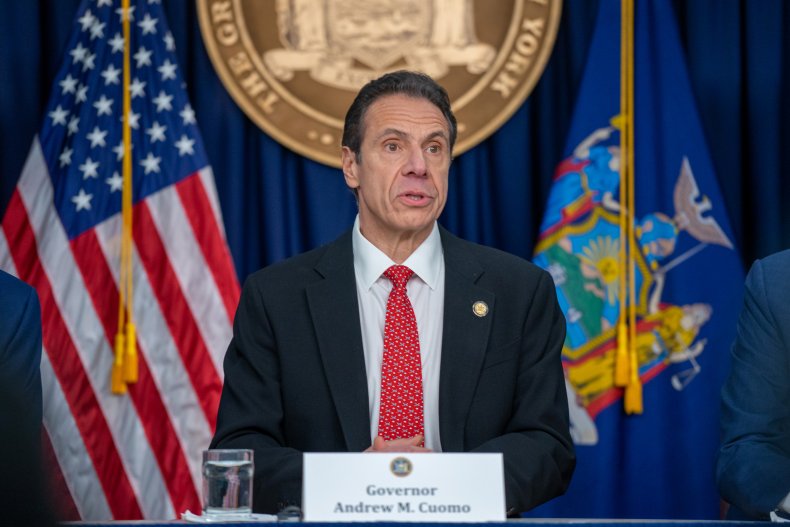 New York Governor Andrew M. Cuomo declared a state of emergency on Saturday as he revealed that 76 people have tested positive for COVID-19 in the state, an increase of nearly two dozen confirmed cases in the past several days.
"I have officially...done a declaration of emergency, which gives us certain powers," Cuomo said at a press conference in Albany. "We're going to be doing purchasing and hiring more staff, especially to help local health departments that are very stressed."
Amid concerns that some individuals under voluntary quarantine might not be complying with isolation requirements, Cuomo said that health departments should conduct regular monitoring of quarantined patients and hinted that the state could step in should individual patients decide to buck the process.
The emergency declaration grants the executive extraordinary—albeit temporary—powers, including the ability to suspend laws and local ordinances that impede the government's response to the outbreak.
The governor's office provided Newsweek with a statement clarifying that such powers are used to expedite procurement of emergency provisions, such as testing kits, cleaning supplies and disinfectant, for example.
In addition to shoring up his administration's ability to mount an effective public health salvo, Cuomo pointed to several other factors, such as price gouging, that threaten to exacerbate the crisis.
"Price gouging continues to be a problem," he said. "I want businesses to be aware that you could lose your license for price gouging. This is serious. It's not just price gouging, it's price gouging in an emergency situation where you're being exploitative of the public."
He also took aim at the Trump administration and the U.S. Congress for what he described as a failure to support New York's public health response.
"I don't believe the supplemental appropriation bill provided enough funding for New York," Cuomo said, referencing the $8.3 billion spending package Trump recently signed—funds destined for individual states and the federal government—after the president had requested just $2.5 billion.
"Our relationship with the CDC is also problematic on an ongoing basis," he added, claiming that the agency was acting as a "bottleneck" for testing.
"I believe the CDC was caught flatfooted," Cuomo said. "They're slowing down the state."
During the press conference, Cuomo announced that nursing homes and senior living facilities in New Rochelle, the New York City suburb at the center of one of the outbreaks, will not be able to receive outside visitors. He called nursing homes a "problematic setting" that require the state to exercise an abundance of caution when considering emergency policies.
A nursing home in the Seattle suburbs has played host to one of the first U.S. outbreaks, to which at least 10 deaths from COVID-19 have been linked.
This article has been updated to include comments from the governor's office.
About the writer
Asher Stockler is a reporter for Newsweek covering the National Rifle Association and gun policy.