New York Gov. Cuomo Says Trump Hasn't Been Any Help on COVID: 'Let Biden Take the Reins'
New York governor Andrew Cuomo has said that the U.S. has to look to the administration of President-elect Joe Biden for an effective government response to the coronavirus pandemic and for the rollout of a vaccine.
Cuomo, who has been a constant critic of President Donald Trump's COVID response, has cast doubt on the White House's ability to roll out a vaccine, following the announcement by Pfizer of a breakthrough treatment. U.S. company Moderna announced Monday that it has also developed a vaccine that is nearly 95 percent effective against the virus.
"I don't believe they [the Trump administration] can handle this vaccine rollout process," Cuomo told MSNBC's anchor Joy Reid.
"They have handled no operation. They didn't handle the COVID testing operation, the PPE operation, the Defense Production Act. This federal administration failed at every turn, so in some ways I say, 'Let's just move on.'"
Ahead of a discussion between Biden and governors scheduled for Thursday, Cuomo added: "The governors have been the ones handling this war, frankly, and Joe Biden wants to engage with them right away and I think that's smart."
There is not much love lost between the governor and the president, especially over the past few days when Trump took a swipe at Cuomo following the Pfizer announcement.
Trump said in the White House Rose Garden that the vaccine would be available to the general population "with the exception of places like New York state where, for political reasons, the governor decided to say, and I don't think it's good politically. I think it's very bad from a health standpoint, but he wants to take his time with a vaccine."
Cuomo has dismissed Trump's claim as untrue and said he simply wants the vaccine to be approved by independent medical experts. He has pointed to conflicting information on the virus, such as Trump's initial faith in hydroxychloroquine and resistance to wearing masks.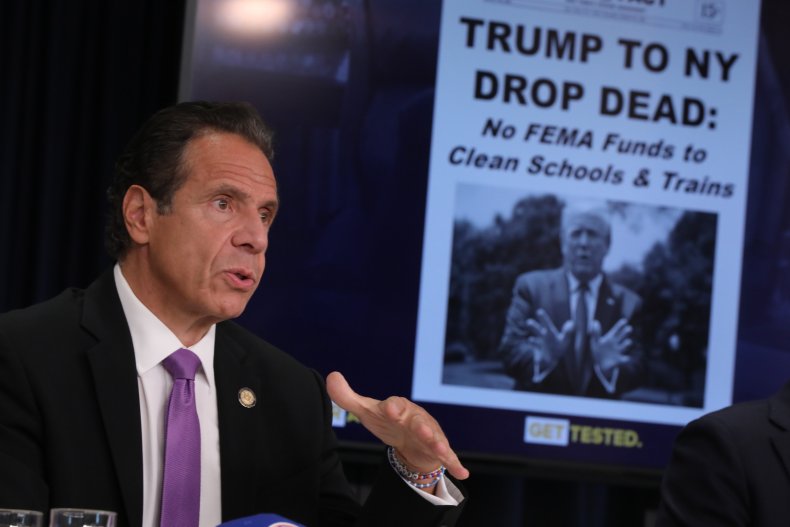 Cuomo said New York along with at least seven other states had assembled panels to review the U.S Food and Drug Administration approval process. He believes this will instil public confidence in any vaccine, which could then be rolled out.
"Frankly, he hasn't been any help," Cuomo told MSNBC.
"When we say, well, he is not helping in the transition, well, I don't think it's any great loss...because he never contributed much to begin with," Cuomo told MSNBC.
"Let Joe Biden take the reins, start working with the governors and let's get it done ...because I don't believe Trump has the capacity to do it anyway," he said.
Newsweek has contacted the White House for comment.
The graphic below provided by Statista shows the spread of coronavirus around the world.