Andrew Cuomo Swipes at Trump's Immigration Agenda in Ellis Island Speech: 'This is the Harbor Where Frederick Trump' Arrived in U.S.
New York Governor Andrew Cuomo took a swipe at President Donald Trump and his immigration policies during his third inaugural address at Ellis Island, telling the crowd, "Never forget where you came from."
"This is the harbor where Frederick Trump arrived from Germany, and whose grandson would become the president of the United States," Cuomo said in a speech on Tuesday, which officially kicked off his third and final term as governor.
"This is not a faded memory of yesterday, but rather a shining beacon of tomorrow," Cuomo said of Ellis Island, the famed port of entry for immigrants for over a century. "Never forget where you came from, and never forget or deny this place."
In addition to name-dropping Trump's grandfather, Cuomo added that ancestors of other notable public figures like Vice President Mike Pence and Supreme Court Justice Ruth Bader Ginsburg also had ancestors who passed through Ellis Island.
Cuomo's comments come amid a partial government shutdown over border security funding. President Trump has refused to sign a spending bill that does not include $5 billion to fund his long-promised border wall between the U.S. and Mexico. The president is scheduled to meet with congressional leaders on Wednesday to discuss the shutdown.
"I campaigned on Border Security, which you cannot have without a strong and powerful Wall. Our Southern Border has long been an "Open Wound," where drugs, criminals (including human traffickers) and illegals would pour into our Country. Dems should get back here an [sic] fix now!" Trump tweeted earlier this week.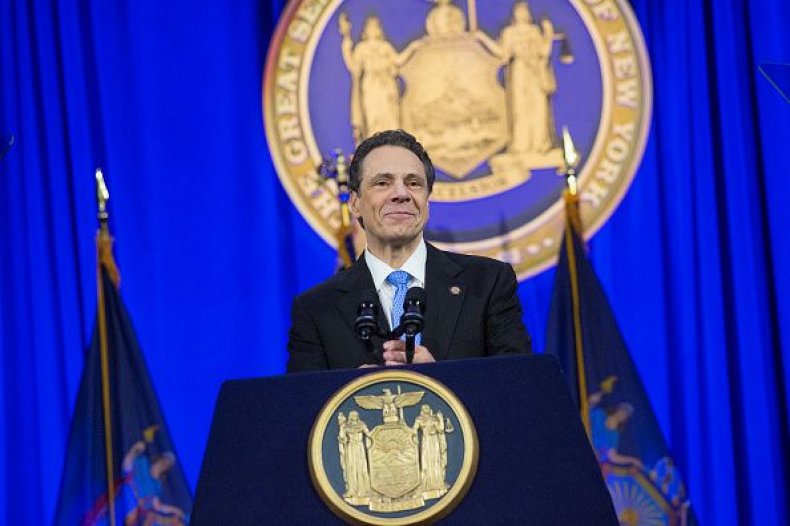 Cuomo's administration is currently paying $65,000 per day to keep Ellis Island and the Statue of Liberty open during the government shutdown. When announcing the move, Cuomo said that New York would "not allow president Trump's repugnant symbol of division close the true representations of who we are as a state and a nation."
During his inaugural address Cuomo also accused the federal government of taking advantage of the country's deep divisions, comparing the president and his administration to "looters during a blackout."
"They didn't cause the darkness, but they exploited it," Cuomo said of Trump's White House.
"As our nation once confronted a great economic depression, we now confront a great social depression," Cuomo said. "People's frustration turning to fear and the fear turning to anger and the anger turning to division. It is impossible to overstate how dangerous, how malignant this condition is. It is a cancer that is spreading throughout our society."