Andrew Cuomo Edges Toward Impeachment With New Accuser and New Inquiry
New York Governor Andrew Cuomo could be headed towards impeachment, with a new investigation and calls for his removal increasing after a sixth sexual harassment allegation was made against the Democrat.
Allegations from an unidentified sixth woman, said to be a former Cuomo aide, were revealed in a report from Albany, New York paper The Times Union on Wednesday. On Thursday, Democratic leaders in New York's state legislature announced a new investigation of Cuomo that could lead to his impeachment.
Although Cuomo's sixth accuser did not want to file a police report over the alleged incident herself, an attorney for Cuomo said that a state official referred the matter to Albany police, who could investigate the claim as a criminal matter.
"As a matter of state policy when allegations of physical contact are made, the agency informs the complainant that they should contact their local police department. If they decline, the agency has an obligation to reach out themselves and inform the department of the allegation," Beth Garvey, Cuomo's acting counsel, said in a statement obtained by Newsweek.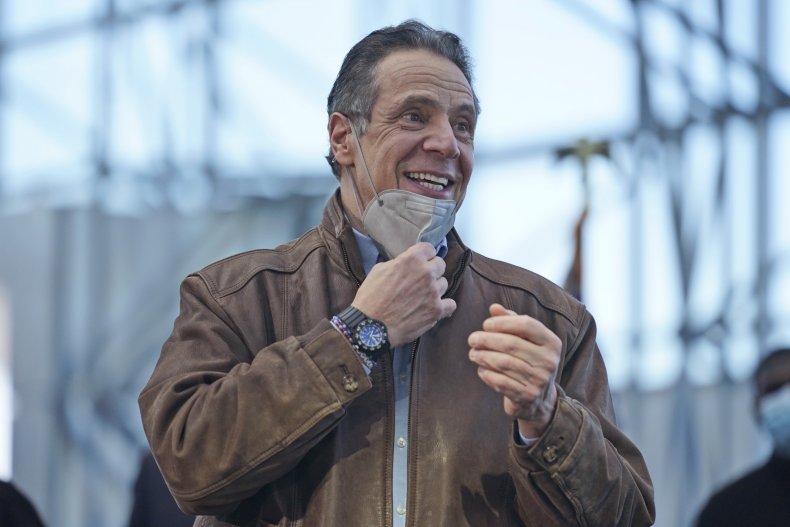 Cuomo has denied the allegations and refused mounting calls to resign, despite a bipartisan majority of lawmakers in the New York state legislature now calling for his resignation. Republicans hope to impeach Cuomo over the allegations, a prospect that would normally be unlikely to succeed given that the legislature is heavily controlled by Democrats.
However, Cuomo's impeachment may now be a realistic possibility due to increasing disapproval brought on by the allegations. Pressure on the governor had already been mounting due to heavy criticism of his administration's handling of nursing homes amid the COVID-19 pandemic.
Democratic New York state Assembly Speaker Carl Heastie announced that a judiciary committee would begin an impeachment investigation of Cuomo on Thursday. New York Attorney General Letitia James is already conducting an independent investigation of the allegations, which will be unaffected by the new inquiry.
"The reports of accusations concerning the governor are serious," Heastie said in a statement. "The committee will have the authority to interview witnesses, subpoena documents and evaluate evidence, as is allowed by the New York State Constitution."
An impeachment trial of Cuomo could be the next step. A simple majority vote in New York's 150-member state Assembly is all that would be required for a trial to start, although a majority of members were leaning against convening a trial before the sixth allegation emerged, according to the Associated Press.
Newsweek reached out to Cuomo's office for comment.