Andrew Cuomo Enlists Celebrities To Urge New Yorkers To Stay Home During Pandemic: 'Robert De Niro Is Watching You'
Andrew Cuomo shared a message from fellow New Yorker Robert De Niro urging people to stay at home to stop the spread of COVID-19.
"Hello, this is Robert De Niro. We all need to stay home. We need to stop the spread of this virus and we can only do it together, not just to protect ourselves but to protect others and all the older people you love. Please," the 76-year-old actor says in the video posted on the New York Governor's Twitter page on Sunday night.
"I'm watching you," De Niro added as he pointed two fingers at his eyes and the camera.
"Robert De Niro is watching you. Stay home. Save lives," Cuomo added alongside the video, which has since amassed more than 650,000 views.
Cuomo also shared similar videos from Danny DeVito and Ben Stiller urging people in New York state—the worst hit by the coronavirus pandemic—to stay at home unless absolutely necessary.
"Hi everybody, it's Danny DeVito, and I'm asking you from the Botton of my heart, all over the state of New York, stay home," DeVito said in his video message.
"I mean everybody. I mean, we got this virus, this pandemic and, you know, young people can get it and they can transmit it to old people and the next thing you know—I'm out of there," the 75-year-old said.
"So, Governor Cuomo asked me to ask you. Please, do us a favor, all of us, and stay home, not spread this virus around. Thank you! Watch a little TV, why don't ya!"
Stiller added: "I got a message for all you young people who think that it's business as usual. It's not. We really have to all stay at home. It's the only way that we're going to stop the spread of this virus. And it's only going to work if we all do it together.
"And even if you're not worried about yourself, think about protecting the older people in your life, who you love, who are very susceptible. So, please, stay at home."
The video pleas come after Cuomo said he was appalled to see so many people flouting social distancing rules during a visit to New York City at the weekend.
In a news briefing on Sunday, Cuomo said: "I was in NYC yesterday. It was a pretty day. There is a density level in New York City that is wholly inappropriate.
"You would think there was nothing going on in parts of New York City. You would think it was just a bright, sunny Saturday. I don't know what I'm saying that people don't get."
He added: "This is not life as usual. None of this is life as usual. This kind of density, we talk about social distancing, I was in these parks—you would not know that anything was going on. This is just a mistake. It's a mistake. It's insensitive, it's arrogant, it's self-destructive, it's disrespectful to other people and it has to stop and it has to stop now."
Cuomo said he had given city officials 24 hours to come up with a plan to stop people flocking to the city's parks.
On Friday, Cuomo announced sweeping state-wide restrictions, ordering residents to stay in their homes unless they have an important reason to go out. All nonessential businesses in the state were closed from 8 p.m. on Sunday.
New York City Mayor Bill de Blasio said on Sunday that the number of coronavirus cases in New York City accounts for a third of the total cases in the U.S.
"We're on the verge of 10,000 cases of COVID-19 in New York City. We've had 63 deaths. We represent 1/3 of the cases in the US and 2/3 of the cases in New York State. This crisis is affecting our entire nation and New York City is its epicenter," he wrote on Twitter.
New York state had 16,887 cases of coronavirus and at least 150 deaths as of Sunday night, according to The New York Times.
The number of confirmed cases in the U.S. soared past 35,000 on Monday morning, behind only China and Italy, while the death toll climbed to more than 470, according to the latest figures from Johns Hopkins University.
Globally, there have been almost 350,000 confirmed cases and at least 15,300 deaths. More than 100,000 people have recovered.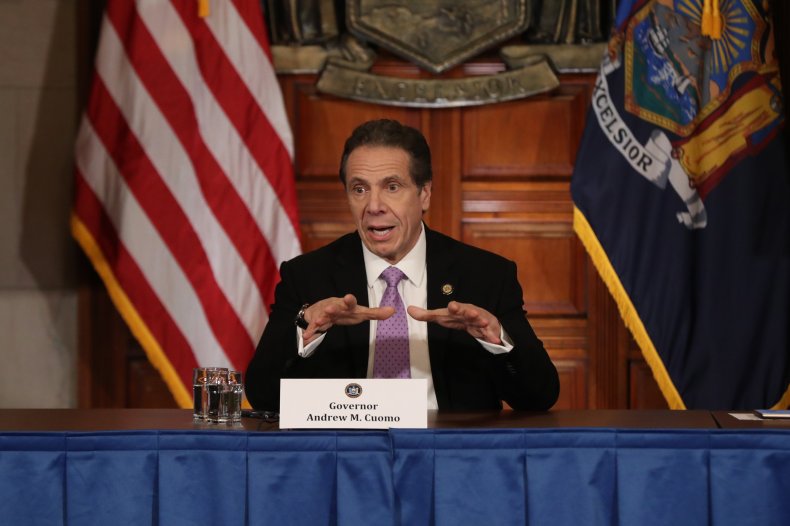 World Health Organization advice for avoiding spread of coronavirus disease (COVID-19)Hygiene advice
Clean hands frequently with soap and water, or alcohol-based hand rub.
Wash hands after coughing or sneezing; when caring for the sick; before, during and after food preparation; before eating; after using the toilet; when hands are visibly dirty; and after handling animals or waste.
Maintain at least 1 meter (3 feet) distance from anyone who is coughing or sneezing.
Avoid touching your hands, nose and mouth. Do not spit in public.
Cover your mouth and nose with a tissue or bent elbow when coughing or sneezing. Discard the tissue immediately and clean your hands.
Medical advice
If you feel unwell (fever, cough, difficulty breathing) seek medical care early and call local health authorities in advance.
Stay up to date on COVID-19 developments issued by health authorities and follow their guidance.
Mask usage
Healthy individuals only need to wear a mask if taking care of a sick person.
Wear a mask if you are coughing or sneezing.
Masks are effective when used in combination with frequent hand cleaning.
Do not touch the mask while wearing it. Clean hands if you touch the mask.
Learn how to properly put on, remove and dispose of masks. Clean hands after disposing of mask.
Do not reuse single-use masks.