Andrew Cuomo Faces Second Sexual Harassment Accusation as Impeachment Calls Grow Louder
New York Democratic Governor Andrew Cuomo has been accused of sexual harassment by a second former aide amid escalating calls for his impeachment over the nursing home deaths scandal.
Charlotte Bennett, 25, who worked for Cuomo's administration as a health policy adviser, told the New York Times that the governor asked her whether she ever had sexual relations with an older man, and then said he was open to relationships with women her age. Bennett left the Cuomo administration in November.
Cuomo quickly denied the allegation in a statement, where he praised Bennett as a "hardworking and valued member of our team during COVID."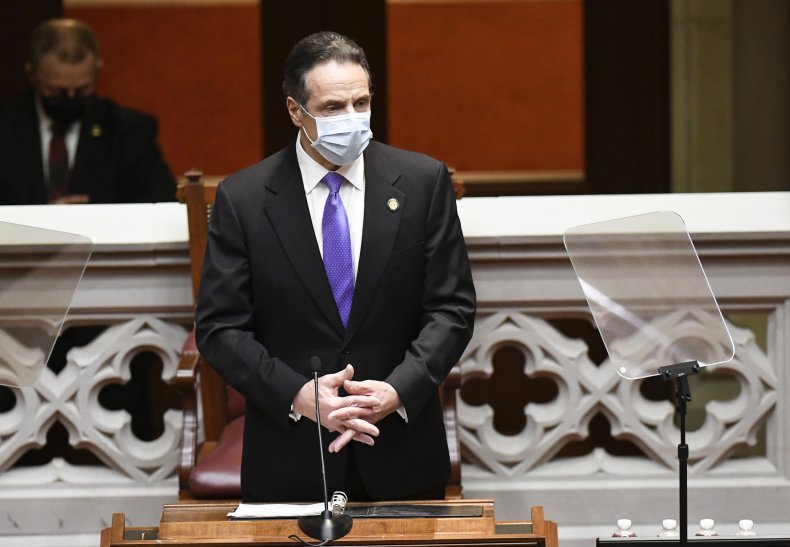 "I never made advances toward Ms. Bennett nor did I ever intend to act in any way that was inappropriate," he said. "The last thing I would ever have wanted was to make her feel any of the things that are being reported."
Cuomo also announced that he has authorized an independent review into the allegations, which will be conducted by former federal judge Barbara Jones. "I ask all New Yorkers to await the findings of the review so that they know the facts before making any judgements," he said. "I will have no further comment until the review has concluded."
Bennett told the Times that Cuomo never physically touched her, but she "understood that the governor wanted to sleep with me, and felt horribly uncomfortable and scared."
Last June, after Cuomo allegedly asked her whether age was a factor for her in romantic relationships, Bennett said she reported the incident to the governor's chief of staff, Jill DesRosier. Afterwards, she was transferred to another role at the other end of the New York Capitol. Cuomo's special counsel, Beth Garvey, said that she was also made aware of the complaint.
Bennett's allegations come after Lindsey Boylan, another former Cuomo aide, accused the governor of sexual harassment. On Wednesday, Boylan said Cuomo "would go out of his way to touch me on my lower back, arms and legs."
Cuomo spokesperson Caitlin Girouard denied Boylan's allegations, saying all her "claims of inappropriate behavior are quite simply false."
Meanwhile, the embattled governor has been facing escalating calls for his impeachment over the nursing home deaths scandal that saw officials under Cuomo intentionally covering up the extent of the state's COVID-19 death toll.
A giant billboard has been put up along a highway in Albany calling for his impeachment.
In a recent Newsweek op-ed, New York State Assemblyman Ron Kim wrote, "It is time to be brave, to hold him accountable, to investigate his cover-up of nursing home information. It is time to undo the bad policies that led to unnecessary deaths. And it is time to start the impeachment process."
Newsweek reached out to Cuomo's office for comment.