Andrew Cuomo Feels 'Vindicated' Five Months After Pressured Resignation
In the wake of several legal victories, former New York Governor Andrew Cuomo said he felt "vindicated" more than five months after resigning due to accusations of sexual harassment that were leveled against him in an interview with Bloomberg on Monday.
"If you do an honest summary, which is what I get from people on the street, I have been vindicated," he said.
Cuomo resigned in late August after a probe by Attorney General Letitia James determined he "sexually harassed multiple women," and broke laws while doing so. He also faced allegations of undercounting COVID-related nursing home deaths and using state resources while working on his book.
In the months since his resignation, Cuomo has won several legal battles. The Manhattan district attorney also closed its investigation into his handling of nursing home deaths. And even as an ethics panel ordered he give back the $5 million he received for his book about how he handled the state's response to the pandemic during its early days, James' office ruled the order was premature.
The former governor has also avoided any criminal charges in the allegations of sexual harassment.
Oswego District Attorney Gregory Oakes, however, called the accusations against Cuomo "reasonable and reliable," while blaming state laws that "fail to properly hold offenders accountable and fail to adequately protect victims."
"Unfortunately, the current law essentially requires her to explain why she didn't do more to expressly object," Oakes told Syracuse.com. "The current law places an undue burden on victims in this respect."
In his interview with Bloomberg, Cuomo declined to rule out a future political run, saying he would not have resigned if he could do it over. He said he "never resigned because I said I did something wrong," and that he only did so because he didn't "want to be a distraction."
"I'm still focused on communicating what happened here. Because as a precedent, it has to be exposed," he said. "Vindication is not the reason to run for office. I've had the time and the space to get a little philosophical about this. Too many people do run for office because it's about them. It's about their ego, their need."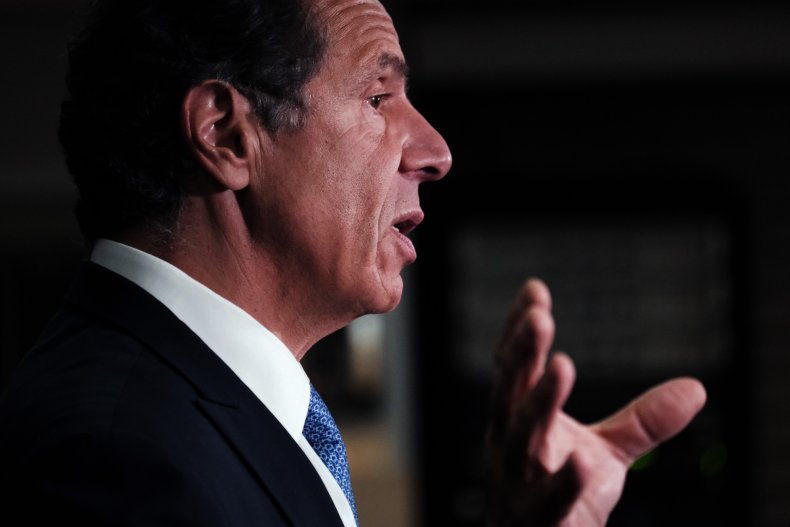 Still, his remarks received condemnation from some in the New York political sphere.
In a statement to Bloomberg, a spokesperson for James' office wrote: "No one, including Andrew Cuomo, can dispute the fact that multiple investigations found allegations of sexual harassment against him to be credible," adding, "Only he is to blame for inappropriately touching his own staff and then quitting so he didn't have to face impeachment. His baseless attacks won't change the reality—Andrew Cuomo is a serial sexual harasser."
The former governor's resignation upended New York politics, launching now Governor Kathy Hochul into the state's top executive spot while opening new dialogues about the experiences of sexual harassment victims. It also resulted in the firing of his brother, Chris Cuomo from CNN. Several other high-profile individuals also resigned, including CNN's head Jeff Zucker and Time's Up chairwoman Roberta Kaplan.
In a statement to Newsweek, Cuomo spokesperson Rich Azzopardi wrote: "We remain laser focused on getting the truth out about the AG's sham report, the facts that they ignored blackmail and witness tampering and suppressed evidence and testimony favorable to the Governor all to further Tish James' political ambitions. She doesn't get to skate on that or avoid answering a single substantive question about her faux investigation."
Updated 02/07/2022 12:55 p.m. ET with statement from Cuomo