Andrew Cuomo Handed Criminal Charges, Possibly in Error, Following Sexual Harassment Probe
Former New York Governor Andrew Cuomo could be facing criminal charges for forcible touching in the ongoing investigation into the sexual harassment allegations made against him. However, there are reports that the criminal summons against him was issued in error.
A clerk at the Albany Criminal Court told New York Focus that the local sheriff's department filed charges for the Class A misdemeanor against Cuomo.
A court spokesperson confirmed to the Washington Post that a misdemeanor complaint was filed against Cuomo, but the Albany Times Union reported that a criminal summons had been issued erroneously.
The Times Union reported that the sheriff's investigator shared paperwork with the court on Thursday summarizing the investigation and seeking "guidance" on filing a complaint, but that the summons was issued without the consent of the alleged victim, Brittany Commisso or her attorney.
Commisso, who served as a former aide to the former governor, accused him of groping her at the Executive Mansion last year, saying he "put his hand up my blouse and cupped my breast over my bra." Cuomo has repeatedly denied any wrongdoing.
The local sheriff's department has not confirmed or denied the charges.
The court is expected to release a redacted complaint.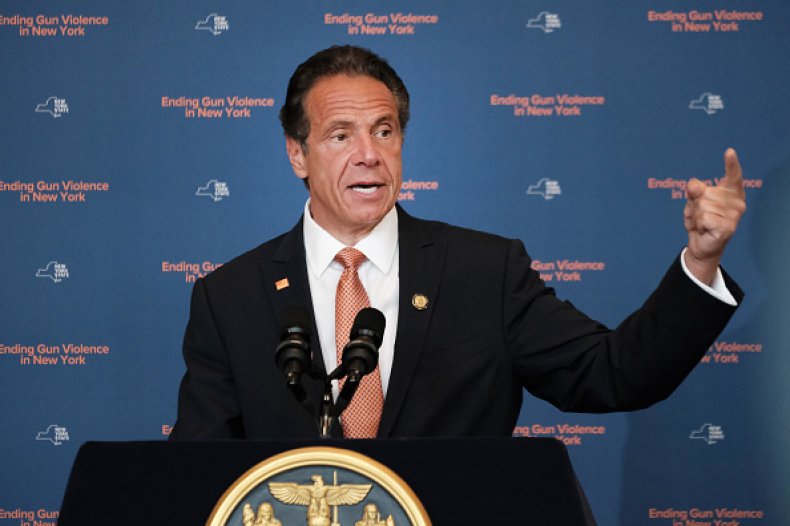 Cuomo resigned earlier in the summer after Attorney General Letitia James concluded in her report that Cuomo sexually harassed multiple women while in office, which in turn prompted several calls for him to leave his post, including one from President Joe Biden.
Since December 2020, more than a dozen women have come forward with allegations against the former governor.
The latest developments are part of a second investigation into Cuomo's conduct from the State Assembly's Judiciary Committee. The final report has yet to be released.
Commisso filed a formal complaint with the Albany County Sheriff's Office in August, which has spurred an ongoing investigation by the sheriff's office and the Albany County district attorney's office.
Under New York Penal Law, the crime of "forcible touching" comes with a maximum sentence of one year in jail.
Before leaving the office, Cuomo maintained his innocence and accused James of politicizing the state investigation.
"It was a political and media stampede, but the truth will out in time. Of that, I am confident," Cuomo said in his final pre-taped remarks.
On Thursday, Cuomo's former spokesperson suggested that James orchestrated the investigation in her favor by clearing Cuomo out of office and opening up a vacancy for her to run.
While James has not yet announced her candidacy, she is expected to do so later this week.
Update 10/28/21, 4:45 p.m. ET: This story and headline have been updated to reflect reports that the charges against Cuomo could have possibly been filed in error.