Andrew Cuomo Investigation Latest Updates: State Finds Governor Sexually Harassed Multiple Women
An investigation into New York Governor Andrew Cuomo found that he sexually harrassed multiple women while holding the state's highest office.
New York Attorney General Letitia James announced the charges during a press conference on Tuesday.
"Specifically, the investigation found that Gov. Andrew Cuomo sexually harassed current and former New York State employees by engaging in unwelcome and nonconsensual touching and making numerous offensive comments of a suggestive sexual nature, that created a hostile work environment for women," James said at the press conference.
The full report into the investigation can be read here.
Please check back with Newsweek for additional updates as this story develops.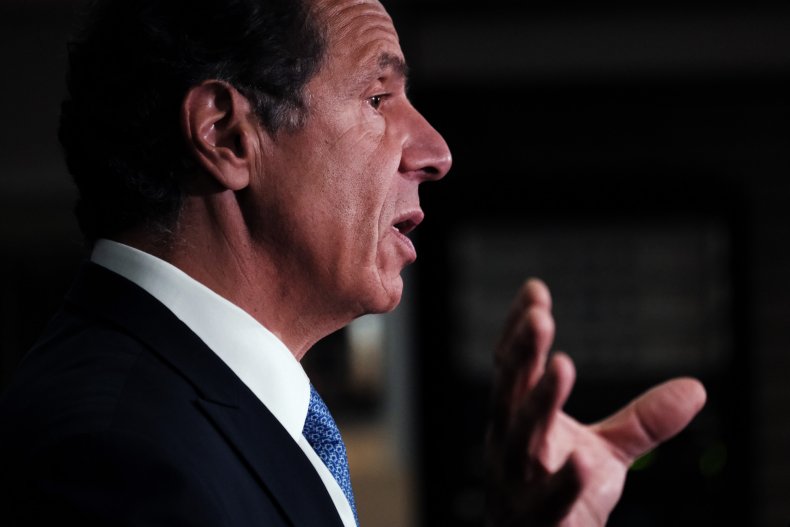 President Joe Biden Calls on Gov. Andrew Cuomo to Resign
President Joe Biden called on Andrew Cuomo to resign as New York's governor following state Attorney General Letitia James' report that found Cuomo sexually harassed multiple women.
When CNN reporter Kaitlan Collins asked Biden if he believes Cuomo should leave his position because of the report's findings, he said "yes." He also said he stands by James' report.
Then, Collins asked Biden whether he thinks Cuomo should be impeached and removed from office if he does not resign.
"Let's take one thing at a time here," Biden said in reply. "I think he should resign."
Collins pointed out to the president that Cuomo is using a photo of Biden embracing him in his self defense "to say that these are commonplace kind of embraces that he made in the allegations against him."
"Do you condone that?" she asked.
"I'm sure there were some embraces that were totally innocent, but apparently the attorney general decided there were things that weren't," Biden answered.
House Speaker Nancy Pelosi Calls on Andrew Cuomo to Resign
House Speaker Nancy Pelosi responded to the conclusion of New York Attorney General Letitia James's report on the sexual harassment allegations against Gov. Andrew Cuomo, urging him to resign.
"As always, I commend the women who came forward to speak their truth," Pelosi said in a statement.
"Recognizing his love of New York and the respect for the office he holds, I call upon the Governor to resign," she added.
New York State Assembly Democrats Convene Emergency Meeting on Cuomo
New York State Assembly Democrats have convened an emergency meeting regarding Attorney General Letitia James' report on Gov. Andrew Cuomo that revealed he sexually harassed many women, according to reports.
"The report is being studied by the members of the Judiciary Committee and every member of the Assembly," Assemblymember Charles Lavine said in a statement about James' report that confirmed numerous allegations against Cuomo.
"We are engaged in an intensive analysis" of the findings, Lavine said.
Albany County District Attorney's Office Conducting Criminal Investigation of Cuomo
The Albany County district attorney's office in New York is conducting a criminal investigation of Gov. Andrew Cuomo and said victims are welcome to come forward with any additional information following the state attorney general's report of Cuomo's misconduct.
The office will be requesting investigative materials obtained by Attorney General Letitia James' office, the statement from Albany County District Attorney David Soares said.
"As this matter is developing and we are reviewing the document released by the Attorney General today," the office said it will not comment more on the criminal investigation "at this time."
Cuomo's Attorney Calls Report 'Utterly Biased' in 85-Page Statement
New York Gov. Andrew Cuomo's attorney, Rita M. Glavin, released an 85-page document in response to the New York Attorney General's report that the allegations of sexually harassment against Cuomo were true.
Glavin writes that the document is meant to "begin to set the record straight" in regard to the "unfair and inaccurate findings" of the report. She alleges that those conducting the investigation "willfully ignored evidence inconsistent with the narrative they have sought to weave [from] the outset."
The report addresses some of the individuals who made accusations of sexual harassment against Cuomo, such as Lindsey Boylan. It also claims that Cuomo "strives to foster a strong sense of collegiality within his team," leading him to interact in an "informal" way with all "regardless of gender."
"The way he interacts with others is not gender-based: he has hugged or kissed male and female members of his staff, Al Gore, Bill Clinton and Hillary Clinton, Andrea Stewart Cousins and Carl Heastie, as well as constituents he meets on the street, and family and friends, as has been well documented," the statement said.
"The Governor's conduct in this regard is unremarkable: Democratic and Republican politicians, male and female alike, use handshakes, hugs, and kisses to connect with others," it added.
White House Press Secretary Jen Psaki Reacts to Andrew Cuomo Report
White House press secretary Jen Psaki addressed the New York attorney general's report that found New York Gov. Andrew Cuomo sexually harassed many women and called the evidence "abhorrent."
When Psaki was asked for the Biden administration's message to the women who came forward with the accusations against Cuomo, she said "all women deserve to have their voices heard" and "deserve to be treated with respect and with dignity."
"I don't know that anyone could have watched this morning and not found the allegations to be abhorrent. I know I certainly did," she said.
She said President Joe Biden is to address the matter later this afternoon and will "share his views" when a reporter asked if Biden believes if Cuomo should resign.
NYC Mayor Bill De Blasio Says Gov. Andrew Cuomo "Not Fit to Hold Office"
New York City Mayor Bill De Blasio reacted to state Attorney General Letitia James' report on Gov. Andrew Cuomo by saying "it is beyond clear" he is "not fit to hold office," in a statement.
"My first thoughts are with the women who were subject to this abhorrent behavior, and their bravery in stepping forward to share their stories," he said.
He called James' report "detailed and thorough" and that it "substantiates many disturbing instances of severe misconduct."
Cuomo "committed sexual assault and sexual harassment and intimidated a whistleblower," he added. "It is disqualifying."
De Blasio also said Cuomo "can no longer serve as Governor."
"He must resign, and if he continues to resist and attack the investigators who did their jobs, he should be impeached immediately," the mayor concluded.
Chuck Schumer and Kristen Gillibrand Says Andrew Cuomo "Should Resign"
Senate Majority Leader Chuck Schumer and New York Senator Kristen Gillibrand issued a joint statement saying "we continue to believe that the Governor should resign," about state Gov. Andrew Cuomo.
"As we have said before, the reported actions of the Governor were profoundly disturbing, inappropriate and completely unacceptable," the statement said.
"No elected official is above the law. The people of New York deserve better leadership in the governor's office," it added.
Schumer is the Senate's Democratic leader who is from New York.
Andrew Cuomo To Sexual Assault Survivors: "I Wish Nothing But Good For You"
After New York Gov. Andrew Cuomo began his press conference denying the findings of state Attorney General Letitia James' report and the allegations of sexual harassment, he addressed one accuser and all sexual assault survivors in saying "I wish nothing but good for you."
The comment was directed towards his former aide Charlotte Bennett who he said came to his office identifying herself as a sexual assault survivor. He said he tried to help Bennett as she dealt with her trauma.
"I wish nothing but good for you and for all survivors of sexual assault," he said.
Before his press conference began, Bennett tweeted at Cuomo to "resign.'
Cuomo continued his response to the report by denying another complaint by a separate accuser who said he groped her in his home office.
"Let me be clear. That never happened," he said.
"For those who are using this moment to score political points or seek publicity or personal gain, I say they actually discredit the legitimate sexual harassment victims that the law was designed to protect," he also said.
"What matters to me at the end of the day is getting the most done I can for you. And that is what I do every day," Cuomo said. "And I will not be distracted from that job."
He concluded his statements by saying that there is "a lot to do" and COVID-19 has to be managed.
Cuomo addressed state citizens by saying "there's nothing we can't do when we work together."
"Together as one, as one community, as one family."
New York Representatives Call For Gov. Andrew Cuomo to "Do the Right Thing" and Resign
New York state representatives Hakeem Jeffries, Thomas Suozzi and Gregory Meeks called for Gov. Andrew Cuomo's resignation in a joint statement.
"We commend the brave women who came forward and spoke truth to power," the statement said. "The time has come for Governor Andrew Cuomo to do the right thing for the people of New York State and resign."
Andrew Cuomo Responds to New York Attorney General's Report: "I Never Touched Anyone"
New York Gov. Andrew Cuomo said he is "finally sharing the truth" and denied the findings of Attorney General Letitia James' report and the complaints made against him by accusers during a press conference.
"I want you to know directly from me that I never touched anyone inappropriately" he said.
He continued by saying out of the sexual harassment complaints, accuser Charlotte Bennett's bothered him the most and added that his own "family member is a survivor of sexual assault in high school."
Bennett was a former aide who worked in his office.
New York Congresswoman Elise Stefanik tweeted in response that Cuomo "truly believes he is above the law."
Andrew Cuomo to Address New York Attorney General's Report
New York Gov. Andrew Cuomo will speak at a 1 p.m. press conference to respond to the findings of New York Attorney General Letitia James's report that found he sexually harassed multiple women.
"Our investigation revealed that the Governor's sexually harassing
behavior was not limited to members of his own staff, but extended to other State employees, including a State Trooper on his protective detail and members of the public," the report stated.
NY Gov. Andrew Cuomo Accuser, Elise Stefanik Call on Him to "Resign"
Calls for New York Gov. Andrew Cuomo to resign are following the state's Attorney General's announcement finding him guilty of sexually harassing women, including from one of his accusers and a state congresswoman.
Charlotte Bennett, one of Cuomo's former aides and the second to publicly accuse him of sexual harassment, called for his resignation on Twitter in a tweet she pinned to her account, tagging him.
"Resign, @NYGovCuomo," she wrote.
New York Congresswoman Elise Stefanik tweeted there should be "zero tolerance" and that Cuomo should "resign immediately" while sharing one of the governor's tweets from 2013 that stated "there should be a zero tolerance policy when it comes to sexual harassment & must send a clear message that this behavior is not tolerated."
Stefanik said she was the first federal official to call for an independent investigation into the allegations of "sexual harassment, abuse and assault."
"No one is above the law and today justice must be served," she said in a statement calling for his arrest. "President Joe Biden must immediately call for Cuomo's resignation."
New York AG Calls Findings of Gov. Cuomo Investigation a "Sad Day for New York"
After New York Attorney General Letitia James announced Gov. Andrew Cuomo was found guilty of sexually harassing multiple women, she called it a "sad day for New York."
"I am grateful to all the women who came forward to tell their stories in painstaking detail, enabling investigators to get to the truth," she said in a statement.
The findings are a result of a nearly five month investigation by two outside lawyers who said the Cuomo administration was a "hostile work environment" and "rife with fear and intimidation," the Associated Press reported.
The allegations against the governor emerged last winter with an office aide saying Cuomo once groped her chest.
A separate office aide, Lindsey Boylan, said Cuomo kissed her on the lips after she attended a meeting within his office and that he "would go out of his way to touch me on my lower back, arms and legs." She first made the allegations against Cuomo in December 2020.
The state Assembly is inquiring on whether Cuomo can be impeached from his position.
James' 165-page report is expected to be "critical" for the impeachment inquiry, according to some members of the judiciary committee, the AP reported.