Andrew Cuomo Questions Accusers' Motives, Reiterates That He Won't Resign
New York Governor Andrew Cuomo has no plans to step down amid increasing allegations of sexual misconduct, saying that while women have a right to come forward, there's also the matter of the truth.
More than a dozen members of Congress from New York have called for Cuomo to resign, with seven women now accusing him of sexual misconduct. Allegations range from uncomfortable poses in photos to groping. The governor denies he engaged in the behavior he's accused of or ever intentionally made someone feel uncomfortable.
"I won't speculate about people's possible motives, but I can tell you, as a former attorney general who's gone through this situation many times, there are often many motivations for making an allegation, and that is why you need to know the facts before you make a decision," Cuomo said at a Thursday press conference.
He added that what is being alleged "simply did not happen" and urged people to wait for the conclusion of two separate investigations to form an opinion. The governor is being investigated by both the state attorney general and the state Assembly's Judiciary Committee.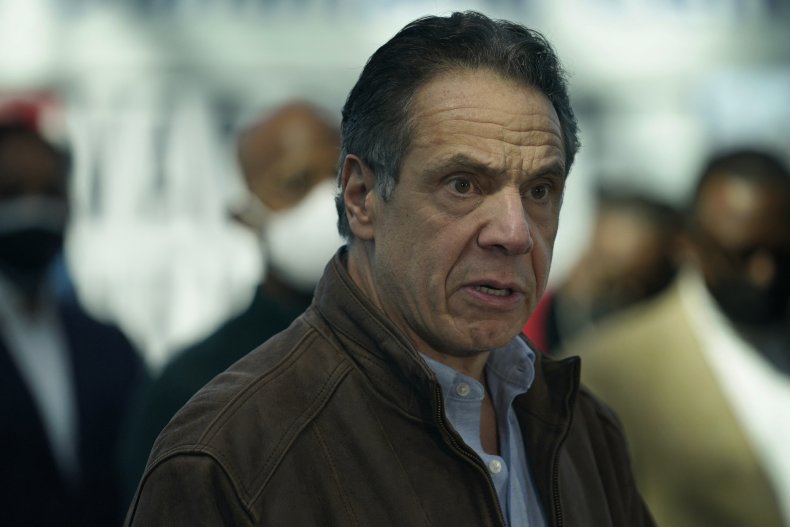 State legislators are moving forward with a potential impeachment of the governor, and prominent federal lawmakers, including Representatives Jerry Nadler and Alexandria Ocasio-Cortez, support the calls for him to step down. Given the accusations against Cuomo and his response, it is "impossible for him to continue to govern at this point," Nadler wrote on Twitter.
Newsweek reached out to Nadler for further comment but did not hear back before publication.
Cuomo didn't specifically name any legislators but called it "reckless and dangerous" for politicians to draw a conclusion before knowing "a single fact."
"The people of New York should not have confidence in a politician who takes a position without knowing any facts or substance. That, my friends, is politics at its worst," Cuomo said. "I was attorney general. A lot of people alleged a lot of things for a lot of reasons."
The governor has been accused of kissing employees against their will and making inappropriate comments about their sex lives. Cuomo also allegedly groped a current member of the governor's Executive Chamber staff at the governor's mansion last year. After the woman declined to file a report with the Albany police department, the state notified the department, according to Beth Garvey, Cuomo's acting counsel.
In a piece published Friday by New York magazine, Jessica Bakeman, a former statehouse reporter for what is now Politico New York, accused Cuomo of sexually harassing her on multiple occasions.
"I never harassed anyone, I never assaulted anyone, I never abused anyone," Cuomo said on Thursday. "You don't have facts now. You have allegations."