Andrew Cuomo Slammed Online for Reports That He Abandoned His Dog at the Governors Mansion
New York Governor Andrew Cuomo, who will resign from office on Tuesday over sexual harassment allegations, is now facing backlash online for a report that said he abandoned his dog at the Executive Mansion last week.
The Albany Times Union reported Monday that Cuomo left his dog, Captain, at the state-owned residence before he moved out last week to stay with one of his sisters in Westchester County. Before he left, two state police sources told the news outlet that Cuomo asked mansion staff members if anyone would be interested in caring for the dog.
According to the report, the shepherd, Siberian and malamute mix is difficult to control and has "nipped a few people" since the governor first adopted him three years ago. The police sources said one staffer reportedly attempted to take Captain but abandoned the duty when he found himself overwhelmed.
In response to the report, Richard Azzopardi, a senior adviser and spokesman for Cuomo, told Newsweek Monday that the allegations were "absurd" and "ill-informed."
"Captain is part of the Governor's family and for nameless ill-informed sources to imply they've been trying to give him away is untrue," Azzopardi said. "Someone offered to watch him for a few days while the transition was ongoing but for that to be weaponized and morph from a game of telephone into the press is simply absurd. This is palace intrigue gone amok," he added.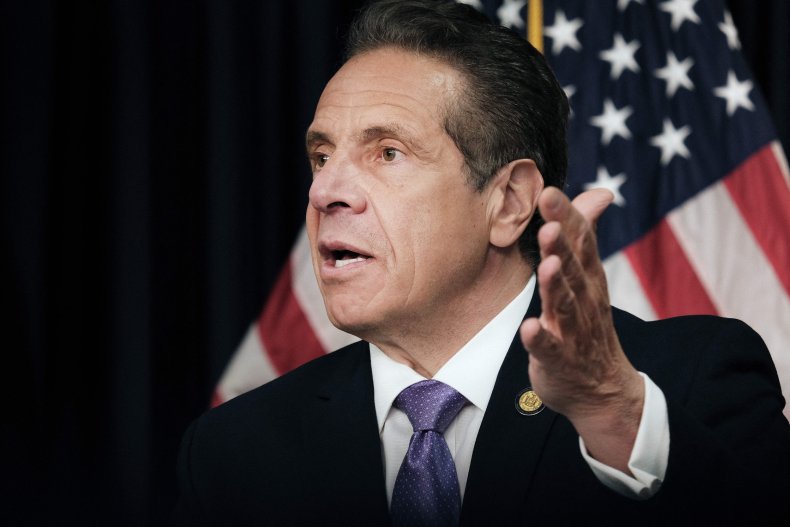 Nonetheless, the report sparked a flurry of outrage on Monday, with several people taking to social media to express disappointment in the soon-to-be former governor.
Libby Post, executive director of the New York State Animal Protection Federation, issued a statement Monday saying she was in "disbelief" over the report and offered to help adopt Captain to a new family.
"The New York State Animal Protection Federation is ready to help place Captain at one of our larger New York State animal shelters, such as the Mohawk Hudson Humane Society in Menands, just north of Albany," Post said. "Captain deserves better. He will be welcomed with open arms (and paws) into one of our shelters."
New York Republican Representative Claudia Tenney tweeted Monday "In case you needed any more proof that Andrew Cuomo was a narcissistic sociopath, he just abandoned his dog at the Governor's Mansion," adding that she would be "happy to adopt Captain.
Writer and poet Saeed Jones wrote that there "ain't no coming back from this" and urged people to "light him up."
Former RNC Communications Director Liz Mair said leaving his dog behind "may be the most ass**** thing Cuomo has ever done."
Donald Trump Jr. accused Cuomo of getting the dog strictly for "political optics and photo ops."
Others took aim at the sexual harassment allegations against Cuomo, writing that "the dog rejected Andrew Cuomo's advances."
Cuomo announced his resignation from office two weeks ago, after a probe from the New York attorney general found that the governor harassed 11 women, including some of his own staff members, in violation of state and federal laws. He has repeatedly maintained innocence and denied the allegations.
On Monday, the governor gave his farewell remarks ahead of his last day in office and said he feels "confident" that the truth about the allegations will come out in time.
"A firecracker can start a stampede, but at one point everyone looks around and says, 'Why are we running?' The truth is, ultimately, always revealed," Cuomo said. "The attorney general's report was designed to be a political firecracker on an explosive topic, and it worked."
"It was a political and media stampede, but the truth will out in time. Of that, I am confident," he added.