New York Governor Vetoes Bipartisan Bill Over Concerns About Trump Judges Officiating Weddings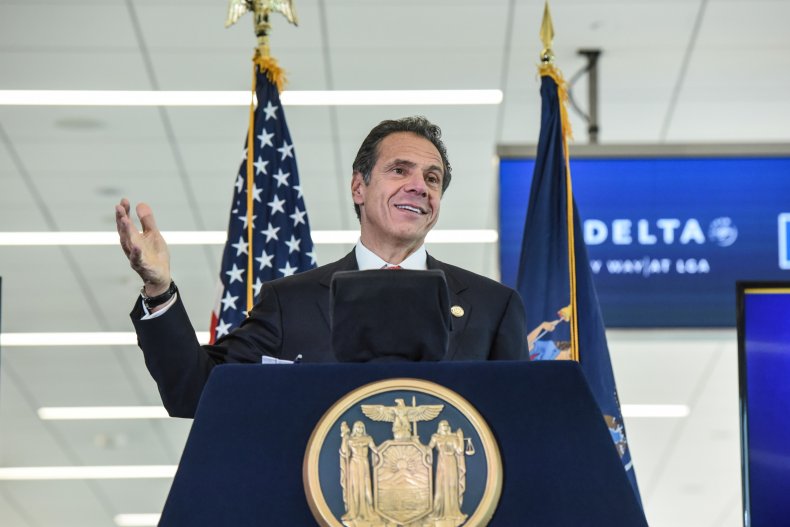 New York Governor Andrew Cuomo last Friday vetoed overwhelmingly bipartisan legislation that would have allowed all federal district and appellate judges to preside over marriage ceremonies, citing President Donald Trump's influence on the bench.
"I cannot in good conscience support legislation that would authorize such actions by federal judges who are appointed by this federal administration," Cuomo said in a veto memo. "President Trump does not embody who we are as New Yorkers. The cornerstones that built our great State are diversity, tolerance, and inclusion. Based on these reasons, I must veto this bill."
The bill passed the state Senate in June on a vote of 61-1, with a lone Republican voting against. Democrats occupy 40 seats in the Upper Chamber. In the 150-member state Assembly, a companion bill passed with only two defectors.
Currently, only appellate judges with jurisdiction over New York and federal trial judges based in New York are allowed under state law to solemnize a marriage, in addition to clergymen, ministers and other elected officials.
The proposal from state Senator Liz Krueger, a Democrat and member of Cuomo's own political party, would have expanded the allotted list to all federal district and appellate judges.
Despite the governor's professed reason for vetoing the bill, the president has appointed numerous federal judges, with jurisdiction over New York, already permitted under state law to conduct marriage ceremonies.
"Marriage in New York is inclusive, equal, and open to all who want it. So when it was suggested to me that we expand it to Federal judges, I thought, 'why not? The more the merrier,'" Krueger explained to Newsweek in a written statement. "I'm certainly no fan of the judges this president is choosing to appoint - but since any New Yorker can become a minister online for $25 and legally perform weddings, I didn't consider this to be a major issue. And I wish anyone who chooses to get married a union much longer, more loving, and much more honest than the tenure of the man currently occupying the White House."
Because the veto occurred while the legislature is in recess, lawmakers would not have a chance to override it until the next legislative session. That would require the bill to pass both legislative chambers again before another veto could be overridden. A spokesperson for Krueger told Newsweek that she does not plan on re-introducing the bill absent a change of heart from the governor.
Cuomo has long sparked speculation that he would mount a presidential bid to take on Trump in 2020, despite his repeated denials. He has often used the bully pulpit of the governorship to spar with Trump, and Friday's veto is just the latest in an ongoing spat between two of the current era's most politically powerful New Yorkers.
When it was reported in October that Trump planned on relocating his state of residency to Florida, Cuomo quickly swooped in on Twitter to celebrate the move.
"Good riddance," he wrote. "It's not like @realDonaldTrump paid taxes here anyway... He's all yours, Florida."
After devising a campaign to support the Puerto Rican victims of Hurricane Maria in 2018, Cuomo leveraged his efforts to establish a contrast with the Trump administration's response. He announced his intention to file a lawsuit against the administration over allegations that it provided disparate relief to different constituencies.
For his part, Trump has often denounced Cuomo through a favorite medium of communication.
"I love New York, but New York can never be great again under the current leadership of Governor Andrew Cuomo (the brother of Fredo), or Mayor Bill DeBlasio," the president wrote on Twitter in November. "Cuomo has weaponized the prosecutors to do his dirty work (and to keep him out of jams), a reason some don't want to be... in New York."
State prosecutors are attempting to obtain multiple years of Trump's tax returns pursuant to a criminal investigation into his eponymous real estate company. This dispute between the president and New York will reach a climax in the coming year, when the Supreme Court is poised to weigh in.
A spokesperson for Cuomo did not respond to a request from Newsweek for comment.
Updated 5:28 PM ET with a statement from Senator Krueger.