Andrew Cuomo's Attorney Says DA Has Closed Nursing Home Probe, 'No Evidence' He Broke Laws
The Manhattan District Attorney's Office will not be filing charges after probing Andrew Cuomo's handling of nursing home deaths during the coronavirus pandemic, an attorney for the ex-governor said Monday.
Elkan Abramowitz, former outside counsel for the Executive Chamber, said in a statement that the investigation was over.
"I was contacted today by the head of the Elder Care Unit from the Manhattan District Attorney's Office who informed me they have closed its investigation involving the Executive Chamber and nursing homes," Abramowitz said. "I was told that after a thorough investigation—as we have said all along—there was no evidence to suggest that any laws were broken."
The Manhattan District Attorney's Office declined to comment. Newsweek also contacted Governor Kathy Hochul and New York Attorney General Letitia James for comment but didn't receive a response before publication.
Cuomo hired Abramowitz in the spring of 2021, while he was still governor, to represent him and his top officials as federal investigators probed the state's handling of nursing homes during the pandemic. Since the health crisis began, more than 15,000 nursing home residents have been confirmed or presumed to have died from the virus.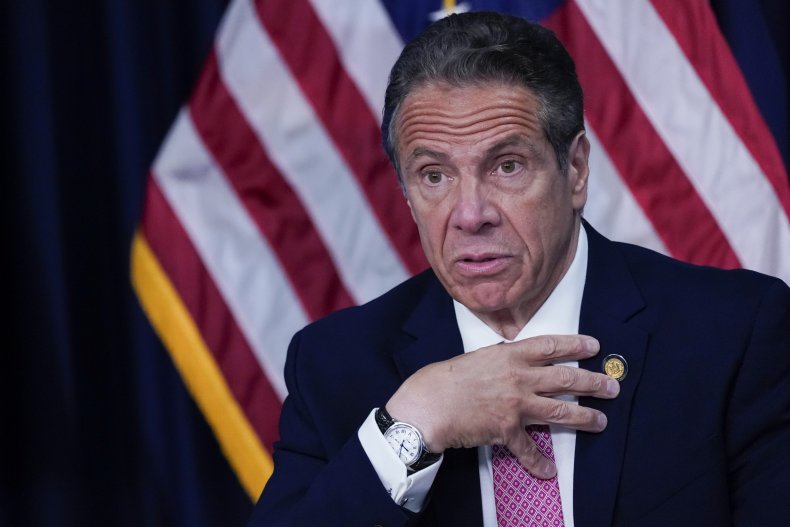 The Federal Bureau of Investigation (FBI) and the U.S. Attorney's Office for the Eastern District of New York also launched investigations into the matter after James reported last year that the administration had severely undercounted nursing home deaths.
The New York Assembly's investigation into Cuomo's conduct in office also recently concluded that his administration misrepresented data on nursing home deaths due to COVID-19.
Cuomo stepped down as governor in August after an investigation led by James's office concluded he sexually harassed 11 women, including current and former state employees. The Democrat has denied the allegations and likened his resignation to a "coup."
The report led to several other investigations into the sexual harassment claims. Cuomo is scheduled to appear in court later this week over a misdemeanor charge of forcible touching. The criminal complaint accuses Cuomo of "forcibly placing his hand under the blouse shirt of the victim" and "onto her intimate body part" at the governor's mansion in December 2020.
The Department of Justice (DOJ) is also looking into the sexual harassment allegations against Cuomo. Cuomo spokesperson Richard Azzopardi confirmed the investigation's existence last month, stating that it is "our understanding is that the Civil Division opened an inquiry in August based upon the AG's politically motivated sham report and we have heard nothing since."
A New York prosecutor recently declined to seek criminal charges against Cuomo for allegedly inappropriately touching two women. Mimi Rocah, the Westchester County district attorney, said she found the women's allegations to be "credible" but that the conduct wasn't criminal under state law.
Update 01/03/22, 4:00 p.m. ET: This story was updated with more information and background.