Andrew Gillum Responds to Cesar Sayoc Targeting Him in Twitter Posts: 'Dangerous Rhetoric' Is 'Poisoning Our Society'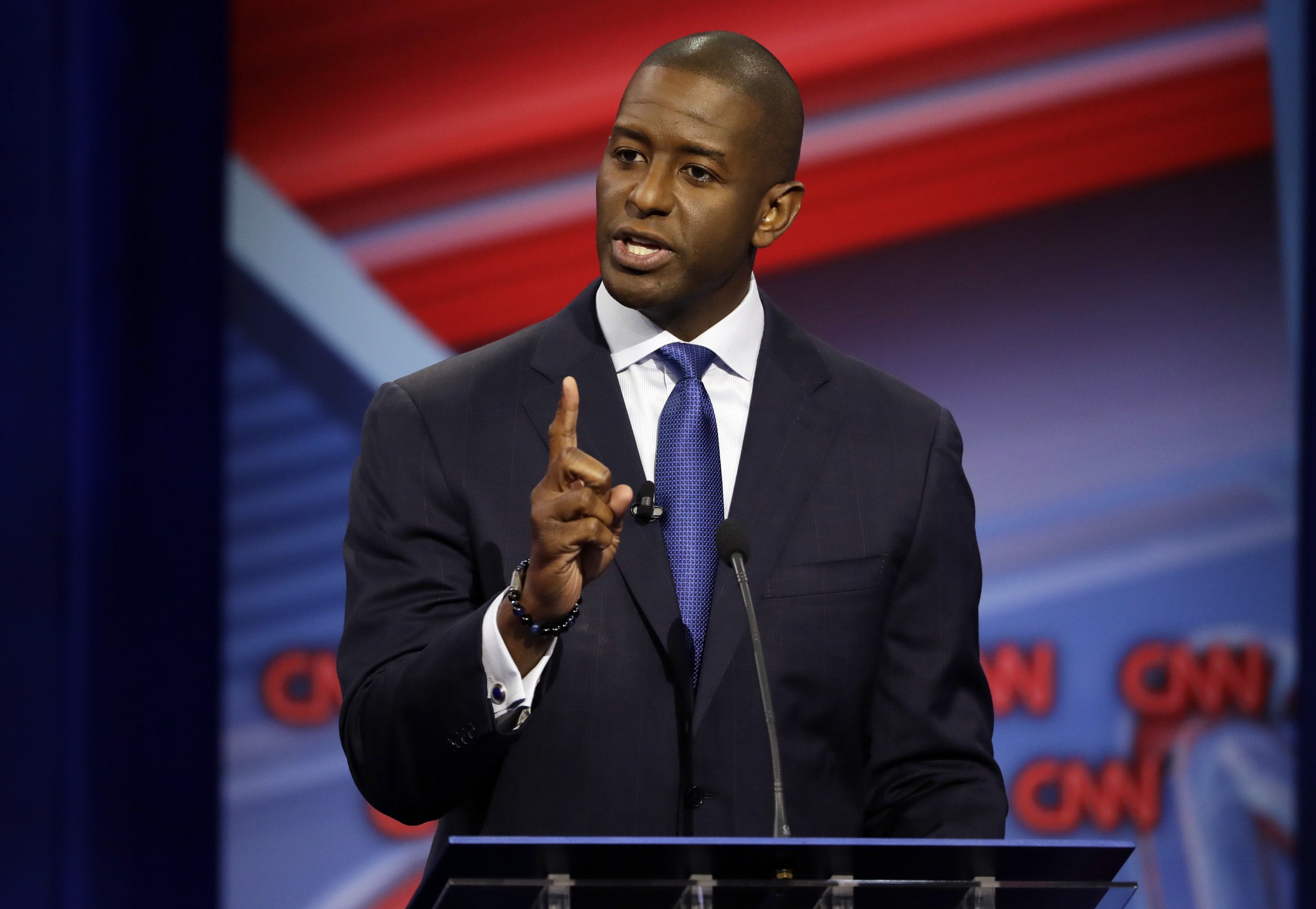 Florida Democratic candidate for governor and Tallahassee Mayor Andrew Gillum called for a cease of "dangerous rhetoric of hatred and division" on Friday following the arrest of 56-year-old Cesar Sayoc, the Florida man who was allegedly behind the 14 pipe bombs sent to prominent Democrats and critics of Trump in recent days. Gillum was the subject of numerous tweets by Sayoc.
"I call on all political leaders to cease the dangerous rhetoric of hatred and division that is poisoning our society," Gillum said in a press release. "I believe that what is decent and what is right in our society will triumph and that hate will never win. Together, we must fight fiercely for a more decent and a more respectful state for all of us."
Gillum added that his campaign was taking "strong security precautions" and that there was "no evidence" that any of their campaign offices had been targeted.
Sayoc was charged on Friday for five federal crimes and could face up to 58 years in prison if convicted, Attorney General Jeff Sessions said at a press conference. The five federal charges are interstate transportation of an explosive, illegal mailing of explosives, threats against former presidents and certain other persons, threatening interstate communications and assaulting current and former federal officers.
The series of pipe bombs allegedly sent by Sayoc in the mail targeted billionaire Democratic donor George Soros, the Clintons, the Obamas, former Vice President Joe Biden, former Attorney General Eric Holder, former National Intelligence Director James Clapper, former CIA Director John Brennan, actor Robert De Niro and current Democratic Representatives Maxine Waters, Kamala Harris and Cory Booker. The packages had the return address of Democratic Congresswoman Debbie Wasserman Schultz. Those intended for Clapper and Brennan were both addressed to CNN's New York City offices.
Sayoc's tweets included pictures and memes with Soros and Gillum that called the candidate a "Soros puppet." Sayoc also shared right-wing memes similar to what appeared on his white van, which was taken into police custody. The van had pictures of Trump and signs advocating for Americans to vote for Republicans in November. There were also stickers of prominent politicians, some of whom he allegedly sent pipe bombs to, with red crosshairs over their faces. One sticker had the picture of a CNN host that read, "DISHONEST MEDIA. CNN SUCKS." Sayoc also posted videos of himself at various Trump rallies.
Right-wing media outlets, pundits and some on social media had suggested in recent days that the pipe bombings could be a conspiracy theory propagated by liberals or left-wing activists. Sessions on Friday categorized Sayoc as a "partisan" whose alleged bombing attempts amounted to "political violence" that would not be tolerated.
In his statement Friday, Gillum said it was "fortunate that the evil intent of the bomber has not been realized."
Gillum's GOP opponent, former Congressman Ron DeSantis, echoed those remarks in a series of tweets, saying that "violence and threats of violence have no place in our society and I applaud our law enforcement personnel for acting swiftly."
"This is a good versus evil issue, and when you send a pipe bomb through the mail you choose evil," DeSantis continued. "The person responsible for these bombs needs to be in a place where mail can't be sent and prosecuted to the fullest extent of the law."
Earlier Friday morning, President Donald Trump said the "bomb stuff" was hurting Republicans' momentum going into the midterm elections.
Following the arrest of Sayoc on Friday, Trump said that the "terrorizing acts are despicable and have no place in our country."