Andrew Gillum Says Democratic 2020 Nominee Has to Appeal to Trump Voters But Not Those Who 'Self-Identify as Racist'
Former Florida gubernatorial candidate Andrew Gillum, now a commentator on CNN, said he thinks the 2020 Democratic nominee for president should appeal to some supporters of President Donald Trump—just not self-identified racists.
Gillum, who just stepped into his CNN gig, talked about what he thinks the next president might look like. And he called on Democratic hopefuls to appeal to a broad swath of Americans.
Gillum said on CNN:
"I don't think we should spend a whole bunch of time re-litigating the past. I think this is about, as is all elections, about the future and where we want to go. Ultimately I think the person who will win—not only the Democratic primary but the White House—will be the person who, in my opinion, is able to reach some of those Trump voters. And I don't mean those who might self-identify as racist. But I mean those individuals who believed, quite frankly, that they were getting a raw deal, that the economy wasn't working for them, that they want better opportunities for themselves and their families. They didn't feel that. The president somehow was able to convince them that we were going to win again. But what he didn't communicate is that he was going to win again. The rest of us were going to suffer. I believe the Democratic nominee, and whoever will become the president, will be the one who's able to cast a bigger, broader more aspirational vision for where we want to take this country."
Gillum narrowly lost his 2018 bid to become the governor of Florida, trailing now-Governor Ron DeSantis by less than one-half of a percentage point. The race between Gillum and DeSantis—who was endorsed by Trump—featured allegations of racism. Shortly after Gillum secured the Democratic nomination, DeSantis had urged voters not to "monkey this up by trying to embrace a socialist agenda [pushed by Gillum]."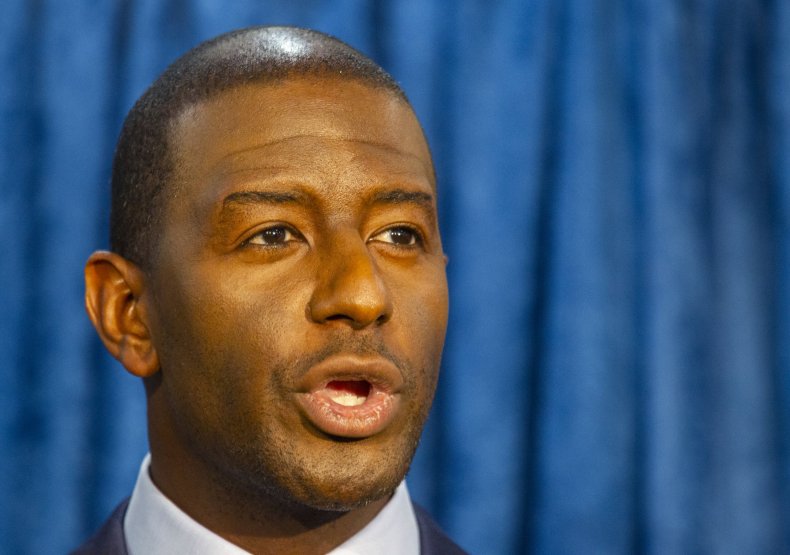 At a debate, Gillum stopped short of calling DeSantis a racist—but he did bring up the now-governor's actions.
"First of all, he's got neo-Nazis helping him out in the state," Gillum said. "He has spoken at racist conferences. He's accepted a contribution and would not return it from someone who referred to the former president of the United States as a Muslim n*****. When asked to return that money, he said no. He's using that money to now fund negative ads. Now, I'm not calling Mr. Desantis a racist. I'm simply saying the racists believe he's a racist."