Andrew Gillum Says 'Good Always Wins Out Over Evil,' Urges Supporters Not to Give Up After Florida Loss to DeSantis
The Democratic candidate for governor in Florida, Andrew Gillum, urged his supporters not to give up while conceding defeat in a speech on Tuesday. "Evil," he said, would lose out to good in the long run.
"Y'all, I want to encourage you not to give up," he said in his speech in Tallahassee. "We still have to be willing to show up every single day and demand our seat at the table."
Later, he talked about good winning out over evil.
"I still believe, and I still trust the voters," he said. "We may not have all shown up in the way that we thought and hoped we would, but I still believe that there are more of us who believe in what is common, and what is decent, and what is right. And I believe, in the long run, good always wins out over evil. I still believe that."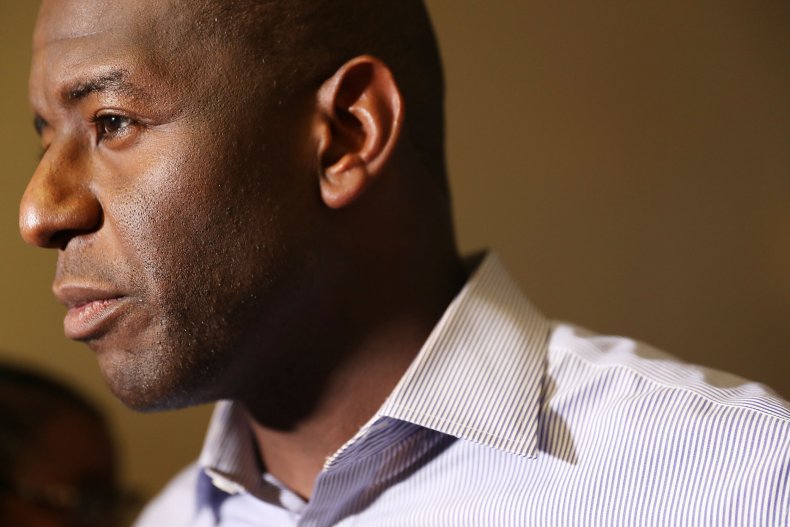 Gillum lost in an incredibly close race despite polling before Election Day that indicated he was leading over Republican candidate Ron DeSantis. Late Tuesday night, DeSantis had earned 49.9 percent of the vote, while Gillum had won 48.9 percent.
The race between DeSantis and Gillum was contentious and a subject of national attention. The Republican was accused of making a racist remark about Gillum, who was seeking to become Florida's first black governor.
"The last thing we need to do is monkey this up by trying to embrace a socialist agenda with huge tax increases and bankrupting the state," DeSantis said in an interview shortly after the candidates won their respective primaries.
Gillum stopped short of calling his opponent a racist in a debate at the end of October, but he did note racists did seem to support DeSantis.
"Now, I'm not calling Mr. DeSantis a racist, I'm simply saying the racists believe he's a racist," Gillum said.
The 2018 midterms had something for both Democrats and Republicans to celebrate. The GOP maintained control of the Senate and won a number of key close races like the Florida governorship. Democrats, however, were projected by numerous outlets to take control of the House of Representatives late Tuesday night.