Andrew Gillum Campaign Yet to Follow Through With Legal Threat to TV Stations Over Ron DeSantis Ad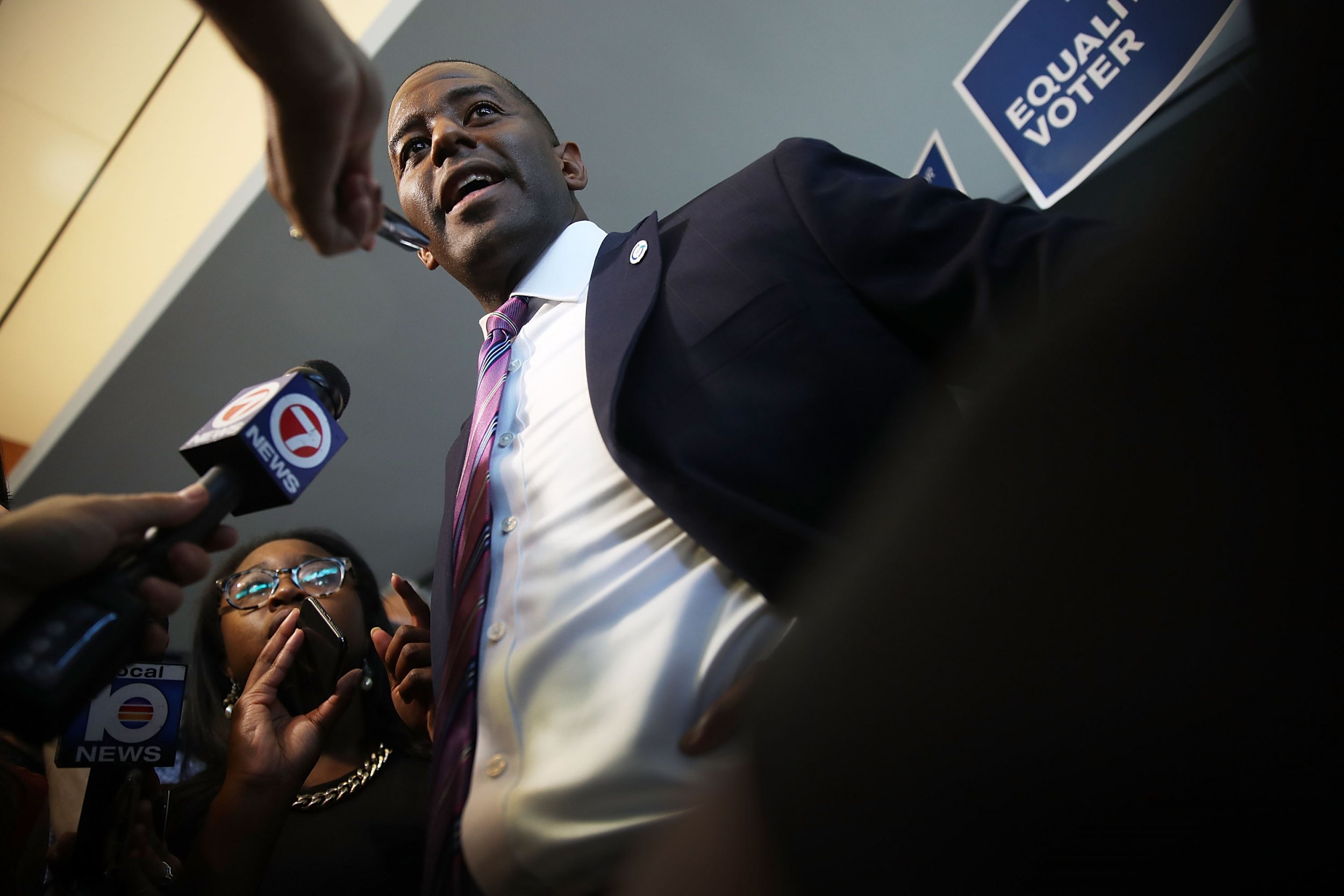 Last week, the campaign of Andrew Gillum, the Florida Democrat running for governor, sent a cease and desist letter to TV stations throughout Florida threatening legal action if the stations continued to broadcast a political attack ad from his Republican opponent, Ron DeSantis. In its letter, the Gillum campaign said the ad was "false," "malicious" and "defamatory," warning news stations that if they did not stop airing the ad, the campaign would take "all available legal recourse."
But the campaign has yet to follow up with legal action, according to seven TV news stations across Florida, which told Newsweek they had not received any follow-up communication from the Gillum campaign, despite the legal threats.
None of the stations, which stretch from the northern Panhandle to Miami and are owned by various media conglomerates, altered their advertising programming after receiving the letter. Two stations in Fort Myers and Miami confirmed that the ad has continued to air since the Gillum campaign's threat of legal action. Five other TV stations—in Panama City, Tallahassee, Gainesville and Orlando—said they did not alter their programming but could not confirm whether the ad had run since the cease and desist letter was received.
Other Florida stations either did not return Newsweek's calls or did not want to speak on the record.
Glenn Burhans Jr., the attorney who wrote the cease and desist letter, said he would leave any further comment to the Gillum campaign about what, if any, legal action the campaign planned to take. The campaign told Newsweek it had "nothing further to add."
The Florida governor's race, which has cast a progressive Democrat running to become the state's first black governor against a conservative Republican backed by President Donald Trump, has grabbed national attention.
The day after the Gillum campaign threatened legal action, the general counsel for the Republican Party of Florida responded in a letter that warned stations they were "strictly prohibited" from removing the ad under federal law. The 30-second attack ad was paid for by the Florida GOP and endorsed by DeSantis.
"Candidate ads, of which this is, have special protection that third-party issue ads do not," wrote Benjamin Gibson, general counsel for the Florida GOP. "When a legally qualified candidate for public office makes a 'use' of a station, under FCC [Federal Communications Commission] regulations that broadcasting station is not permitted to censor or alter the candidate's message in any way or take it down based on its content."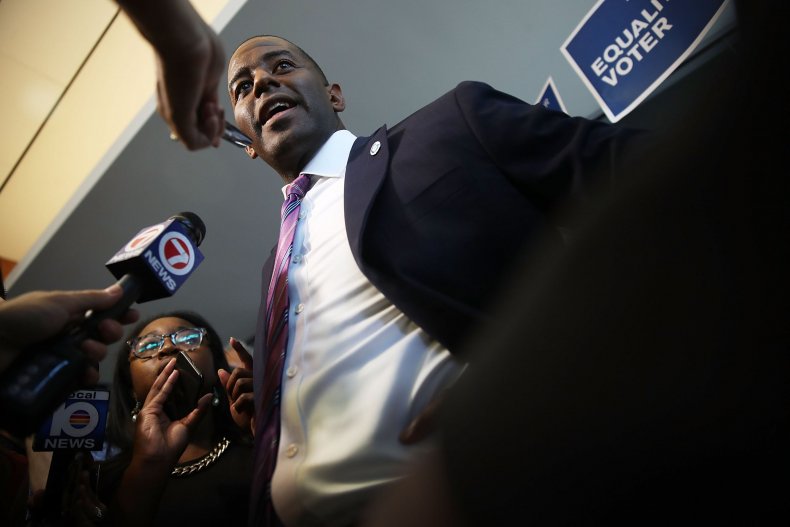 The Gillum campaign, in its cease and desist letter, argued that the ad was defamatory because it implied Gillum was the "subject" of an FBI investigation, took "illegal trips" with lobbyists, refused to "disclose who's paid him" and was "corrupt."
Gillum, who is currently mayor of Tallahassee, is under an ethics investigation by the Florida Commission on Ethics for past vacations he took, but he was not the "subject" of an FBI investigation. But FBI agents questioned him after he took those vacations and met with lobbyist friends and individuals he believed were businessmen. The "businessmen" were undercover FBI agents who were reportedly working on a larger investigation into public corruption in Tallahassee.
The ad also suggested that Gillum might have taken those trips with lobbyists illegally and refused to disclose the finances surrounding the trips. Neither the ethics investigation nor the FBI have charged Gillum with any wrongdoing. The campaign has released some of the finances surrounding his vacations to New York City and Costa Rica, as reported by Politico, but not all of them.
The Florida GOP told Newsweek in an email that the party stood by its ad and provided a list of links to news stories to justify its claims. The DeSantis campaign did not respond to requests for comment.
"The advertisement intentionally misstates and contorts facts in the source material, while omitting facts contained in that same material that are contrary to the false statements made in the advertisement," said Burhans in the Gillum campaign's cease and desist letter. "This letter shall serve as notice that any further publication or rebroadcast of the advertisement by you will be intentional and made with actual knowledge of the maliciously false and defamatory statements contained therein."
Burhans went on to say that TV stations, as a "matter of ethics and common decency," should pull the "shameful, false and malicious advertising" from their airwaves.
Pushing back in the Florida GOP's response letter to TV stations, Gibson said the First Amendment's protections of political speech and FCC regulations protected the news stations from any liability for airing a candidate's ad.
"It is understandable that the Andrew Gillum campaign would not want this advertisement to be aired and would threaten legal action against you, as the ad highlights his ties to an ongoing FBI investigation," Gibson wrote. "However, despite how uncomfortable the content of this television advertisement makes the Gillum campaign, as a broadcasting station you are not permitted to censor the political advertisement of any legally qualified candidate for public office."
Andrew Gillum Campaign Yet to Follow Through With Legal Threat to TV Stations Over Ron DeSantis Ad | U.S.