Andrew Gillum on Ron DeSantis in Florida Governor Debate: 'The Racists Believe He's a Racist'
Florida gubernatorial candidates Andrew Gillum, Democratic mayor of Tallahassee, and Ron DeSantis, a former GOP congressman, sparred in a war of words Wednesday night during their second and final debate, taking personal jabs at one another over their past actions.
Gillum, who if elected would become the state's first black governor, accused DeSantis at one point of having the support of racists. The black mayor said it was because DeSantis had spoken at certain conferences in the past and accepted money from someone who called former President Barack Obama a racist slur. Gillum also referenced racist ads targeting him that were made by DeSantis supporters.
"Now I'm not saying Mr. DeSantis a racist," Gillum said. "I'm simply saying the racists believe he's a racist."
Gillum cited the second round of racist robocalls featuring a black man with monkey noises in the background and DeSantis's refusal to return contribution money from a man who called Obama the N-word as evidence that "racists believe he's a racist."
"I'm not going to sit here and take this nonsense from a guy like Andrew Gillum who always plays the victim, who's going out and aligning himself with groups who attack our men and women in law enforcement," DeSantis said.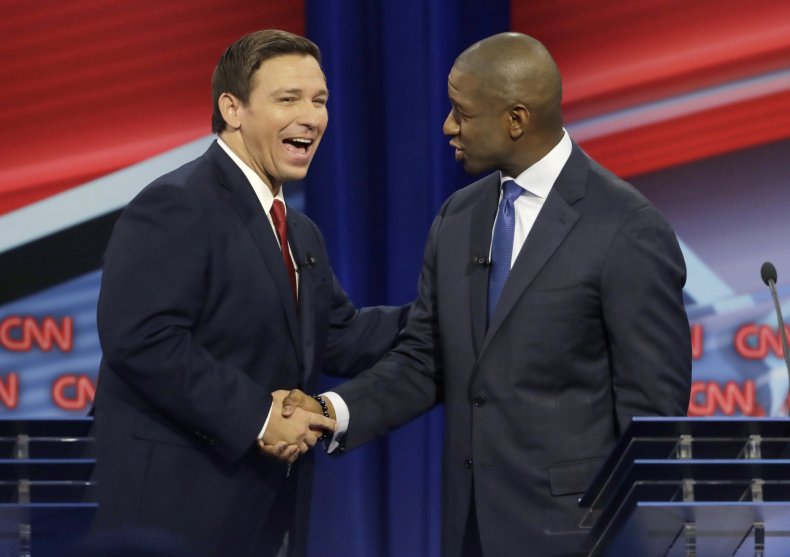 The GOP candidate also mentioned Gillum's signed pledge to the Dream Defenders, an activist group whose mission is to end the school-to-prison pipeline. During the two men's first debate, Gillum said he did not recall signing the pledge. PolitiFact has reported that a Dream Defenders spokeswoman confirmed Gillum signed the pledge in June, along with other Democratic gubernatorial candidates at the time.
The pledge stated that those who sign will not take "a single penny" from the National Rifle Association or a private prison operator. In other papers the Dream Defenders say are part of the pledge signed by Gillum is a passage criticizing police and prisons who wreak "havoc for the have-nots."
DeSantis has called the pledge a "radical manifesto," alleging the group's main goal is "to boycott, divest and sanction the state of Israel." Gillum has previously said that he does not support the Boycott, Divest and Sanctions (BDS) movement.
Just prior to the back-and-forth exchanges with Gillum over the topic of racism, the moderator questioned DeSantis' four appearances at speaking events hosted by the right-wing David Horowitz Freedom Center, which calls itself a "school of political warfare." The debate moderator pressed DeSantis about his support for the leader of the center, David Horowitz, despite past controversial comments made by the political activist.
"This country's only serious race war is against whites," the moderator quoted Horowitz as saying at past events. "If blacks are oppressed in America, why isn't there a black exodus?"
The moderator asked DeSantis about a speech he gave in 2015 at a Horowitz event, which reportedly took place after those remarks were made by Horowitz at a different event. The moderator quoted DeSantis as saying he believed Horowitz has "done such great," and that DeSantis said he was an "admirer of an organization that shoots straight, tells the American people the truth and is standing up for the right thing."
DeSantis defended his past praise for Horowitz, saying he was unaware the man's controversial comments had ever been made.
"How the hell am I supposed to know every statement somebody makes?" DeSantis said. "I am not going to bow down to the altar of political correctness."
DeSantis said he had a long history of working with people of all races, saying as a prosecutor he "stuck up for victims of every race, color and creed."
In August, DeSantis received blowback after saying on Fox News he hoped Florida voters would not "monkey this up" by electing Gillum.
Wednesday night's debate held in South Florida was the second and final debate the two men will have before election day. Also discussed were national issues such as the divisive political rhetoric following a series of pipe bombs that were sent to Democratic officials and CNN offices earlier that day, in addition to Florida issues such as the voter restoration rights of those convicted of a felony in the state.
Gillum defended his choice to accept Broadway tickets to the musical show Hamilton, which were reportedly provided by an undercover FBI agent as part of an investigation into public corruption. On Tuesday, it was reported that Gillum accepted the tickets knowing they came from a potential developer looking to do business in Tallahassee, the city where he is mayor. Gillum said his brother gave him the tickets and was not aware they were from the undercover agent posing as a businessman.
"I take responsibility in not asking more questions," Gillum said. "In the State of Florida, we've got 99 issues and Hamilton ain't one of them."